This weekend I did something completely uncharacteristic; I actually spent an entire Saturday doing "springtime in AZ" things. One of which was a Mariners Spring Training game… tragically they lost, but just being in the sunshine at the ball park, eating peanuts, drinking lemonade and a soft pretzel or two and I was in heaven! The last three years of my life was so much about work that I forgot what having a lazy Saturday in the sun meant! But looking through scratched lenses all day made me realize that it's high time for some new sunnies… Did I really need a reason to buy any new Spring accessories?
This season an emerging trend is the two-toned frame. Everyone from Chanel to H &M did the look so there's something something for every kind of gal.
Victoria Secret did a bold cheetah print color combo that I would normally shun but these are too much fun in either clear or turquoise blue and the best part they are 100% UVA, UVB for only $24 But buyer beware pairing these with anything bright or patterned will instantly transport you back to the "bad" old eighties, which somehow rarely looks fresh, so choose wisely. www.victoriasecret.com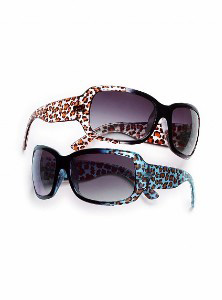 I also loved these Very Vintage Vintage Piave Sunglasses from luisaviaroma.com with their slight butterfly shape and ombre' lenses. Normally I might skip any glasses in shades of green and orange but these have such a 60's euro siren look about them I can't resist. Pair it with a pencil skirt and chunky jewels for a stellar combo and if you are feeling Hitchock try a sheer neck scarf to round out the look.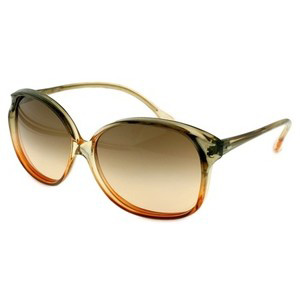 Of course Chanel always does great sunglasses, and these as shown in In Style Magazine (bottom left) are no exception. I love the wood grain/bakelite feeling it's a modern take on a retro look. I dig these so much I want to sport a pair of false lashes and thick eyeliner like Anouk Aimee' in all those French films of the 60's. Plus these will elevate practically any look to the next level…possibly even those summer staple – flip flops.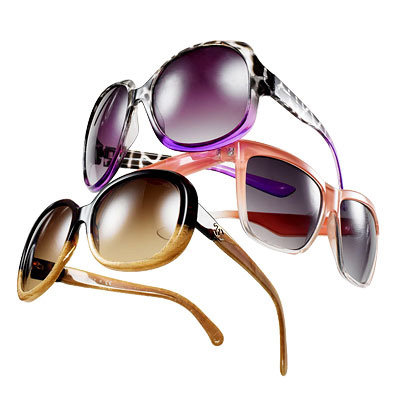 And if you are in to aviators these by Endurance have a punch of color without looking too 80's. They come in either fuchsia with rose lenses, green with brown lens (my personal fav) or violet with violet lenses. But again too much color is never a good thing so pair it with softer shades. www.saksfifthavenue.com