We know the Spring Summer shows were bright this season and if I am being honest, I had quite a few happy dreams about the Jil Sander collection with all those vivid fluorescent skirts in pink, orange and even blue. In fact last month when I found out a client of mine was going to wear the orange skirt to an event I actually squealed a bit with delight… her response to that was….. You can borrow it anytime you want honey. I am still waiting for the perfect occasion.
Having worn plenty of neon in the 80's it's somewhat hard to revisit… even if I do have a mad crush on the trend. The best I have mustered thus far is a pair of bright neon-ish yellow shoes but I am working my way up… perhaps a skirt is next.
In any case, Who What Wear recently featured the trend as fans and designers of neon are taking it a cool and wearable step further pairing the loud with the sedate. A neutral and neon mash-up is the thing this season so take a cue from WWW's tutorial below.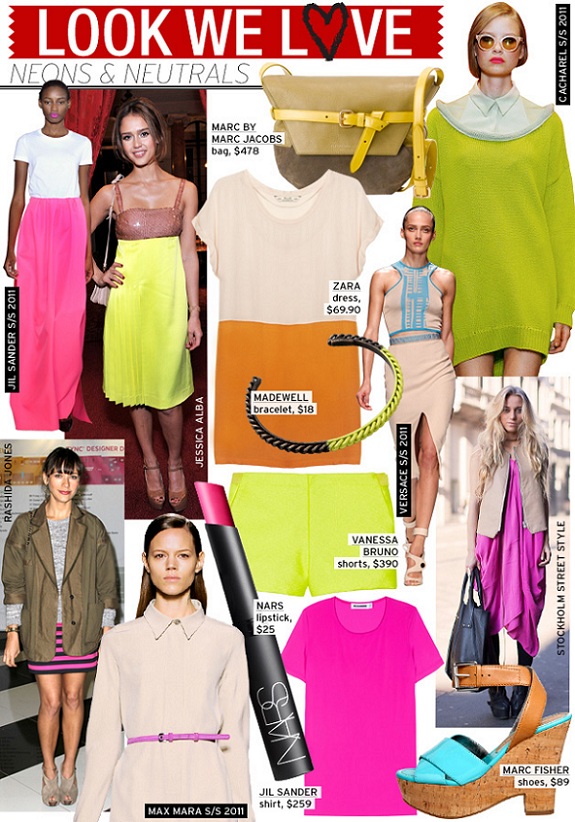 Jessica Alba was early on this trend when she wore a nude and neon yellow Miu Miu dress to a dinner celebrating the brand's new London store late last year. The nude bodice and Alba's equally neutral platform heels perfectly compliment the frock's highlighter-yellow skirt. For a more casual take on this look, take a page from Rashida Jones' playbook. The actress was snapped at the Lucky Shops L.A. event last month wearing a darling outfit starring Prada's Striped Drill Skirt ($650, 212.327.4200). Her pink and black mini skirt is the standout item, and she let it stay in the spotlight by wearing it with interesting, neutral pieces, including a gray Rebecca Taylor Gray Marled Sweater ($295, 212.243.2600), army green Isabel Marant jacket, and khaki 3.1 Phillip Lim X-Cellent High Heel Sandals ($675). We also totally approve of the way a stylish civilian on Stockholm Street Style wears this look and love the idea of pairing a neon pink draped dress with a nude leather vest.
With all of these inspirational references in mind, it's easy to create your own version of the neon and neutral look—especially with the help of the amazing products we found! If you're looking for a high-end, effortless option, you simply must check out Jil Sander's Neon T-Shirt ($259) in Bright Fuchsia, which would look fresh with white trousers or flare jeans. We also adore Vanessa Bruno's Neon Woven Shorts ($390), an as-seen-on-the-runway piece that is perfect for summer barbecues. For a thrifty thrill, don't miss Zara's Two-Tone Dress ($69.90, 323.935.5041) in Nude/Orange; its simple, body-skimming silhouette is so chic!
If you're hesitant about committing to an article of clothing, no worries, there are loads of accessories that will work too. Marc by Marc Jacobs' Tangramarama Rocky Bag ($478) in Jalapeno will update your basics in a festive way. We also adore Marc Fisher's Sabina Sandals ($89)—a darling cork wedge with an electric turquoise patent upper and a tan ankle strap—which would look so cute with a floaty white dress! For even less commitment, you could always nab one of Madewell's Colorblock Chain Cuffs ($18) in Limeade or the new NARS Pure Matte Lipstick ($25) in Carthage, which is the most amazing shade of hot pink we've ever seen! However you incorporate neon and nude into your wardrobe, just make sure you go for uncomplicated silhouettes and otherwise understated makeup. By opting for simplicity, you'll keep the focus on the color—which is exactly what you want!
Photo of Jessica Alba, courtesy of Getty; Photo of Rashida Jones, courtesy of Wenn; Versace and Jil Sander runway images, courtesy of PR Consulting; MaxMara runway image, courtesy of First View, Cacharel runway image, courtesy of Cacharel