A sudden panic came over me in the grocery store last night… No not because I
forgot chips, or the dip but because as I was getting in the checkout line I
heard someone say that the store was getting busy now that it was halftime.
What??? No! All I wanted to see was Madonna's much anticipated half time show.
Sorry Giant and Patriot fans but a girl has to have her priorities.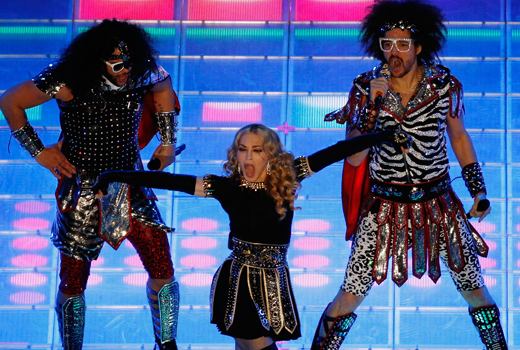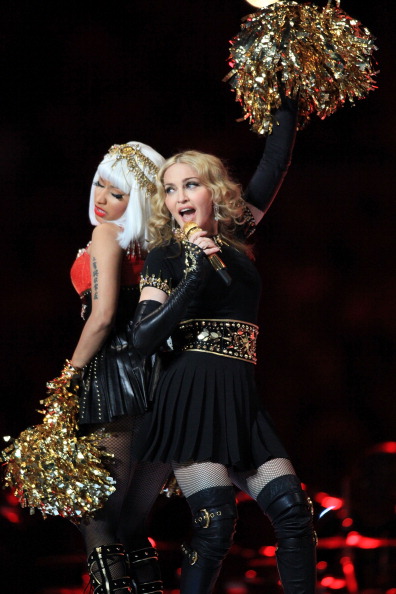 Almost immediately I checked my twitter feed to see if the comments were rolling
in about Madge. Of course they were and friends on Facebook were chiming in as
well.
The comments ranged from "amazing" to "okay" "love her boots" "lover her makeup" and on and on.
And there was no shortage of critiques about her dancing or her little slip up
but what many people didn't know is that The Queen of Pop was working it with an
injury.
Take a look at her performance on sportsgrid
Several news outlets reported that Madonna suffered a hamstring injury that
could have jeopardized her performance along with a knock to her nose.
Madonna said Thursday she has been doing "a lot of warmups, taping and
ultrasound" in preparation for the Bridgestone Super Bowl XLVI Halftime Show
because of a pulled hamstring.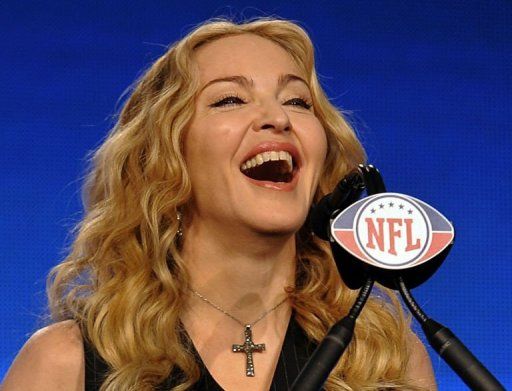 "I feel like I'm one of the football players right now with all of the physical
therapy I have to do, but I'm good," Madonna said. "Mind over matter."
During the press conference she also shared her excitement about the show.
"This is a Midwestern girl's dream, to perform at the Super Bowl halftime show,"
Madonna said. "In the over 25 years of performing that I've done, I've never
worked so hard or been so scrupulous or freaked out as I have been maintaining
my sanity and making the most amazing show for the Super Bowl."
Say what you will, love her or hate her but the truth is Madonna is pretty
awesome. The fifty-three year old looks as toned, taught and just as young as
her on- stage counter parts Nicki Minaj and MIA. . Yes she's had some help…
a nip tuck, loads of yoga and Tracy Anderson and those famous Intraceuticals
Oxygen facials that I can vouch for because I've not only done them on myself but on clients… they work!
But that doesn't minimize how hard she works to stay fresh.
I mean, do you know anyone else her age that could have rocked it like that… In
that Givenchy Couture outfit no less…. With the Roman meet Egyptian Phillip Treacy headpiece/helmet?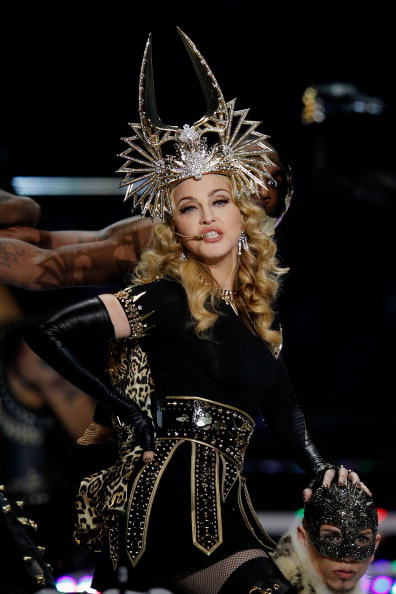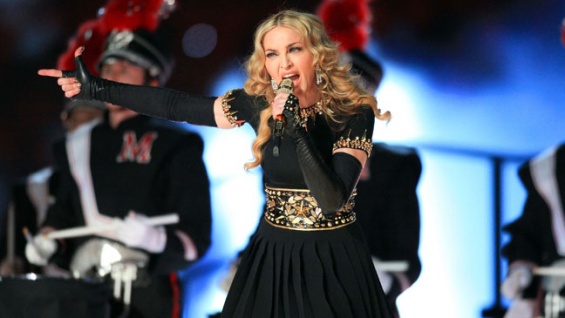 And let's talk about how impressive the production was…
Between halves , producers erected a stage which spanned some 30 yards, 11
additional light banks, and a white screen in front of the stage which showed
accompanying light effects and images. Images included a montage of film actors
from the black and white era and a final message: World Peace.
Though some of the elements were a return to the sentiments of the 80's, they were also very refreshing! All in all I was happy to see the wholesome,
softer, nipple-flashing-free Madonna… And kudos to her for giving us the songs
we know and love… No matter what decade they came from!
What did you think?