Even though Christmas is just days away I admit that I am far from prepared, in fact I have so much to do that it's kind of beyond getting stressed about. Truth be told I have been so busy with other things and my business and personal to do list has become so gargantuan that I promised myself no matter how the remainder of the month went….I was going to celebrate and enjoy it.
Over the weekend instead of tending to the to- do list I spent hours on end clearing out old boxes and belongings of my adolescence and young adulthood from my Mom's house which is soon to be sold. In the process I discovered personal memorobilia that spanned everything from an old pommie uniform to a vast record collection that just needed to be experienced again. I even found a few 80's pairs of shoes, belts jewelry and photos that reminded me just how outlandish my wardrobe actually was and how much I hope a few of these old trends will come around again.
One of my favorite trends that has recently made a comeback is cuffed jeans. As a kid I loved wearing my jeans fifties style belted and baggy with a cuff then a few years later it was Audrey Hepburn style slim and lean and in 1986 when Madonna sported the look in videos like Papa Don't Preach and Open Your Heart I relived the look again.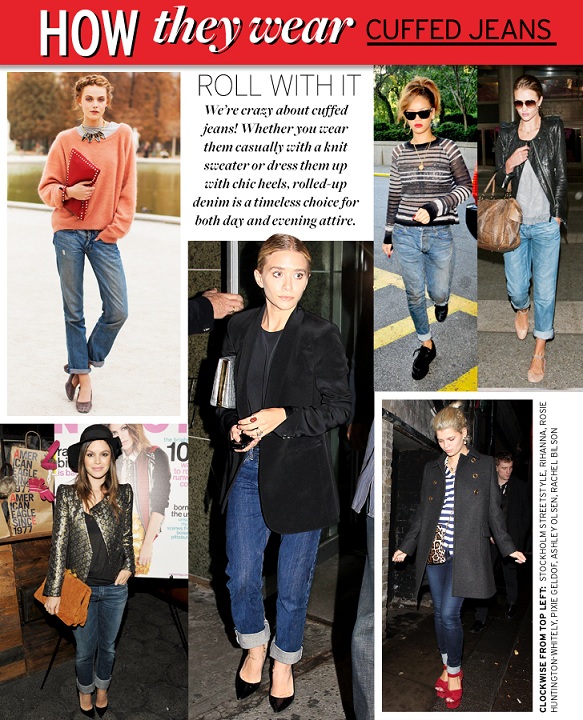 So I couldn't be more delighted that this trend is back and showing up on celebs like. Ashley Olsen, Rachel Bilson and model Rosie Huntington- Whiteley. Probably the best thing about this version of denim is that it can be styled effortlessly and looks amazing whether dressed up with a pair of heels and a silk blouse or dressed down with flats and a casual sweater. Plus if the temps get a tad too chilly you can still pull this look off with an ankle or knee boot as long as the proportions are right…. Keep the jean a tad roomy and the boot slim with a pointy toe and a thin heel… Or try a pair of black creepers like Rihanna for total 80's outfit domination.
The possibilities are endless. And this style allows for a variety of fits as well. The most flattering of course being a slim straight leg which looks great on almost any body type. Try James Jeans in the Sabrina Cuffed Slim Straight Jeans.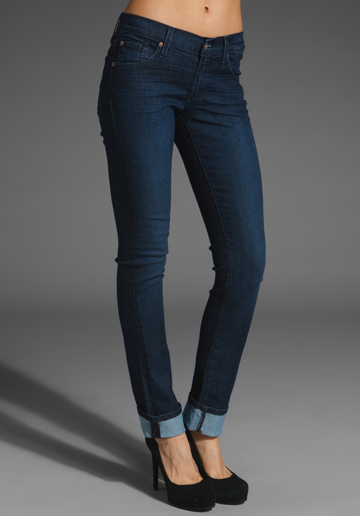 For long and lanky girls a skinny jean will look amazing Paige's Jimmy Jimmy Skinny Jeans are the ones for you.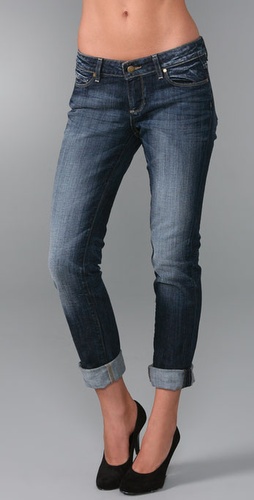 And if you are lucky enough to be a curvy kind of girl Current Elliott The Roller Jean is a great option. For a more wallet friendly version Gap has been churning out a great variety of jeans lately that range from slim to roomy.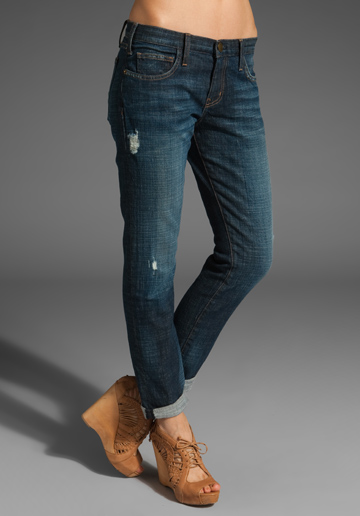 Either way this is a look to rock out for the next few month so get your cuff on!
By Diane
Sources – Who What Wear Images of Ashley Olsen, Pixie Geldof, and Rihanna, courtesy of Splash; Photo of Rose Huntington-Whiteley, courtesy of Bauer Griffin; Photo of Rachel Bilson, courtesy of Getty; Photo of Frida Gustavsson, courtesy of Stockholm Streetstyle.