As it sit down to write this there are exactly 9 days, 16 hours and 42 minutes left before Lanvin for H & M launches at North American stores on November 20th and another 12 days 16 hours and 42 minutes before it launches worldwide on November 23rd.
Yes, fashion freaks far and near have been clamoring for this collection to hit the racks and shelves of their local Hennes and Mauritz retailers aka H&M for months now.
Here's a peek at the ad campaign shot by David Sims-Featuring models: Natascha Poly, Hannelore Knuts, Tati Cotliar, Simon Nessman, Jane Schmitt and Garance Dumont
I admit…. Lanvin makes me go weak in the knees just a bit as you may have noticed from a myriad of inclusions in Arizona Foothills fashion spreads and covers. In fact one of the darling floral dresses for H&M is a take on the dress featured on our recent April cover this past spring.
Take a peek at this amazing video ad campaign that was directed by Mike Figgis, I find it to be somewhat Kubrickian, Hitchcockian and Coen- esque all rolled into one. Aside from the fact that it's massively wonderful! Lanvin for H&M 2010
So, Alber brings his genius to the mass market with thirty womenswear pieces including fifteen accessories like shoes, jewelry, sunglasses, tights, gloves and lipstick along with twenty five pieces for men and ten accessories like bow ties, ties, sock and caps. And frankly as with all things the collection is wrought with controversy. The question is will the average H & M consumer pay the elevated prices (ranging from $49 for tees to $249) for these wares especially in this day and age when retailers like Barneys NY are going to eventually mark down the real thing for their warehouse sales? Unclear….. as you might not be able to nab the real thing for many months and still it may be far more expensive than the H&M version.
And of course there is always the question of fabrics. I can say unequivocally that the fabric used for our spring cover dress was far superior to that used in the remake…. But really, let's check our common sense meters….do we expect it to be the same?
Take a peek at a few images from the womens and menswear look book also photographed by David Sims_ with models: Irina Lazareanu & Vincent Olivieri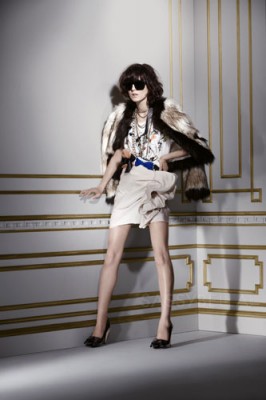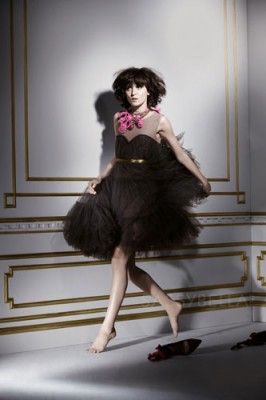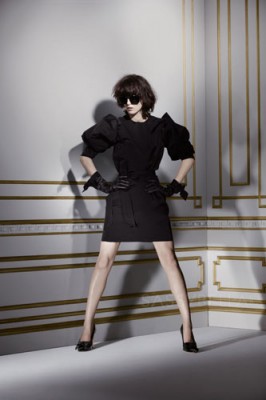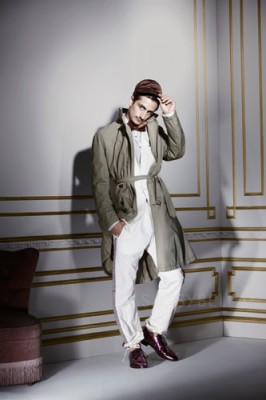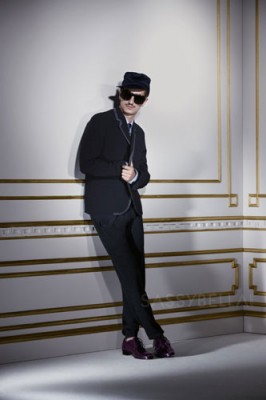 After speaking with a few style mavens that I know the consensus was this… if they can afford it, they will most likely buy something because the options are just too good to pass up. But on the other hand maybe that something will be a pair of shoes or sunglasses.
I personally would be delighted to own anything that looks remotely like the designer line for less and I will still cross my fingers that I can nab the real thing later.
Ask yourself fashion friend…how bad do you want it?