I remember when my first vintage addiction began. It was in the ninth grade after finding an amazing pair of shoes from the sixties along with a necklace of the same era that matched perfectly. For years after that – all through the eighties and even in to the nineties snatching up a great vintage find felt like heaven. Buying in a regular store just didn't come close to the same sweet satisfaction as finding a rare gem hidden in the corner of a vintage store. These days vintage couldn't be hotter… and in fact, nothing could be more special that finding something that no one else will have. So whether you are an online ebay addict or you like to scour the local vintage haunts here are some great tips from Refinery 29 that are sure to give you a leg up on scoring that amazing deal.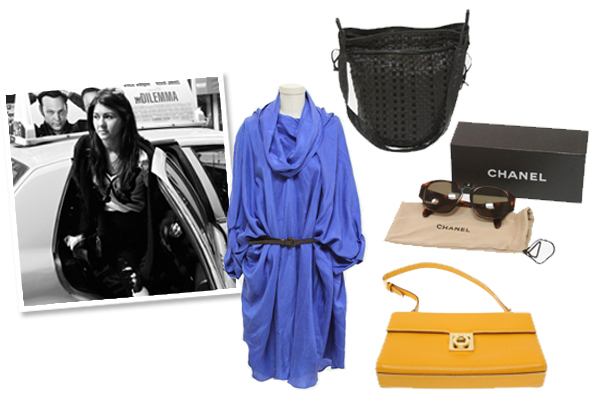 Corri McFadden, owner of eDrop-Off, knows her way around a vintage auction, and is more than happy to share her wisdom with you.
1. Good people—Buy from a trusted seller. "Check the percentage of positive feedback, read the feedback messages, and most importantly look through the sellers' items up for auction and focus on those known for selling designer items."
2. Good quality—Look for key authenticity points. "Most trusted sellers on eBay will show detailed images of each item, including holograms, date codes, stitching, and any other details key for authenticity. If detail shots aren't available, request them from the seller. If you don't know the key authenticity points, look into authenticity guides like this one from eDrop-Off."
3. Good smell—Ask about odor. "It sounds silly but it's true. Older items, especially when not stored properly, can develop a musty odor you really don't want to get involved with. Smells can also develop if the item was worn by a smoker, as well. If not clarified in the description, ask the seller if an odor is present, just to be safe."
**Bonus Tip: It's always important to get second-hand items, especially vintage ones, professionally cleaned before wear.
4. Good details—Be sure the original notions are intact. "This means any original buttons, zippers, etc. This is especially important when buying vintage Chanel, Hermès, and Louis Vuitton. Again, if it's not stated in the product description, feel free to message the seller."
5. Good sizing—Go by detailed measurements, not listed size. "Vintage items tend to run smaller than the sizing we're accustomed to today. The key to fit is buying based on detailed measurements as opposed to the size on the label. Also, a garment could have been altered at some point—another important reason to shop based on measurements. If you don't know your measurements, it's easy to do by yourself with a soft tape-measure, or ask a friend to help you. This is a good points resource for measurements."