There never seems to be a shortage of fashion books lining the shelves of my favorite bookstore, sadly however this plethora is often laced with enough boring rhetoric to choak a clothes horse. But there is one new book that I have been waiting in anticipation for – Ines de la Fressange's Parisian Chic-A Style Guide.
If you aren't familiar with Ines she is a former Supermodel, Chanel muse, style muse and all around Parisian Icon. She was in fact the face of Chanel for many, many years and according the Karl Lagerfeld and a slew of others you can't get more chic than her.
"You don't need to be born in Paris to have Parisian style", Ines declares on the first page. So thankfully, no matter where you hail from the desert, beach, mountains or jungle… there is hope! You too can be polished and chic.
In fact Ines has tips that will turn pop culture fashion on its head…. Thank goodness. She is one part Coco, one part Audrey and all parts sophisticated. Like other modern fashion guru's Nina Garcia, Tim Gunn and others she eschews matchy-matchy ensembles and blingy distractions in favorite of mixing things up to show your own free spirit: avoid head to toe matching label ensembles. And shiny sparkly overly logo'd pieces are the antithesis of Parisian.
Actually the tips Ines shares aren't new, but rather packaged for women of all ages who are ready to dump the frumpy and turn to the sophisticated.. Her list of do's and don'ts is straightforward. After being asked by endless women and women's magazines about her style secrets she decided to put all her pearls of wisdom in one place… a chic little tome.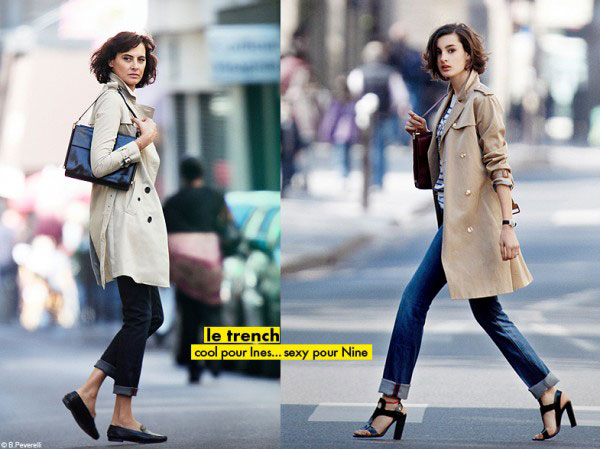 In fact it's the little reminders that we already know but ignore anyway in favor of the casualization of the modern day… these are the things that Ines gently prods about.
Including– jeans should never mix with sneakers (unless of course you are hiking) rather a little pair of gem encrusted sandals or ballet flats. Or try a pencil skirt with kitten heels or ballet flats. Sequins looks fresh when paired with trousers and so on.
In other words don't go for the obvious, and don't be afraid to be unconventional. In fact one of my favorite looks straight from the late 80's perhaps pioneered when Ines and Karl collaborated for Chanel- pearls with leather.
And while she is at it, the fifty something Ines forgos some modern science like Botox and injectables… in the true spirit of French women she advocates not dwelling on those wrinkles and forgetting about your age…. You are only as old as you feel. Besides, stresses about age ruin your mood and only causes more wrinkles.
The book is peppered with photos of Ines and her daughter Nine (who looks a tad like Natalie Portman) to show style at any age. Available at amazon.com