Even though we won't be seeing the televised version for another month the live Victoria Secret Fashion Show took place last night in New York. The VS offices were bustling this week with plenty of last minute model fittings and behind the scenes details from designers to costumers, makeup artists and hair stylists.

Word has it that the forklifts and generators being used in the show were loaned by VS to the National Guard during the aftermath of Sandy. During the week the Victoria Secret creative teams of talent were camped out in nearby hotels to work on the completion of costumes and stage props. I for one can't imagine the amount of work that goes in to every little detail for the world's largest and most well- known fashion show.

WWD reported that as of Tuesday costume-shop artisans Jamie Filippelli and Mary Shaffer were working feverishly on a costume commemorating the 10th anniversary of Swarovski Elements' partnership with the Victoria's Secret Fashion Show, a fantasy concoction of Swarovski crystals and beads sewn onto nude-tone netting. The idea is to "make it look like the crystals and beads are floating in the air," explained Filippelli of the star piece, which will be shown in the Silver Screen Angels segment.
The entire show features Swarovski crystals, but several other key pieces stood out, such as the exotic Snake Charmer piece in the show's opener, Circus.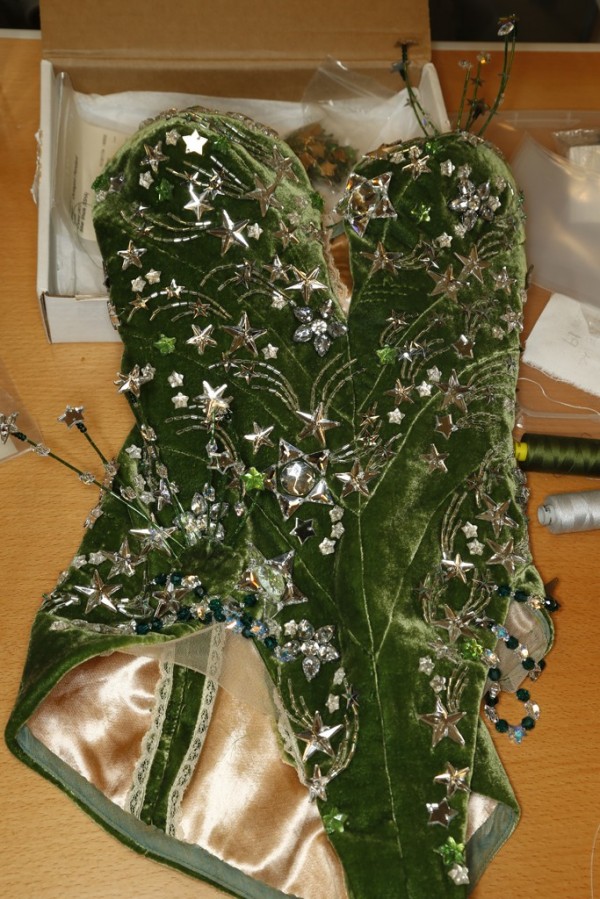 Jewelry designer David Mandel was creating a four-foot Diamond Back python in a myriad of brightly colored Swarovski crystals and vintage crystals from his personal collection. Key accessories were snake eyes from a taxidermist. "Metal doesn't drape….I'm literally sculpting with stones, and sometimes I have to solder pieces in midair to get the right angle," said Mandel, as he popped a snake eye into its socket. He turned around to show another costume for the Angels in Bloom segment, which will feature scores of hothouse flowers such as an oversized hibiscus embedded on a lavish multicolor costume.

As always you can expect to see an insane amount of glitz and glamour as WWD accounts below:
Miranda Kerr had just finished her fitting in an emerald-green velvet bodysuit encrusted with Swarovski crystals and dyed-to-match feathers for the Circus segment. Cameron Russell stepped out in the Swarovski anniversary piece in fantasy platforms by Nicholas Kirkwood. She wore what appeared to be well more than $5 million in jewels by London Jewelers, including a 16-carat diamond ring.
As always the show includes a great lineup of musical performances such as Rihanna, Justin Bieber and Bruno Mars. The televised show will air on December 4th
Sources Womens Wear Daily Photos: WWD