Happy first day of Fall Fashion Week! As if the weather here in Arizona hasn't already been confusing enough with winter-like cold fronts and then only a few days later we may find ourselves wearing flip flops and spring dresses, now we must indulge in fashion that won't be available for months to come. Nonetheless Fall Fashion Week is undoubtedly my favorite of the seasons with all of its rich colors, fabrics, and layers!
Thanks to websites like Style.com and the Mercedes Benze Fashion Week official website, fashion lovers and bloggers have nearly unlimited access to the shows at Lincoln center… live! I find myself even being memorized by watching the crowd enter the tents, and the backstage happenings is something new this year giving us a look at makeup and hair prep.
So even though it is only day one let's talk fall fashion.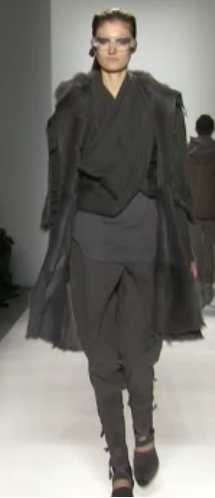 @trendandtell Twitter pic
Black is back folks, okay may it never really left but sometimes there is less of it on the runway than other times, and that is not the case this year. At Nicholas K it was paired with varying shades of grey and of course black's favorite partner in crime—white. Pardon us for our not-so-professional pictures, but when you are watching shows live there tends to be less still images available.

@iviallgemujer Twitter pic
A trend I foresee happening on the runway this season starting with Nicholas K is oversized apparel, lots of what my blogger friends like to call Olsen-layering, and skirt and dress hems that flow with and at varying lengths.
Leather also is a trend that will happily find its way into fall wardrobes this year (I guess Beyoncé got an early memo for the Super Bowl). As I type this I am watching the BCBG Max Azria show live and I am excited to tell you that leg warmers are back… No really, this is good news I promise, because these aren't those 1980's hot pink cotton leg warmers, no, they are leather, over-the-knee, and oh so chic!

@AnneFulenwider Twitter pic

@Booth1 Twitter pic
BCBG fans might not be too excited otherwise over the bulky fur coats and vests, flowy dresses paired with said coats, and flowy pants under…said flowy dresses. We will definitely have to see how the BCBG stores plan on reinterpreting some of these look for their loyal fans who may not be 5' 11".
Are you watching the shows live this year? Who are you most excited to see?
By Kristianne Young