So for the past few days I have been a bit under the weather despite my attempts at the first signs of weakness to kill all virus and bacteria dwelling in my system with a tequila drink concocted by a darling bartender at a swank So Cal tequila lounge. There are two things one must know before I proceed A) I have never acquired the taste for alcohol… hate it! B) I generally never take more than two sips of a drink due to the aforementioned unless the alcohol taste is minimal to none. So, the drink contained orange, lime, and lemon juices, Curacao, agave nectar, habanero and Don Julio… it was actually quite yummy…with a kick! I probably should have taken more than two sips however because the sickness prevailed. So in my weakened state of couch dwelling something terrible came over me, something that can be described as no less than an extreme loss of judgment. I actually watched fifteen minutes of "Jersey Shore" Okay what is that? Again, my family is from New York and "the shore" as it is known has always had its mix of yahoo's but what is going on? Really? I cannot even express the nausea that welled up inside of me knowing that yet again MTV is making stars out of these bozos.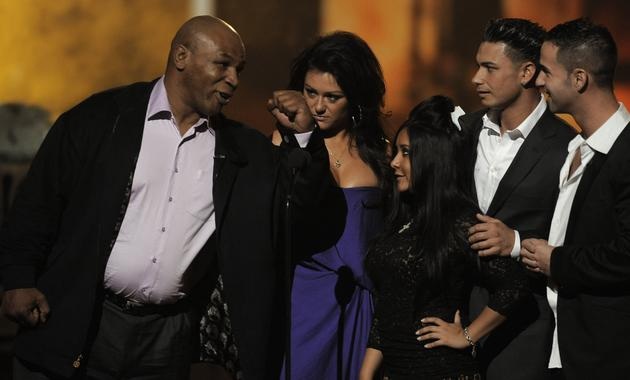 And even better Mike Tyson had to present with the cast at the recent Video Game Awards and he literally asked them onstage "Who are you guys?" Luv, luv, luv now that is classic TV! In any case this all leads me in a rather round about way to some of the most ridiculous, scandalous and rather idiotic fashion moments in print this year.
First off was the very bad taste of Easy Jet In-flight Magazine who decided that shooting at the Berlin Holocaust Memorial was a good idea. I can barely think of anything in response to say to that other than someone should have been fired. Later the Easy-Jet peeps admitted it was rather "messed up" in judgment. Hmm you think?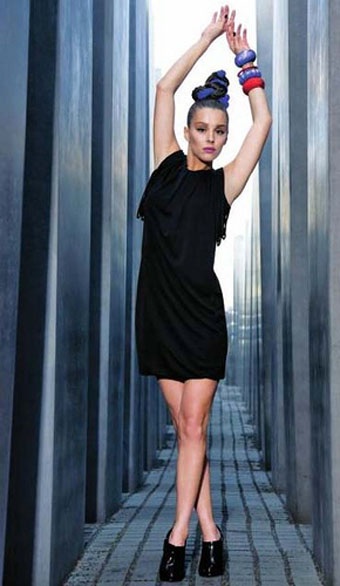 Then there was of course that Elle Magazine shoot with Amber Rose styled by Kanye West. Note to Elle: You have a fashion editor and stylists for a reason…use them! Again I am rendered speechless by the overuse of tackiness and T & A. Again I will spare you dear readers the worst of it and use the mild opening image, trust me it was not befitting for Elle. May I ask Mr West with all the gorgeous clothes at your disposal and you pick that mess? Classy!
As if Kanye didn't make high fashion look low fashion enough how about the Salvatore Ferragamo glammed up homelessness in W Mag? Ahh the perfect chuckle in an economic downturn. Wink wink.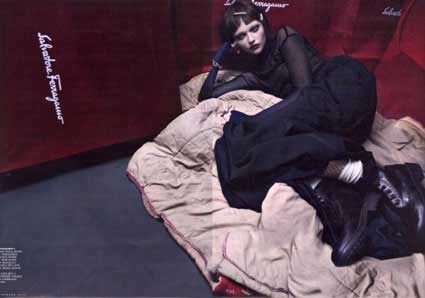 What about the W Magazine spread with Bruce Willis and his new younger version of Demi wife Emma Heming? As a shoot it was actually quite amazing but Hello, keep your marital fetishes safe and tucked away at home Willis' clan.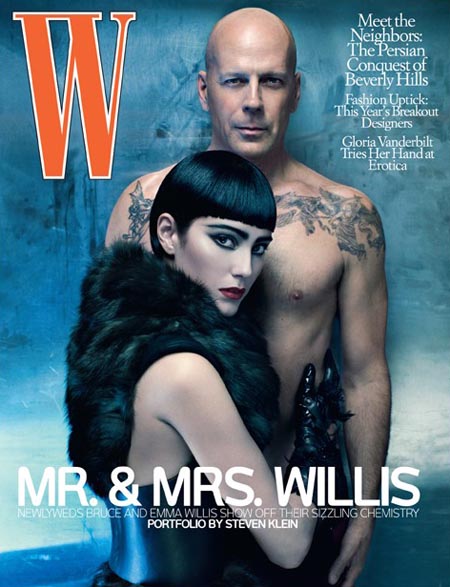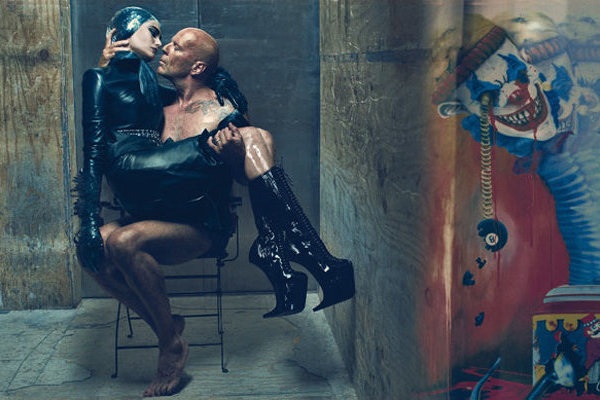 And lastly, in the worst editorial gone porn category Steven Meisel's shoot "Dogging" that one can only describe as Blair Witch meets kiddie porn meets orgy for Italian Vogue who then turned him down for being "too risqué" but the ever spontaneous V Magazine picked it up and ran with it. Even Madonna's "Sex" book looked tame by these standards! Seriously it was a stretch to find a family appropriate image to share!