In honor of Labor Day ( historically the only holiday connected to nothing- other than celebrating working) I have decided to actually take a day off. But first I have to offer a peek inside the life of one of the most amazing women in the fashion industry. A legend, a game changer and an Icon, Carmen Dell'Orefice; a woman who proves that aging gracefully and having longevity in an industry (and culture) obsessed with youth is possible.
Trump Models Legend's Division features an impressive roster of industry veterans namely Carmen in this article below edited from a models.com interview by Janelle Okwodu. With photos by Betty Sze.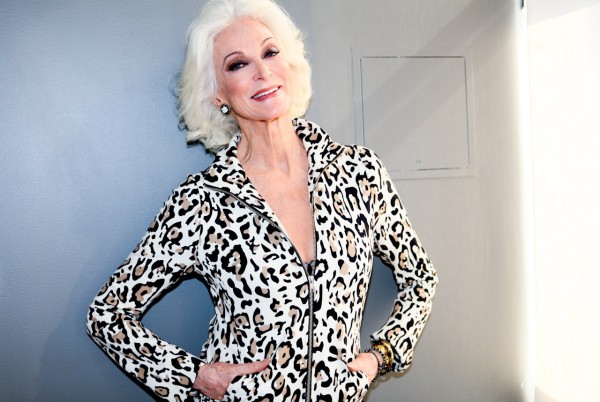 MDC: I heard you just came back from Argentina – how was the trip?
CARMEN: It was such a well- organized trip and I want to tell you a lot of people should travel outside of the United States to learn manners, courtesy, develop raw aesthetics and a sense of taste. The people are magnificent. They take time to smell the roses, they take time to be courteous to each other.
MDC: What brought you to Trump Legends?
CARMEN: I feel so fortunate that this agency exists. What do you do with a 66 year career? You don't need to sell me as a model, I think I'm established! I'm here because of Patty Sicular, she and I have worked together for almost going on 30 years now. We started at the original modeling agency, which was of course started by Eileen and Jerry Ford, who started that in 1947.
I had been working before they even started the modeling agencies. Back then there were Powers and Conover, but those were simply modeling schools; they had no real connection to the fashion industry. In many ways America was still asleep after World War 2 – there were no magazines, only newspapers. Things were just beginning to come back, the old Vogue from before the war and so on.
I have to go back in history to describe what I know about Trump today and their insight into the changing media. Things are different now; most of the old newspapers are gone, magazines are struggling – who would have ever dreamt that The Herald Tribune would be no more. People are more interested in the instant gratification they can find in things like the internet, or iPads, iPhones. You need an agency that understands all the changes happening within the technology and how they affect your career. There is something called "The Carmen Product"; I am no longer just a model, I represent who I am as an individual and an entire generation.
How do people think about themselves? You don't want people thinking of themselves as aging into decay. How do you marry the product, the image and get the message out there that life is full of living and you can continue to achieve? I am there representing that life is worth living and I work very hard at what I love. It is a privilege and I'm lucky.
MDC: What makes a model great?
CARMEN: Modeling when I started was a real career, for girls now it isn't. Most young girls starting in the business can't make a real living as a model. It is a stepping stone if they are smart and they know how to save the money. Most people don't know how to, because they're told that they'll be better people if they have a Manolo Blahnik shoe, or an expensive purse. I encourage a lot of young people to save their money and not to buy into the marketing. Don't ever think that "If I buy this other people will notice me." You don't want other people to notice you, notice yourself first.
A great model is a silent actresss, if she's smart. If you go on set trying to get love from the camera or the affection you don't get at home you're never going to be happy. Modeling is a job, it is an acting job and you need to understand the environment you're temporarily embodying. It is your job to project and respond to the direction of the photographers, art directors – whoever is in the studio, in on the scenario that will be the picture. Intelligent people will have things very thought out before and know what they want – if you're lucky you'll get to work with the greats.
What is happening a lot now, are these pictures by committee where the photographers aren't really allowed to express their creativity? Many of them just know the equipment and some don't even know that.
MDC: Do you consider yourself a legend?
CARMEN: I've had to accept it and accept that I'm unique, but at the same time everyone is unique. We all have to use what is unique about ourselves, define it, nurture it and become it. I love the phrase, Trump legends more than I do "supermodel" because it implies an achievement. It is a nod to what I've achieved within my life. Other people look at your life and go "Oh, that's an achievement." but to me it can seem ordinary. What is valuable to me is the self- worth and knowledge that I've gained, knowing that I can look at any situation and come out of it better than I did when I was a kid. I'm still a work in progress, very happy to be a part of things. I am not the picture. I'm part of it. Like a grain of sand on the beach. You need many grains to make a beach.

VOGUE COVER, 1947
I have come to love that cover, it has been printed so many times. At first I thought it was hideous and that I looked like a little boy, but I love it now!
CARMEN BY NORMAN PARKINSON
I've worked with all the greats, but I think my favorite shoots were with Norman Parkinson, he always made the experience fun and he knew exactly what he was doing behind the camera and exactly what he wanted from his models.
WITH SEAN O'PRY, BY TERRY RICHARDSON, 2012
I used to work with Terry's father, Bob. There were some lovely South American boys on this shoot though, they were brought up right – so respectful, so helpful and wonderful – the boys made that shoot!