Some of the hottest up-and-coming names in fashion will show at Tucson Fashion Week, Oct. 15 – Oct. 17.
Jonathan Skow of MR TURK is one of Tucson Fashion Week's special guests who will present his latest collection both on the runway and after in a shoppable pop-up boutique on Friday, Oct. 16.
With his extensive fashion background in photography, styling and yes, being the husband of women's clothing and accessories designer Trina Turk, Skow has translated his love for fashion into a unique men's wear label that's inspired by California's laid-back resort culture and lifestyle.
Read on for an exclusive Q&A with Skow about the evolution of MR TURK, his fashion inspirations and more —
AFM: Please tell us a little bit about yourself –
JS: I started my life and professional career as a stylist. I am married to Trina Turk, and we got married in 1985. We were living in L.A. at the time, and I was working as a stylist while she was working as a fashion designer
In 1995, Trina started the Trina Turk collection, and I consulted her styling, designing costumes and putting looks together.
In 1999, I started working as a photographer and doing photo work for Trina Turk. In 2002, she opened her first store in Palm Springs. From photo shoots we would sometimes want a guy in the picture. From there, we started selling men's clothes in limited quantity at the Trina Turk Store a couple times a year. We started to get this following of people and the items sold really well.
We then decided to start doing more of a regular men's collection – MR TURK – in 2012. It started to take up more space in Trina Turk's Palm Spring store, so we opened the MR TURK store right next door.
There's a little less pressure with the men's versus the women's [line]; the men's we're doing what the customers want in Palm Springs – fun, colorful party clothes. It's all about the social guy at a pool party, cocktail party, or brunch. It's not so much wear to work, but playful and social.
AFM: How would you describe your personal style, and how might that be reflected in MR TURK?
JS: I don't like to take myself too seriously. It's fun to express yourself through clothes. The only thing I'm really interested in is clothes, fashion [Laughs].
I like things that have a statement. Our silhouettes are pretty classic; we do a few different shapes of blazers, several slim pants and polo shirts. The fabrics are what really set us apart from other brands and I think that's my style as well. I don't wear anything super dramatic – I wear classic clothes with nice fabric that has texture and colors.
AFM: Who is the MR TURK man?
JS: It's guys who are sociable. The common denominator is people who enjoy socializing, going out, getting attention. I get a lot of guys who aren't necessarily into clothes, but then they wear MR TURK and get complimented on their clothes and never have [been complimented] before. They may not be so into fashion, but they like the idea of standing out. And there's the guy who just loves fashion. The common thread is the sociable guy who's optimistic and likes people to notice how he looks.
AFM: What types of products do you offer?
JS: Our best-selling item right now is the men's jumpsuit. For fall, our best-selling jacket is floral jacquard in a teal blue and navy weave pattern of flowers. We also do a lot of occasion blazers and swimwear. There's a unique vintage quality to our clothes inspired by the '60s and '70s.
AFM: What inspires your designs?
JS: I'm always inspired by the Palm Springs lifestyle – that cocktails by the pool idea of living in the desert. Fashion in a resort context.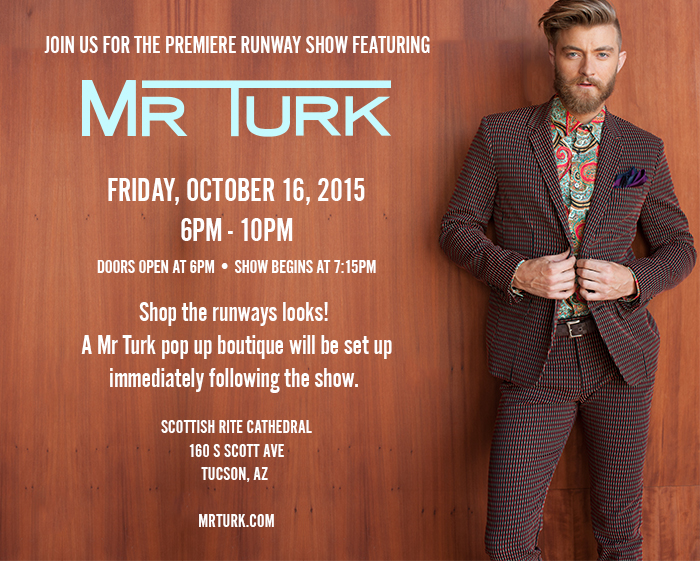 Join designers like MR TURK, emerging talent and industry experts at Tucson Fashion Week for exciting events, runway shows and after parties.
Want in on all the fashion fun? Get your ticket to Tucson Fashion Week here.
This interview has been edited and condensed.