The spirit of the holiday season just isn't complete without Oprah's much-anticipated Favorite Things list. Oprah tasted, tested, sniffed, snuggled, brewed, steeped, read, shared and dared 72 products for her 2014 Oprah's Favorite Things. Check out what the talk show queen is calling her favorite, favorite gifts to give and receive this year.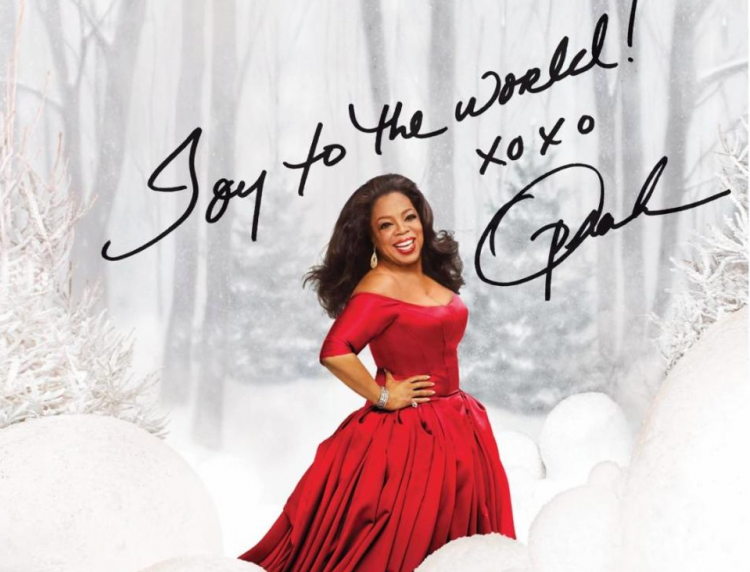 "These Beats by Dr. Dre Studio Wireless headphones and the matching Beats Pill (a.k.a. speaker) in glossy gold make me want to get my dance on. And we're the first magazine to have them! Both items are Bluetooth enabled and shockingly lightweight—and will sound as good as they look for years to come." — Oprah $700 NeimanMarcus.com
Ginger Beauty and Wellness Collection

"When it comes to gifts, three is the perfect number—generous without being overwhelming. Which is why I love this set, featuring pink Fijian ginger three luxurious ways: as a powdered tea, a body scrub and a bath soak." —Oprah
Originally $265, now 10 percent off with code OPRAH WakayaPerfection.com
No Matchy-Matchy Initial Stud Earrings

"These initial stud earrings make a perfect present for the teen on your list. In fact, all the girls at the Oprah Winfrey Leadership Academy are getting them for their birthday. Buy individual letters in white or yellow gold, with or without diamonds, and jump on the nonmatching trend." —Oprah
Originally $80 per earring without diamonds, $150 with diamonds, now 20 percent off with code OPRAH RedCJewels.com
Yoga Tablet 2 Pro


"You can hold, hang, stand and tilt this tablet developed by Lenovo and Ashton Kutcher. But the real star power? It includes a projector, so you can convert your living room wall into an instant home theater." —Oprah
Originally starting at $500, now 10 percent off and a free case with code OPRAH
Yes, you can wear white after Labor Day, especially if it's in the form of this elegant leather double-wrap-strap watch with a gold-polished stainless steel face, by designer extraordinaire Tory Burch. The secret? The shade is creamy, not arctic, which makes it less stark and more, well, timeless."— Oprah
Reva Watch, $395 ToryBurch.com
Holiday Statement Chocolate Box

"I can't think of a better way to get my dark chocolate fix than these Venezuelan squares, hand-poured and painted to convey the sentiments of the season. The perfect one-bite treat." — Oprah
Originally $70, now 20 percent off with code OPRAH MaggieLouiseConfections.com
View all of Oprah's Favorite Things at oprah.com.