Every season I wait in anticipation of the couture runway shows. These are the crème de la crème of the bunch. These are the pieces that are truly one of a kind, not your mass- market assortment. Works of art made in the grand tradition of Chanel, Balenciaga, and the great Parisian originals. Okay, so I am getting a bit over the top here, and perhaps caught up in a little fantastical typing moment, but the truth is that if you are a couture house I want to see something spectacular! Something Wow! Knock my socks off baby…. well some did and some didn't, but let's begin today with Chanel.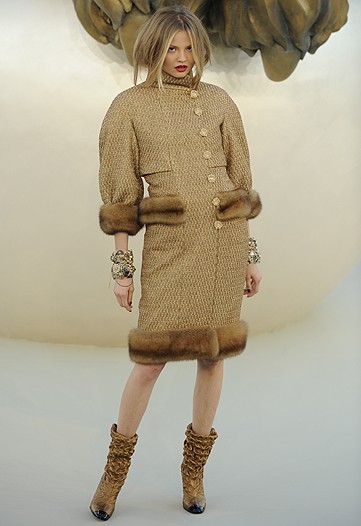 Probably the best- known brand in the world. Ms Gabrielle Coco Chanel herself was every bit of extraordinary and she changed the way we dressed. She for all intents and purposes created the LBD and nothing trumps her design aesthetic for class and elegance.
So of course I was expecting Karl Lagerfeld to bring out all the stops, entertain us, elevate us, charm us…. And in many ways he did. The sunset show took place on Tuesday under the dome of the Grand Palais. Spectators were treated to an amazing, 8-ton, 40-foot-tall golden lion, its paw perched on an enormous pearl. We already know Karl is nothing if not opulent! But this season there were no cascading gowns and the collection had some scaled down moments which I must confess were my favorites. Much more so than some of the gilded and well adorned pieces.
But the jackets were plentiful in varying lengths and proportions, hemlines skimmed the knee and grazed the calf (an interesting choice) and there were definite world influences from bohemian to baroque. But the jewelry collection just piled up high was one of my favorite things, chunky bracelets, pearls and stones…lovely! And the shoes… lavishly embellished boots made to match the looks, they definitely garnered plenty of oohh and ahhhs.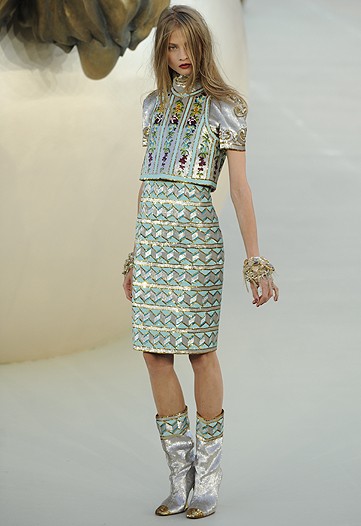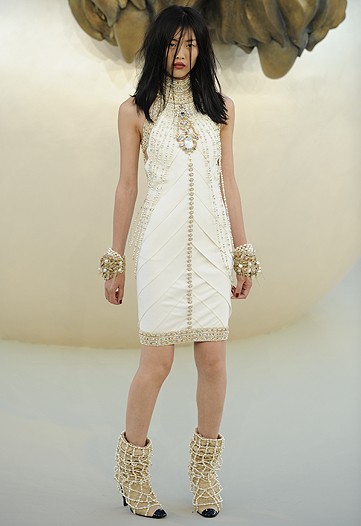 The one thing that I admit was a tad disappointing to me was the hair, I know Karl is modernizing the Chanel woman but I couldn't help yearning for something a bit more chic. Honestly if I want bed head, I can watch The Row's shows…but when I see Chanel it begs for something other than uncombed hair.
And lastly a little spoiler alert for Gossip Girl fans, Blake Lively and Leighton Meester were spotted front row at the couture show and let on that they are in the midst of filming a few of season fours episodes in Paris.