A masquerade is an exciting opportunity to dress up and express yourself in a different and fun way with a decorative mask.
Everyone is welcome to put on their masks for charity at the seventh annual MASKer Aide Ball to benefit Mothers Awareness on School-age Kids (MASK).
The ball will celebrate and support the nonprofit organization's work over the past seven years with an evening filled with entertainment, silent & live auctions, fine dining and dancing at the Fairmont Scottsdale Princess Resort on Saturday, Oct. 4.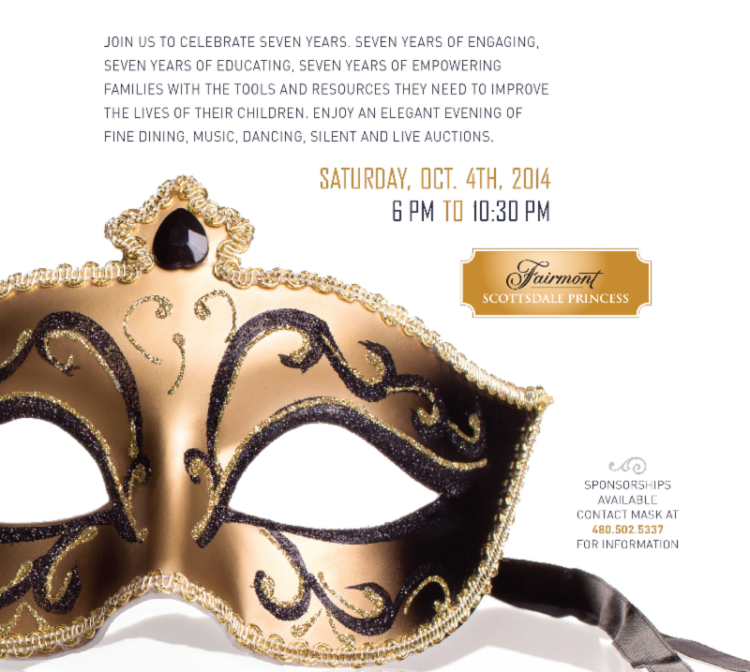 Guests will don black ties with masks and the elegant evening will kick off with live music by Michael Land & the Impact Band. John Hook (Fox 10 News) and Gina Salazar Hook (CBS 5 News), a united team in parenting, will be the Emcee Team for the evening.
MASK aims to engage, educate and empower families to make safe and healthy choices for their children.
When it comes to selecting the perfect mask for the ball, look no further than Easley's Fun Shop. The Phoenix adult costume shop off 509 W McDowell Road stocks everything from simple black, white or colored eye masks to full-face Mardis Gras masks with feathers and glitter galore.
What: MASKer Aide Ball to benefit Mothers Awareness on School-age Kids (MASK)
When: Saturday, Oct. 4, 2014 from 6 p.m. to 10:30 p.m.
Where: Fairmont Scottsdale Princess
Who: Everyone. Please click here to purchase tickets.
For more information on the MASKer Aide Ball and MASK, please click here.