So here's a post I thought I'd never write. Not because I wouldn't write about what to wear on Super Bowl Sunday, but because the Arizona Cardinals are involved. Yeah. Hell froze over because the Arizona Cardinals are actually in the Super Bowl. And even if you only ever cared for the commercials, the cocktails and the eats, everyone in the Valley is going to have to care about a little bit more than that come Sunday afternoon.
This Sunday, it's totally O.K.  if not totally required to be a fair weather fan. Especially since (considering the history of the Arizona Cardinals) this might be your only chance to show some pride. Even I, who on every Super Bowl Sunday has asked whoever I'm with what team it is I'm rooting for, set out to actually learn a little more about the game. (I learned that a team has four attempts to move the ball 10 yards to the end zone, go me!)
And as far as your outfit goes, it's Super Bowl Sunday. Show your support in some Arizona Cardinals gear like these finds from Scottsdale Jean Company.

Not feeling a Cardinals jersey or other head-to-toe gear? Try this cute hat instead. I'd totally rock it with a wife beater and jeans or whatever your go-to casual outfit may be. I'll make an exception to my Swarovski crystal-encrusted-things hatred since it is, after all, very team-spirited and the jewels do make it girly-cute.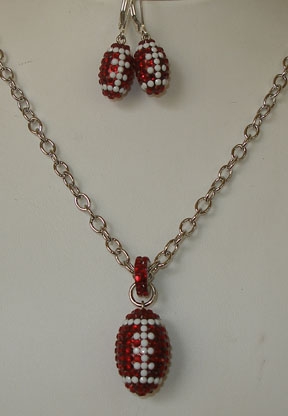 These red football accessories are a sublte way to show your support. Don't overload the rest of your outfit and keep it simple. I mean, when else can you rock red football earrings and a red football necklace? (Just in case, the answer is never.)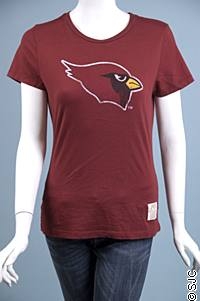 I'm not really a jersey kinda girl (I know I know, shocking confession), so this Cardinals tee is exactly what I'd like to sport come Sunday. It's perfect with jeans and boots, or flip flops if it's nice enough out. And I could totally see myself pretending like I know what's going on and cheering when everyone else does in this outfit.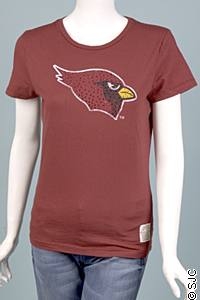 But if, in fact, you're more of a glitz kind of girl than I am, definitely go for the blinged-out version of the Cardinals tee. It's still sporty, feminine and supercute.
Show your team spirit and Arizona Cardinals pride with some cute Arizona Cardinals duds from Scottsdale Jean Company. All items can be purchased at www.scottsdalejc.com or picked up at either the Peoria or North Scottsdale locations.