It is so hard to resist Anna Della Russo. Just the mere mention of her name peaks the curiosity so much so that one practically wants to stop right then and see what she is up to.
Della Russo is the Milan based Editor at Large and creative consultant for Japan Vogue, but more importantly she is probably the one person in fashion that everyone clamors to see out at the shows, even more than Anna Wintour or the former French Vogue fashion editor and muse Carine Roitfeld.
Della Russo is a favorite of bloggers because she gets them as much as they get her. Della Russo changes her clothes three times a day during the shows (usually in the back of her chauffeur driven limo) This habit didn't begin until the bloggers became a fixture at Fashion Weeks worldwide before that ADR was much like everyone else…she wore just one outfit per day… but she got it, she understood that at each show there would be a row of camera waiting to photograph editors and she adapted with ease, giving them each something to talk about and even became a blogger herself. annadellarusso.com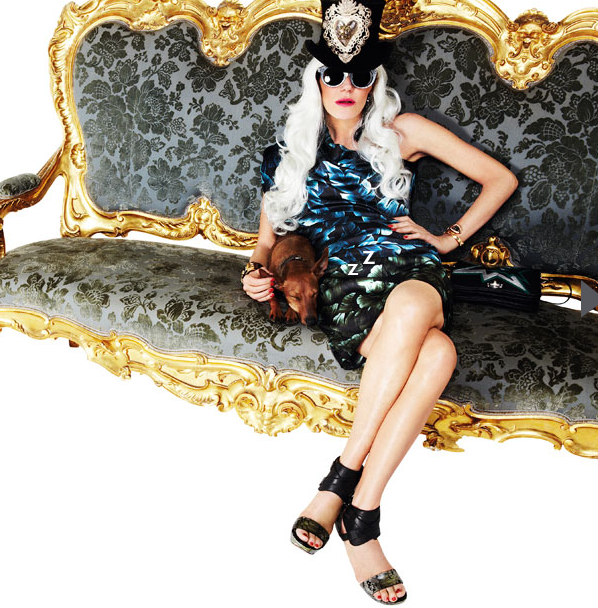 One of her favorite bloggers is Tommy Ton from the infamous Jak & Jil. The two met early in his career and Della Russo was so impressed with his fashion knowledge and his photography skills that the two became friends. She recalls that upon meeting her Ton knew the exact vintage skirt she was wearing from Rochas. Her first thought…How did he know that?
Of course Anna continues to surprise and delight. I think of her as the fashion maniac version of Lady Gaga…you never know how far the outfit envelope may be pushed on any given day.
This week Net-A-Porter featured Anna in their editorial showing the seasons most exciting looks. My question is of course… who else really owns that many hats? None other than ADR.
When asked what she loves about fashion ADR replies in her thick Italian accent:
I enjoy trying different things and never be the same. Fashion is an escape, I don't want to be myself, I want to escape being stiff and boring.
When asked what she carries in her fashionable designer bags she replies: My wallet, lipstick, a pencil, pad of paper, my ipod and blackberry. Classic and practical…who knew?
Take a look at the Spring mix that Anna Della Russo wore in Net A Porters "Extreme Anna" Editorial. Photographed by Giampaolo Sgura. Styling by Vickie Keeble and Anna Della Russo. Hair by Andrew Guida, Makeup by Jessica Nedza