If you haven't had the pleasure of taking a peek at the Paris couture shows
online (or in person if you were lucky enough) there was plenty to marvel at
during the veritable celebration of all thing opulent, intricate and tres' chic.
Among them the makeup and hair. Unlike other fashion weeks this one pushes
boundaries beyond the basic pop of lip color or extra hair gel and somehow
because of the extraordinary caliber of talent it doesn't end up looking like an
art school project.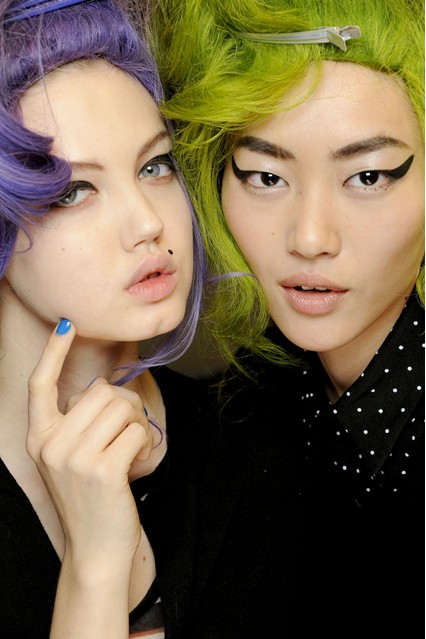 Despite the groaning by critics that he made a decision in bad taste, the always
envelope pushing Jean Paul Gaultier marched out models in acid- bright beehive
wigs and exaggerated winged eyeliner paying homage to the late Amy Winehouse.
Personally, I understand why some might find this offensive (like Amy's Dad) but
it was certainly obvious that JPG meant it lovingly… And Let's be honest Amy
didn't come up with look she just revitalized it.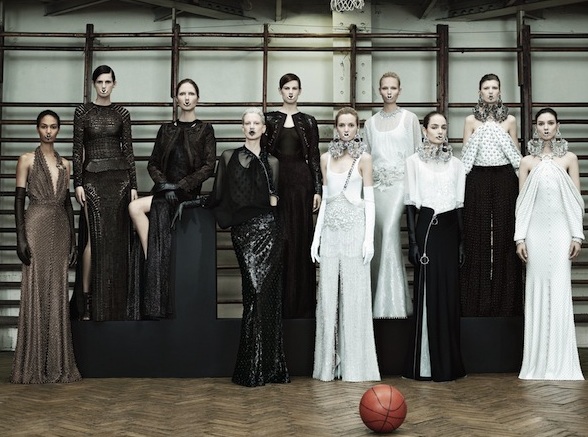 Of course Givenchy took gothic -tribal-girl with the dragon tattoo chic to an
entirely new level by suspending possibly some of the most "eye catching" jewels
from various facial orifices. In fact I can't remember the last time I saw nose rings or earrings quite so large and intricate.
Actually, at this point I can barely tell you what the hair and makeup looked like and
sadly, I'm not really sure if the spectacular collection got as much attention as it deserves… other
than everyone talk about it on blogs in the aftermath.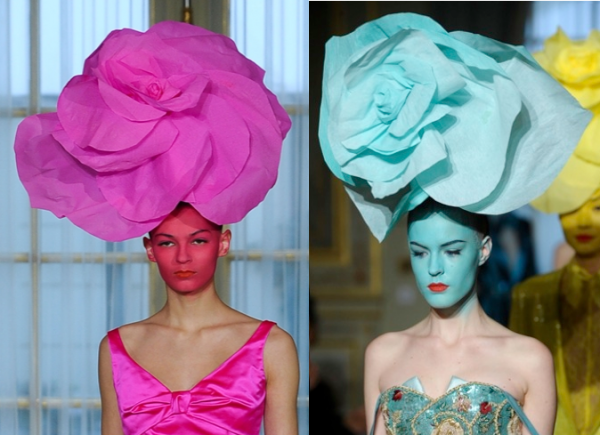 Alexis Mabille sent her models down the runway with what could only be described
as "matching" looks…. Not matching each other mind you… But matching their
face color to their floral fascinator to their dresses. Though it's not exactly
wearable for the average girl…. the monochromatic idea could be emulated by
the uber adventurous with just a swipe of turquoise color on the eyes and a matching
handbag, shoe or other equally vibrant accessory….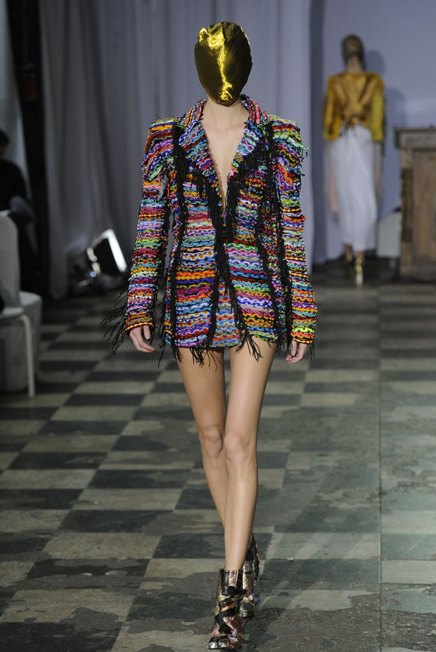 And though there were other designers who utilized add ons that ran the gamut from twigs and
flowers to wire birdcage veils…. One designer went so far as to create
possibly the most low maintenance look that I have seen in a while… Martin
Margiela Artisanale covered the models heads with gold hoods…. Now how's that
for a bad hair day? Or for those days when you wake up late… you can be out the door in no time flat!