Is your home the common destination for holidays? Are you continually deemed Maid of Honor? Do you love to plan girls' nights? If you answered yes to any of these vital questions, you are in desperate need of one of these fabulous books for the hostess with the mostess!
While spending a joyous afternoon at my local Borders, I somehow landed in the "Entertaining" section (didn't know this even existed) right near the cook books. I was so intrigued by the amazing selection of books for party planning that I must have checked out almost every book on the shelf (and may have overstayed my welcome too). My fellow party planners, I have found some adorable and imperative books to keep around for those days when everyone is making their way to your address. Cheers and good luck!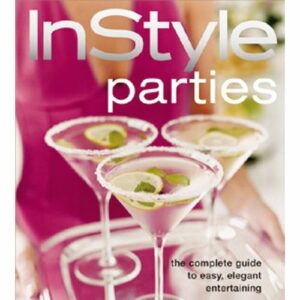 "In Style Parties: The Complete Guide to Easy, Elegant Entertaining"
The cover had me at hello. I wanted to make the purchase solely to have it as an accessory in my apartment. But when I opened it and started to read/view the amazing photos, I knew this was a must-have. If you want to throw an A-list party, In Style can surely teach you how. This one-stop guide will help you make every event a stylish and personal soiree, and it proves once and for all that entertaining at home can be easy, fabulous, and fun.
The heart of the book is twenty of the most popular party guides published in In Style magazine over the last five years. Enjoy playful themes, fresh and simple recipes, sexy drinks, elegant decor, handy timetables, and a non-stuffy approach.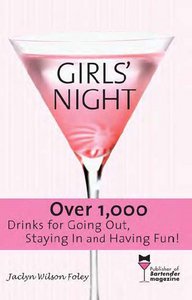 "Girls' Night"
By Jaclyn Foley
What's a girls' night without some colorful cocktails on the itinerary? This book knows exactly what us ladies want to sip on as it is chock-full of cocktail recipes distinctly designed with women in mind. "Girls' Night" has more than 1,000 cocktails and a wealth of bartending tips that may make girls' night out a weekly tradition. The recipes are designed by America's best bartenders, the readers of Bartender magazine and Bartender.com–making these the best women's drinks served in professional bars!
Recipes include: La Bomba, Spring Fling, Pink Cadillac with Hawaiian Plates, Apple Puckerita, Southern Lady, and many more!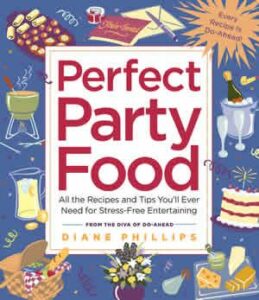 "Perfect Party Food: All the Recipes and Tips You'll Ever Need for Stress-Free Entertaining from the Diva of Do-Ahead"
By Diane Phillips
With five stars on Amazon.com, you know this one is a party-planning lifesaver! It has everything from classic dishes to ethnic masterpieces. So if you get nauseous at the thought of having a large dinner party, feel at ease with "Perfect Party Food," featuring more than 500 recipes with icons indicating five kinds of soirees (casual, grazing, holiday, informal, and elegant). If your new to the kitchen, the author includes basics, pantry and equipment necessities, along with emergency rescues. Man do I wish I had this book before my Christmas Eve dinner party!
"Sangria: Fun and Festive Recipes"
I had to throw this one in, because sangria is my all-time favorite cocktail, which is also pitcher-perfect for that large party! This book has everything from classic Spanish sangria to sparkling raspberry lemoncello. If you love fruity wine and Champagne drinks, plus tapas you will be hooked.
With red, white, and sparkling sangria, these concoctions will turn any party into a full-blown fiesta!