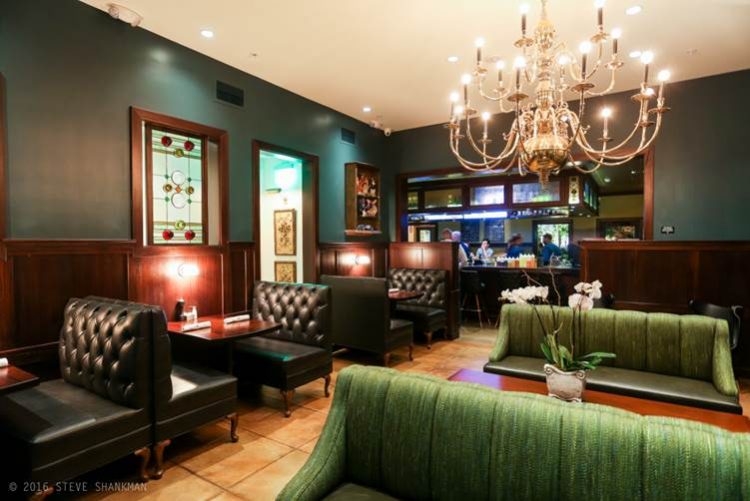 Where do you plan on ringing in the New Year? Pomelo at The Orchard is featuring a New Year's Eve prix fixe menu for two with the help of luxury champagne, Veuve Clicquot. The special menu, created by Chef Javi Perez, will be offered on Saturday, December 31st, from 5 p.m.to 10 p.m. For just $120 per couple, guests will receive two glasses of Veuve Clicquout Brut Champagne along with the menu below:
Starters (one to share)
Calamari & Shrimp Fritti—Crispy calamari and shrimp served with pomodoro and buttermilk dressing.
– or –
Chef's Board—Assortment of cured meats, artisanal cheeses with toasted baguettes.
Salad (one to share)
Pomelo Chopped—Dinosaur kale, artisan greens, tomato, corn, edamame, roasted peppers, gold raisins, toasted sunflower seed, feta and tossed in Green Goddess dressing.
(suggested wine pairing) Lagaria Pinot Grigio | 2014, Veneto, Italy
– or –
Wedge—Half head of iceberg lettuce, bleu cheese buttermilk dressing, crispy bacon, hard-boiled egg and tomato confit.
(suggested wine pairing) Saint Louis Sancerre | 2014, Loire Valley
Specialties (one per person)
New York Strip *MR—(12 oz.) angus beef grilled over Arizona Mesquite served with shrimp in a parmesan sauce, seasonal vegetables and scalloped potatoes.
(suggested wine pairing) Poggio alla Guardia Super Tuscan | 2012, Tuscany, Italy
Short Ribs—Braised to perfection served with a peppercorn demi glaze sauce and served with seasonal vegetables and mashed potatoes
(suggested wine pairing) Milbrandt Merlot | 2014, Columbia Valley, Washington
Pan-Roasted Wild Salmon *M—Black rice, shaved fennel and wild arugula salad with citrus Pomelo beurre blanc.
(suggested wine pairing) Damilano Nebbiolo | 2013, Piedmont, Italy
DESSERT (one to share)
Salted caramel cookie—Warm salted caramel over shortbread cookie served with vanilla gelato, chocolate sauce and fresh strawberries.
(suggested wine pairing) Veuve Clicquot Rose | NV, Reims, France
Seating is limited so RSVP by calling 602-633-2600 and mention you would like the New Year's Eve menu. Reservations will be taken with a minimum of two in a party but the more friends the merrier. If the entire table takes advantage of the prix fixe menu they will also enjoy 10% off any bottle of wine or champagne. There will be no modifications or substitutions and the suggested wine pairings are available for purchase. For more information visit PomeloPhx.com or on Facebook at facebook.com/PomeloPHX.