Cinco de Mayo isn't the the same without some tequila-infused cocktails. Paired with some delicious Mexican fare like guacamole and chilaquiles, celebrate with a classic margarita or a fruit-infused tequila medley.
Food Network
Ingredients for the Margarita Mix:
1 1/4 pounds fresh mangoes
1 cup water
1/2 cup sugar
Gray salt
For the drink:
3 cups ice
1 1/2 cups Mango Margarita Mix
4 ounces tequila
2 ounces triple sec
Lime wedges
Mint Salt, recipe follows
Directions:
Peel and pit the mangoes and cut them into large chunks. Place the mango in a blender with the water, sugar, and a pinch of salt. Blend until smooth. Taste and add more sugar, if necessary.
Fill the blender with ice and add the Mango Margarita Mix, tequila, and triple sec. Blend until smooth. Rub the rim of a margarita glass with a lime wedge and dip into Mint Salt to coat rim. Fill glass and enjoy!
Mint Salt:
1 cup fresh mint leaves
1 cup gray salt or coarse sea salt
Clean and dry mint and roughly chop. With a mortar and pestle, crush equal parts fresh mint and salt.
Ingredients:
2 fluid ounces blanco tequila
1 fluid ounce fresh lime juice
1/2 fluid ounce Grand Marnier
1/2 fluid ounce agave nectar
Directions:
Mix all ingredients in a mixer.
Shake and pour liquid over ice.
Can salt the rim of glass using for serving.
tasteofhome.com
Ingredients:
4 Lime wedges
2 tablespoons coarse sugar
2/3 cup thawed lemonade concentrate
1 cup frozen unsweetened raspberries
2 cups ice cubes
2 packages (10 ounces each) frozen sweetened sliced strawberries, thawed
1/2 cup frozen blueberries
1 tablespoon sugar
1/2 cup tequila, optional
Directions:
Using lime wedges, moisten the rims of four margarita or cocktail glasses. Set aside limes for garnish. Sprinkle coarse sugar on a plate; hold each glass upside down and dip rim into sugar. Set aside. Discard remaining sugar on plate.
In a blender, combine the lemonade concentrate and raspberries; cover and process until blended. Press mixture through a fine sieve; discard seeds. Return raspberry mixture to blender; add the ice, strawberries, blueberries, sugar and tequila if desired. Cover and process until smooth.
Pour into prepared glasses. Garnish with reserved limes.
Papaya Smash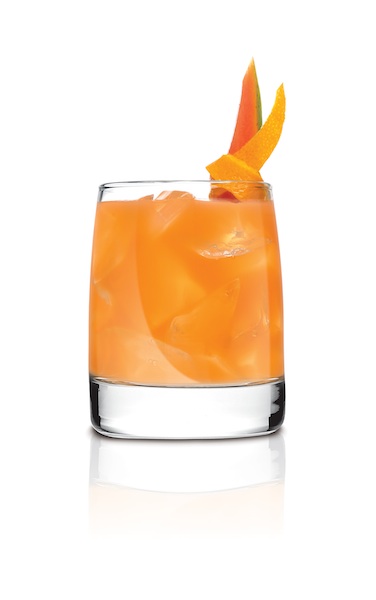 Ingredients:
1 Slice of Fresh Papaya
¼  oz. Agave Nectar
1 ¼  oz. Avión Añejo
½  oz. Aperol
½  oz. Orange Juice
¾  oz. Fresh Lime Juice
Garnish with Fresh Papaya
Directions:
Add a slice of fresh papaya and agave nectar to a mixing glass.
Muddle to release the papaya flavor.
Combine ingredients in shaker with ice and shake vigorously.
Strain over ice, and garnish with a fresh slice of papaya