Traveling can be stressful. From keeping track of flight changes to connecting with friends abroad, these multi-platformed mobile apps got you covered.
WhatsApp Messenger



The WhatsApp Messenger is a cross-platform mobile messaging app that allows the user to exchange SMS messages for free. All you need is WiFi or a 3G connection to stay in touch. In addition to basic messaging users can create groups, exchange unlimited images, video and audio media messages.
Available for iPhone, BlackBerry, Android, Windows Phone and Nokia.
Vocre


The Vocre app translates whatever you say into the mic into any language. Set the language you want to translate from, then the one to translate to. Speak into your mic and turn your phone and the app will say—and write—the phrase you need.
Available for iPhone.
Aid worker Dan Woolley was trapped beneath the rubble of the Haiti earthquake with injuries. This Pocket First Aid & CPR by the American Health Association guided him step-by-step—with reference images and videos—on how to stop bleeding and tie off wounds on his head and leg. Pocket First Aid gives quick assistance on how to navigate a variety of medical situations. Create a personalized medical profile with insurance providers, emergency contacts and medications.
Available for Android, iPhone/iPad.
FlightTrack Pro


The FlightTrack Pro app gives travelers the most up-to-date flight times, terminal and gate numbers, and terminal maps. It even forecasts delays based on historical data, and taps into SeatGuru's seat charts to show you leg room and amenities for when you board on time and are ready for take off.
Available for Android, BlackBerry and iPhone/iPad.
World Lens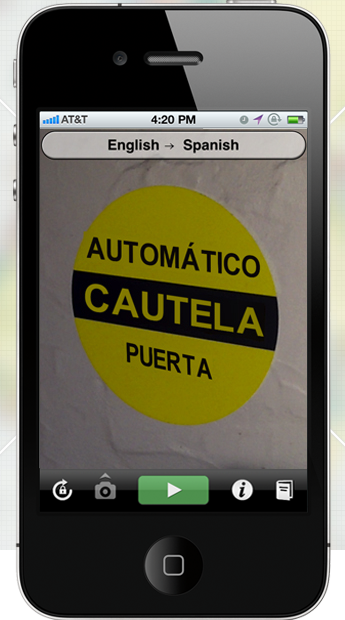 It sounds delicious, but you're sure exactly what you ordered on that foreign menu. Introduce the World Lens app. Kryptonite to foreign-language signs and menus, you just have to hold up your iPhone to any printed item and watch as the text is automatically translated. Only available for English and Spanish translations.
Available for iPhone.