Spice up summer travel by lodging in a castle, vintage trailer or tree house. From quirky to stylish, these six travel sites offer unique lodging options tailored to fulfill anyone's travel dreams, all geographical and price ranges considered.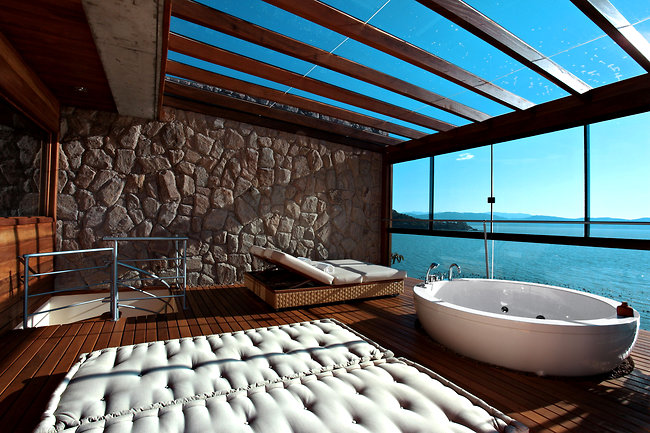 Bungalow in Santa Catarina, Brazil; MrandMrsSmith.com.
1. Boutique-Homes.com
For the traveler who thrives in the offbeat and unknown, this travel website marks itself as a "temporary housing for chic nomads." Find everything from a  beautifully restored vintage trailer with polished wood interiors in Marfa, Tex., to a  detached hotel room with a glass wall in the mountains of Norway.
Offered: 166 rentals and 35 hotels in 33 countries.
2. DesignHotels.com
The German-based hotel company boasts scores of artfully designed hotels. A recent experiment of pop-hotels can be spotted in Mykonos in a beach-style club, now through October. Most properties are well-known boutique hotels.
Offered: 220 hotels in 41 countries.
3. DesignTripper.com
For the design-oriented traveler, explore a wide range of "indie" hotels, Bed and Breakfasts and inns. Properties include Podere Palazzo, a five-bedroom Tuscan farmhouse with an infinity pool, from $4,450 a week and Casa Ninamu, a thatched jungle/beach home in Mexico starting at $400 a night.
Offered: 200 properties in 39 countries, from the United States to Uganda.
4. MrandMrsSmith.com
For the "insider" traveler, the team at MrandMrsSmith frequently visits and reviews the properties. The visits are then followed by an anonymous stay by friends and family who report back on the listed boutique hotels, luxury spas, guesthouses and country inns, which include an 18th-century stone house with a high-tech design in Wales, and a four-bedroom beach home in Australia.
Offered: 950 properties in 65 countries, from the Maldives to Mexico.
5. UniqueHomeStays.com
Boutique Bed and Breakfasts and luxury rentals, primarily in Europe, are the focus on this site. Think a breathtaking manor home in the Cotswolds with a croquet lawn and swimming pool.
Offered: 140 homes in 14, mostly European, countries.
6. WelcomeBeyond.com
Castles, yurts and tree houses, oh my! Founded by two globe-trotting Berlin-based brothers, this site offers lodgings with personality: a six-bedroom, cliffside villa in Phuket, Thailand, goes for 1,338 euros per night (chef included), and a cozy forest hut in Sweden with no electricity costs 44 euros.
Offered: Roughly 100 properties in nearly 30 countries, from South Africa to Morocco.
Source: NYTimes Travel