Manscaping is nothing new for the trendsetting male, however a manicure is one thing and polish is another. With men like David Beckham, Johnny Depp and Prince Harry sporting nail paint, it's no surprise the concept of a men's only nail polish has been created.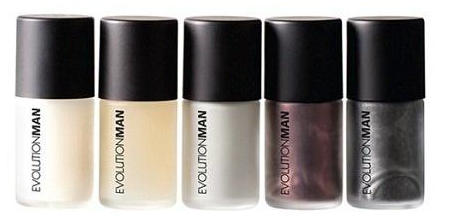 Male beauty line EVOLUTIONMAN has launched a nail care and polish line of metallic shades inspired from modern car finishes. Nail varnishes include Pure Matte, for the au natural look, Pure Bling, for a satin finish, and three manly nail paints in Pavement, Alter Ego and Stand Out.
EvolutionMan's founder Marco Berardini described the nail paint to Allure:
"I love strong colors that make a bold statement with a stark contrast on the skin. I especially like matte finishes — they feel new, modern and masculine… in the past, the most popular colors for men have been black, blue, and white. Much like new car finishes on the market right now, I wanted metallic colors that were a modern interpretation of old favorites."
Johnny Depp with blue polish on Letterman
As far back as 2002, Beckham chose a light pink to wear to the Christening of Liz Hurley's baby while Prince Harry sported a brighter pink on a night out in London in 2009.
What do you think about men sporting polished, colored nails?
EVOLUTIONMAN Nail Paint and Varnish, $14 each, www.evolution-man.com.