The red lip is a classic, timeless and sexy accessory that flatters almost any complexion. Though the shade is a bold primary, it comes in a multitude of different hues that can make or break its complementing factor to your personal aesthetics. Here's a breakdown of what pigments to look for when choosing the best red lip color to match your skin tone from NYC makeup artist and Cheek to Chic founder Raychel Wade:
Skin tone: Fair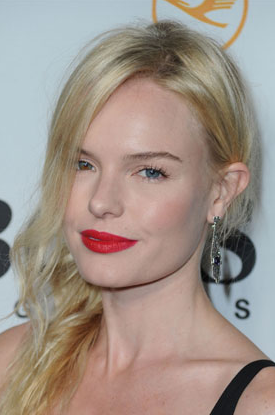 Kate Bosworth looks best with a matte orange-red. 
 Kate has a "peaches and cream complexion that is complemented by her light locks," says Wade to Total Beauty.com. For a pinkish complexion like hers, a "matte red lipstick that slightly errs on this side of orange" works to bring out the undertones, advises Wade.
Try:  NARS Lipstick in Red Lizard, $24.
Lauren Conrad looks radiant in a dark, deep lip. 
Slightly "sun-kissed skin, dark blonde hair and gray eyes," like Lauren's are the perfect combination for a "dark, deep lip with gold undertones," explains Wade. This shade actually can work with "all skin tones," she says.
Try:  NYX Black Label Lipstick in Black Cherry, $7.50
A neutral red highlights Andie McDowell's golden undertones and green eyes.
"Golden skin and green eyes work perfectly with a neutral red/brown" says Wade.
Try: Make Up For Ever Glossy Full Couleur in Moulin Rouge, $19. "To wear a low maintenance look such as this, opt for a full coverage gloss without any shimmer," advises Wade.
Skin tone: Bronze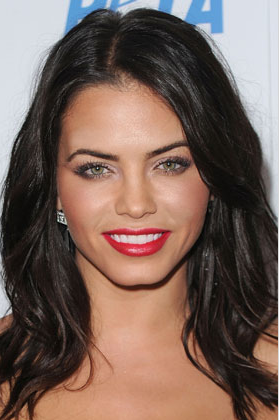 Jenna Dewan's olive complexion is highlighted by a pink/red lip color.
With an "olive complexion and green eyes," like Jenna's, a "pink/red combination really makes the undertones of the skin and eyes stand out," says Wade.
Try: First, line the lips with Chantecaille Lip Definer in Energy, $22. Then, choose a lipstick that is vibrant and intense with a full coverage finish like Chantecaille Lipstick in Cayenne, $28.
Selita looks glamorous in a matte orange-red hue.
Dark skin with natural gold undertones, like Selita's, works perfectly with a "matte orange/red" as it "keeps it all in the same warm family," advises Wade.
Try: "I would forgo the lip liner, and just apply a generous coat of Lipstick Queen Rust Sinner, $18. Blot with a tissue, and apply a second coat to ensure its 'matte-ness'," says Wade.
Iman dons a classic look with a blue-based red.
Wade says that with deep, dark skin like Iman's, a "blue-based, cool shade" can work beautifully when cool tones are carried throughout the rest of the makeup as well. The contrast of the skin and the makeup gives a chic, "modern" look, she adds.
Try: "To achieve this look, pick a fig-shaded product that has a creamy finish like La Prairie Cellular Luxe Lip Colour in Velvet, $55," says Wade.