Add a truely personal touch to your gifts this holiday with homemade gifts. They surely won't be forgotton, guaranteed. Treasured for its novelty, the homade gift lends an enduring association with its maker (you!) and really shows the time devoted to making it.
Perfect for the tech-savvy bookworm in your life, take an old book with a neat cover design to keep iPads, Nooks and Kindles safe. Click here for how-to.
Reinvent a typical serving tray to make your own personalized creative design. The crafty gift-receiver may also use this as a game board of kinds. Click here for how-to.
Stitched Leather Envelope Case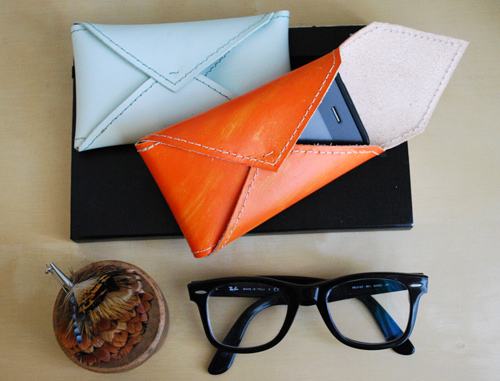 Stiched with love, this leather envelope case is multiple gifts in one, serving as a protective case for tech gadgets or little odds and ends. Click here for how-to.
Perfect to adorn a dresser or end table, make an adorable catch-all bowl! Click here for how-to.
Make something old new again: pair a vintage find with a fresh scented candle. Click here for how-to.
Beyond the examples given above, great handcrafted gifts are malleable to fit any wishlist with the added bonuses of being heartfelt and memorable.
Tip: Take into consideration the gift receiver's taste and your own talents and skills.
What are you gifting this holiday season?