There are many in the business world that thought social media was a flash in the pan. A fad that teenagers embraced that would quickly fade as people tired of hearing the ins and outs of someone's day to day life. While those folks turned away from social media, enterprising companies like Arizona's top ranked advertising and PR agency, Zion & Zion, embraced it.
Based out of Tempe, Zion & Zion is the unique creation of Aric and DuGué Zion, who both hail from executive positions at Fortune 500 companies and sport MBA training, with Aric also holding a Masters in Computer Engineering. The husband and wife team never worked for a traditional marketing or advertising agency in their careers; and therefore never got stuck in the old school agency model. They chose instead to base their agency on the principles of good business, including being open to new ideas and technology and deeply integrating data analysis into the core of the culture.
Zion & Zion began construction on a new 14,000-square-foot office in Tempe earlier this year.
Zion & Zion saw opportunity with networks like Facebook and Twitter, and quickly became the Valley's top agency for social media marketing, including winning Arizona Foothills #1 Social Media Firm the last three years and being ranked #2 Social Media Agency by Phoenix Business Journal. They created successful social media campaigns for well-known Phoenix businesses like Barro's Pizza, Dutch Bros., Fascinations and The Farm at South Mountain, and also for global powerhouses like Houghton Mifflin Harcourt.
"This has been an exciting time for marketers, companies and consumers as social media and digital technology continually present opportunities for those that are able to quickly adapt and leverage the new media." says Aric Zion, CEO of Zion & Zion. "Having a full in-house development team that sits right next to our media and PR/social teams has allowed us and our clients to get on top and stay on top. And the integration of social into the comprehensive real-time marketing dashboards we provide for each client allows insight and optimization that's tough for our clients' competitors to compete with."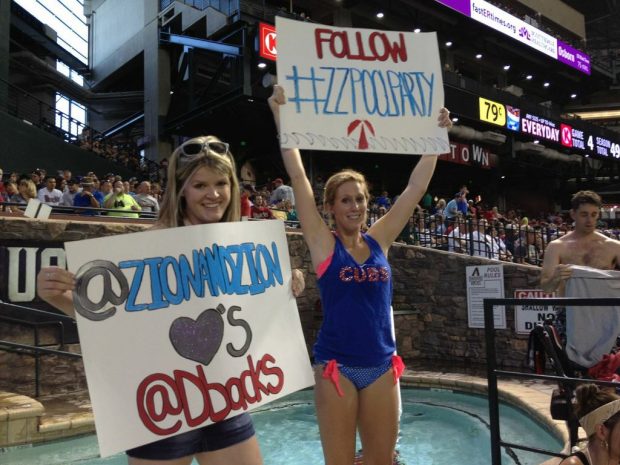 The social media agency creates unique opportunities for social media engagement including signage with their own Twitter handles during a night in the Diamondbacks pool.
Aric suggests that small companies looking to launch their own social media first take a look at their demographics and audience and what they hope to get out of social media. While Facebook is the largest platform out there, it makes more sense for some businesses to focus on other platforms. For example, Zion & Zion client Premier Lighting has benefited from robust Pinterest boards, allowing potential customers to "pin" products for a future project and come back to it when they are ready to move forward. While client Contractor Management Solutions has realized dramatic gains from the LinkedIn strategy and implementation that the Zion & Zion team put in place.
Additionally, Aric recommends that companies focus on what the audience wants to hear and not what your business wants to say. His analogy is: "if you walked into a networking meeting and just kept talking about what you wanted to talk about and never asked people about themselves or what they cared about, you'd pretty much fail. So why would you think similar behavior to be appropriate in social media?"  Engaging your fans/followers with compelling content means they are more likely to pay attention to your messages and share it with others.
For more information about Zion & Zion, please visit www.zionandzion.com.