The  Duke and Duchess of Cambridge (aka Prince William and Kate Middleton) are making the rounds paying homage to those serving in the military and visiting and aiding various charities on their 11-day trip in North America.
Here is the royal couple's Canadian itinerary:
June 30-July 2: The National Capital Region (Ottawa, Ontario and Gatineau, Quebec)

July 2: Montreal
July 3: Quebec City
July 3-4: Charlottetown, Prince Edward Island
July 4: Summerside, Prince Edward Island
July 4-6: Yellowknife, Northwest Territories
July 6-8: Calgary, Alberta
The Duke and Duchess will then fly to L.A., though their exact U.S. itinerary has yet to be made public (See what Diane from Style Files thinks Kate should wear on her U.S. adventure here)
Although the itinerary certainly is interesting, it's Kate's wardrobe that's all the buzz. After all, she has to make her best impression as the trip marks her first visit to the continent! Here are her looks so far…
Look #1
So this is what Kate Middleton looks like after an international flight. The Duchess of Cambridge dons a form-fitting navy lace number from the resort collection of Erdem's resort collection, a Canadian London-based designer.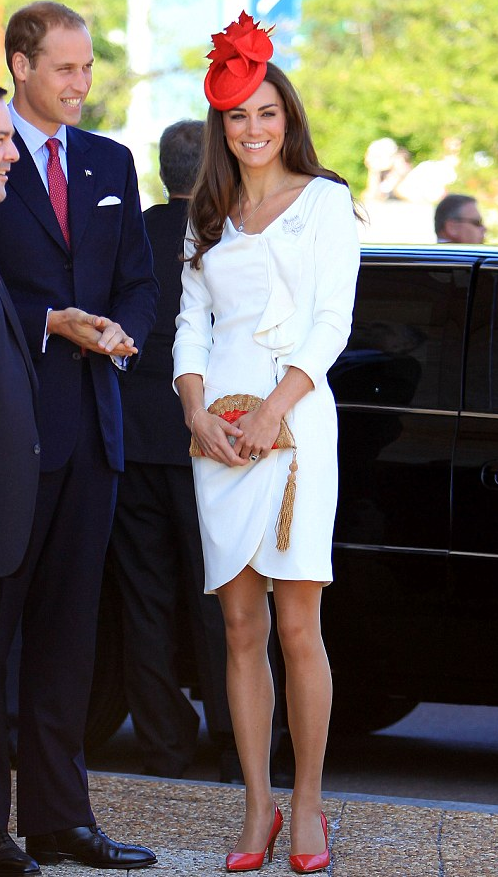 Look #2
Kate Middleton celebrates Canada in the same Reiss dress she wore for her engagement photo, this time dressed up with a broach, lipstick red kitten heels and a a red hat adorned with Canadian maple leaves.
Look #3
The Duke and Duchess of Cambridge spent last evening at a reception in the house of the Governor General of Canada. Kate chose to wear old standbys Issa and L.K. Bennett.
Looks #4 and #5
Kate Middleton in purple Issa Helayel dress (left) and in 'Kengsington' dress by Catherine Walker, with Tabitha Simmons pumps (right), on Jully 2nd in Canada.
Look #6
The Duchess of Cambridge Kate Middleton dons a cornflower blue dress by Canadian-bred/London-based designer Erdem on July 3rd in Quebec City, Canada.
Look #7
Kate Middleton landed in Charlottetown, Prince Edward Island on July 3rd, wearing a lovely shell-colored Joseph shift.
Look #8
Kate Middleton in Alexander McQueen dress and Prada pumps on July 4 in Canada.
Look #9
Arriving at the Yellowknife region of Northwest Canada for Day 6 of their Canadian tour, Middleton wore a cream linen shift with shoulder pads by Danish-born British designer Malene Birger and paired it with L.K. Bennett nude pumps
Look #10
Kate Middleton kept her look casual on July 6 in a pair of J. Brand jeans, a button-down shirt, and her signature Sebago Bela boat shoes.
From head-to-toe, Kate always seems to look effortlessly chic, fresh and elegant. My only cause to differ? Kate should step out of her comfort zone of solid patent pumps and play up the accessories sometime.
What do you think: Do you like the Duchess dressed up or down?