Just in time at the height of summer and right before back to school, two new coffee houses in downtown Phoenix promise to offer up some smooth java, tasty treats and a cool vibe.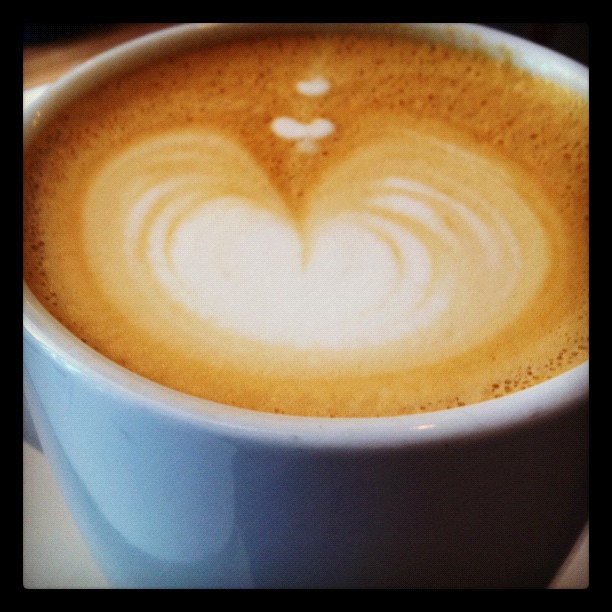 An unrelated photo of latte art via my Instagram. But still relevant.
Opening July 16, Squash Blossom will take the form of a dual restaurant-café, taking the place of the old PastaBar, located on 705 N. First St. It will have a sit-down and takeout service for breakfast and lunch, with such unique menu items like pumpkin pancakes and caramel-banana French toast (yum!).
Owners Brian Lester and wife, Carrie, are no strangers to the local culinary scene, having their own catering business, Lester's Catering Co. The Lesters plan to use only the freshest locally sourced foods. For pastries, they have partnered up with Carrie's sister company, Kokobelli Bakery and Café, and Scottsdale-based Press Coffee Roasters for java.
Only a one-half mile away, Songbird Coffee and Tea House will be a café that serves coffee (from Tempe's Cortez Coffee Roasters), tea (Tucson's Maya Tea) and food (like burritos from Phoenix's Fusion Latin Foods) without the sit-down restaurant feel starting July 23. Owned by husband and wife duo Jonathan and Erin Carroll of Tempe, the 214 East Roosevelt location will open inside the mixed-use Monarchid Building space. With six years of barista experience under her belt, Erin will pair her skills with Jonathan's two as a band manager, lending an atmospheric blend of coffee and art.
To kick start the fun, a spoken-word night is scheduled for July 28 and a performance by the Roosevelt Street Jazz for August 17.
Check out some other great coffee houses across the Valley here.