Don't just spend a measly hour at the spa, stay an entire night at The Hermosa Inn's all-new Blue Door Spa Suite in Paradise Valley and enjoy a full healing and tranquil experience!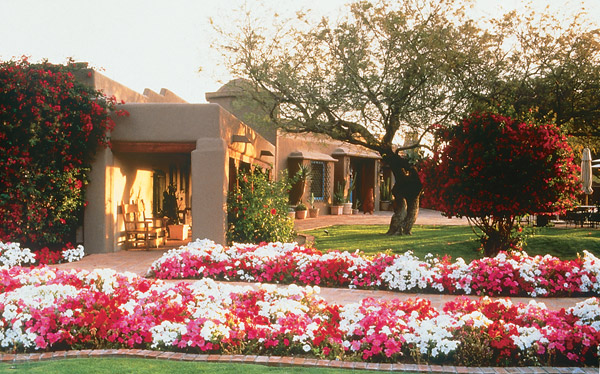 This fresh new rooms offers an escape to serenity for a contemporary Zen experience in an authentic adobe casita, one of the original structures at The Hermosa Inn.
The new casita stays true to the historical character and charm of the boutique inn, the spa features authentic elements with a quiet elegance including antique furniture, a beehive fireplace, silk organza curtains and interior colors reflecting the desert, giving the spa a welcoming, residential ambiance.
Providing a comfortable seclusion nestled in the Sonoran desert, guests will enjoy the benefits of indigenous herbs and minerals while rejuvenating the body, mind and soul at the Blue Door Spa Suite.
The intimate spa offers an alluring menu of treatments featuring:
the Hermosa's signature citrus sage scent with a variety of custom massages
reflexology
ashiatsu
a deep cleansing facial customized for skin types
After any treatment, guests are encouraged to relax in the spa suite and enjoy a glass of herbal green tea.
The boutique hideaway also features an elegant swimming pool with private cabanas and a jacuzzi for continuing the soothing spa experience.
Hermosa's signature citrus sage products are available for purchase in the spa and make the perfect gift or memento to take home.
"The Blue Door Spa Suite tops off our multi-million dollar renovation establishing The Hermosa Inn as truly a luxury property," said Michael Gildersleeve, managing director of The Hermosa Inn. "Our primary focus was to enhance accommodations with fabulous new amenities for the more upscale experience that today's discerning guests prefer."
The Hermosa Inn's recent remodel transformed its accommodations to a new level of elegance while retaining the legendary personality and intimate atmosphere of the original hacienda.
The Blue Door Spa Suite has opened just in time for a personal spring cleansing and for providing a cool retreat during the summer months for Hermosa Inn guests.
About The Hermosa Inn: It is "a jewel of a hideaway in the heart of the Valley." It is just minutes from Scottsdale, yet surrounded by an exclusive neighborhood in Paradise Valley. Hand-crafted by cowboy artist Lon Megargee as his private residence, the inn's adobe architecture has kept its "old Arizona" character and charm. All 34 casitas are surrounded by spectacular landscaping and beautiful desert vistas. The culinary centerpiece of the inn is Lon's, the celebrated Four Diamond restaurant renowned for "artful American" cuisine.
For more information call 602.955.8614 or visit www.hermosainn.com.