by Avalon Eberhardt
I scream, you scream we all scream for acai! Basically everyone and their mom is bananas over acai bowls and we've fallen head over peels for a few new DIY recipes, perfect for breakfast or an excuse to post an Instagram worthy snack. Here we've created a list of 5 different bowls to enjoy. Bone Apple Teeth!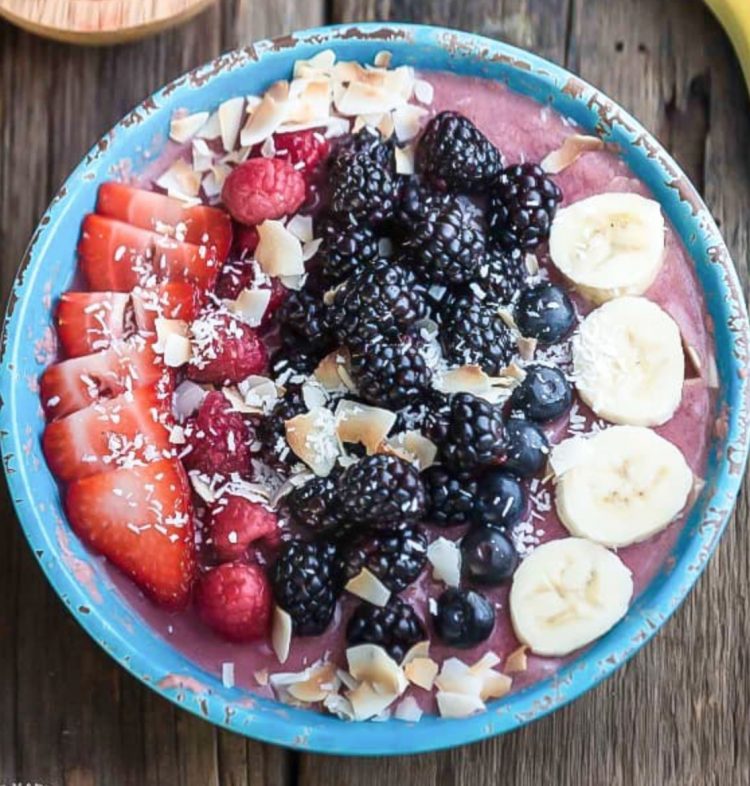 INGREDIENTS
1 cup blackberries
1 cup raspberries
½ cup blueberries
1 banana
1 packet frozen acai
1 cup coconut water
INSTRUCTIONS
1. Blend it up!
2. Pour into an aesthetically pleasing bowl and top with blueberries, banana, shaved coconut, honey, and granola
3. And finally, take an Instagram pic!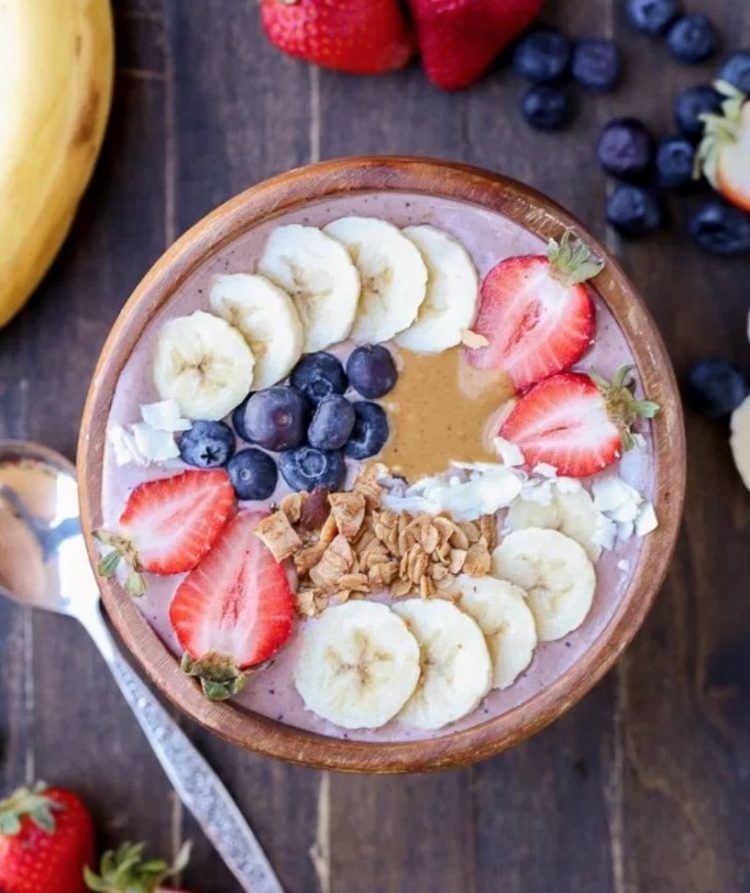 INGREDIENTS
1½ bananas peeled and frozen
½ cup frozen strawberries
½ cup frozen blueberries
1 packet frozen unsweetened acai blend
2 heaping tablespoons creamy peanut butter
¼ cup milk of choice
TOPPINGS
berries
granola
peanut butter
INSTRUCTIONS
1. In a high-powered blender, combine the bananas, berries, acai berry packet, peanut butter, and milk of choice. Blend until completely smooth.
2. Pour into a bowl and top with berries, granola, and a drizzle of peanut butter. Enjoy!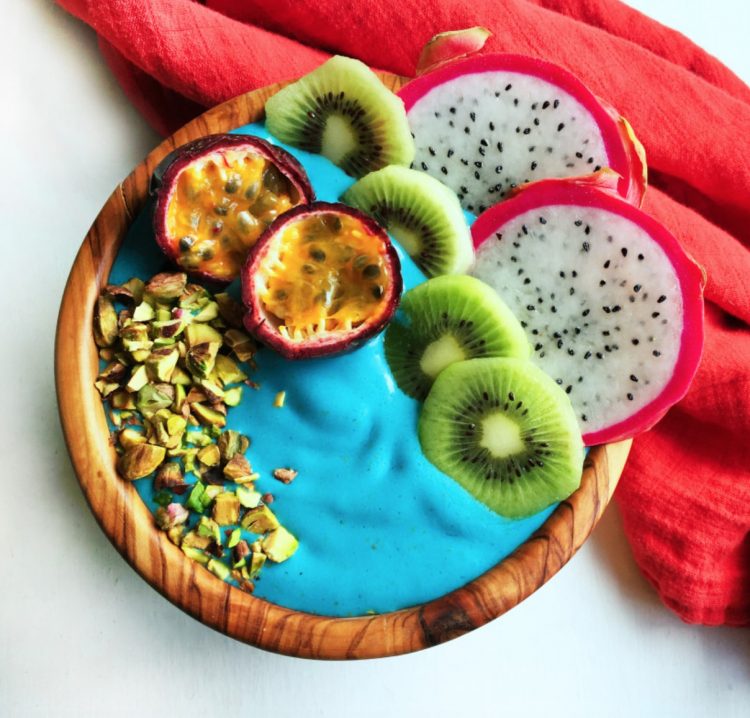 INGREDIENTS
2 large frozen bananas (chopped)
1½ cups frozen white grapes
1¼ cup almond milk (or other nut milk)
¼ cup coconut yoghurt
2 tsp E3Live Blue Majik, ½-1 tsp Raw Nice blue spirulina, or spirulina
Squeeze of lemon juice
TOPPINGS
½ large dragon fruit
1 passion fruit
1 kiwi
1 tbsp toasted pistachios
INSTRUCTIONS
1. Blend!
2. Add your Blue Majik and a squeeze of lemon juice and blend again until smooth. Pour into a large bowl, add your toppings.
3. Serve!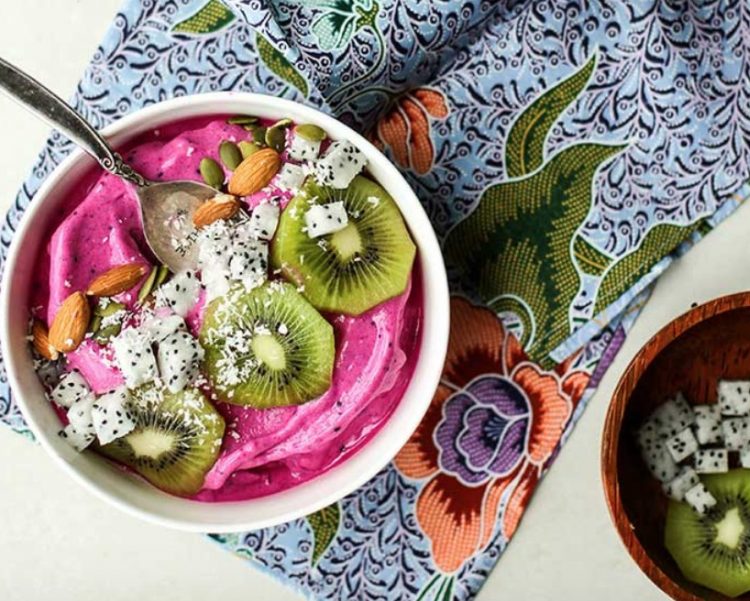 INGREDIENTS
1 banana chopped and frozen
1 cup mango chopped and frozen
1 cup dragon fruit (pitaya) chopped and frozen
1/4 cup coconut milk canned, full fat
TOPPINGS
coconut
fresh fruit
nuts or nut butters
granola
chocolate chips
INSTRUCTIONS
1. Add the frozen fruit to a food processor. Allow to sit at room temperature for about 5 minutes to gently thaw before beginning to process.
2. Top with fruit, nuts, coconut, or nut butter, or just enjoy like soft serve ice cream!
3. Indulge!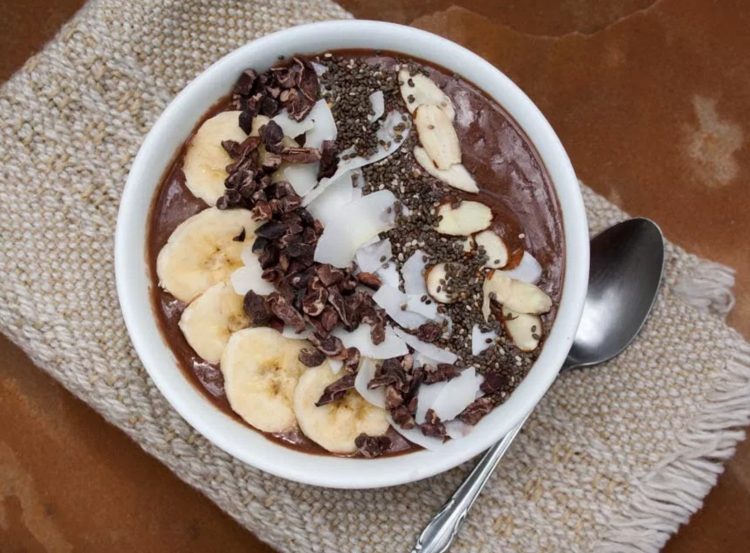 INGREDIENTS
1 (3.5) ounce frozen acai puree packet
1 frozen banana
1 tablespoon cacao powder
1/4 cup unsweetened vanilla coconut milk beverage
2 dates, pitted and finely chopped
TOPPINGS
cacao nibs
coconut chips
sliced almonds
chia seeds
sliced banana
INSTRUCTIONS
1. Blend all ingredients in a NutriBullet or blender. Top with cacao nibs, coconut chips, slivered almonds, chia seeds, and sliced banana.
2. Instagram it!
Now that your hungry, get blending! For those of you who'd rather not get their hands dirty, try these local stops for the best acai bowls around the Valley!