Skip the class or trainer, save some dough and download fun fitness apps of your choice to keep you motivated and get you into the best shape of your life! Because there's no need to think after a hard day's work, right?
***Stay tuned for my fave diet apps next week!
iPump Pilates
$1.99
Why spend hundreds of dollars a month for a great Pilates workout when there's iPump Pilates? This trusty app has three levels of Pilates mat classes with 63 Pilates photos, videos and audio coaching brought to you by Exercise Physiologist and PumpOne co-founder, Declan Condron, and Pilates instructor Kristin McGee. And they are here to help you "challenge your strength and flexibility, as well as tone your midsection"! You can also track and log your reps, sets and weight for each exercise and "inspire" others.
Nike+ GPS
$1.99
Looking to run off that extra fat? Then you MUST download Nike+ GPS! This is probably the most technologically advanced fitness app out there, as has the ability to track indoor and outdoor runs without a sensor. You can map out your runs, record your pace, distance and run route using the iPhone's GPS and accelerometer technology. You can also hear cheers from friends who like or comment on your status, get in-run voice feedback on how you're doing, see where you are on the map, listen to "PowerSongs" and more!
All-in YOGA: 200 Poses & Yoga Classes
$1.99
More of a downward dog type person than a Pilates freak? That's okay, there's an app for that! This dynamic app features more than 200 asanas and breathing exercises, so you can create your own yoga class at home or in the gym! Each pose includes detailed instructions, photos, videos and voice guidance, and "yoga tunes".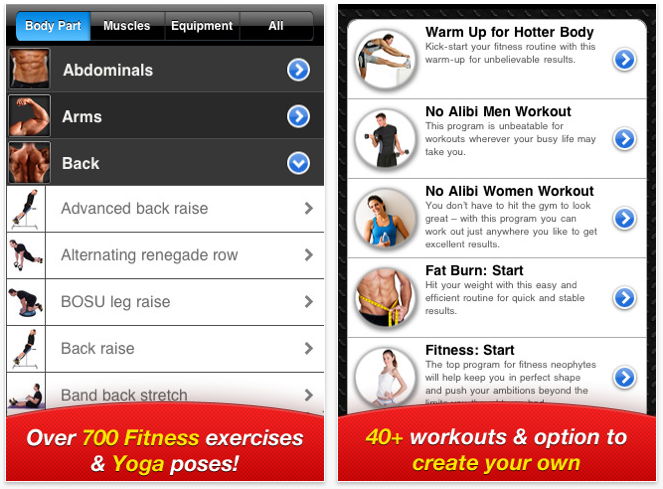 All-in Fitness: 700 Exercises, Workouts & Calorie Counter
$1.99
It's like a personal trainer in your pocket! All-in Fitness features more than 700 exercises for men and women with video clips in HD quality, a calorie counter, calendar, body tracker, music player and 40+ ready-made workouts, so you don't even have to think when you go to the gym! But my favorite part is that you can create your own customized and digitally planned workout!
Cyclemeter GPS Cycling Computer for Road & Mountain Biking
$4.99
Turn your iPhone into a powerful GPS stopwatch with the Cyclemeter app! Track your time, location, distance, elevation and speed and see your results on maps, graphs and a calendar. You can even race by importing particular routes or competing against your previous workout. It's linked into Facebook, Twitter, dailymile and email for workout sharing! You must check this one out because I'm only hitting the surface on what this mighty app can do.