It's the most wonderful time of the year!  Everyone knows part of what makes the holidays so wonderful are the spectacular Christmas lights twinkling through the nights.  We may not ever get a white Christmas, but the Valley's light displays never come short of stunning!  From enormous decorated Christmas trees to decorated Santa sleighs, Christmas will once again shine bright throughout the Valley.  But where are the best places to see the dazzling lights in the Valley?
AZ Foothills has found our picks for the best places in the Valley to see Christmas lights.  From resort Christmas lights to lights at the zoo, here are our top picks for Christmas lights you won't want to miss this year:
ZooLights at the Phoenix Zoo
If you're looking for a fun night out with family or friends, this is the place for you!  The amazing ZooLights at the Phoenix Zoo is available every night until January 16th at 10 p.m.
For more information on ZooLights, visit phoenixzoo.org/plan-your-visit/hours-rates/.
Christmas at the Princess
The Scottsdale Fairmont Princess kicked off their holiday celebration last week with their annual Christmas tree lighting ceremony and Christmas spectacular.  These breathtaking lights will be open through the continuation of the holiday season.  Whether you choose to enjoy the view with a cup of hot cocoa, or just want to drive by and see the lights, Christmas at the Princess is something you'll want to see.
For more information on Christmas at the Princess, visit scottsdaleprincess.com/seasonal-events/christmas-at-the-princess.
Fantasy of Lights Boat Parade
This event is fun, beautiful and totally free.  Come out to Tempe Town Lake on November the 29, and prepare to be dazzled by hundreds of beautifully decorated boats for Christmas.
For more information, visit millavenue.com/entertainment-and-events/fantasyoflights.
Loop of Lights Display
The Loop of Lights display first opened in 2007.  It will be open from December 1 until December 25 from 6:30 to 9:30 p.m.  Over 90 houses in this neighborhood decorate their homes to participate each year in this lighting extravaganza.  This is something you will definitely want to make a new holiday tradition!
Address: Pecan Creek South.  San Tan Valley, AZ 85140
For more information on the Loop of Lights display, visit loopoflights.com.
Mesa Arizona Temple Gardens Christmas Light Celebration
This traditional display features thousands of lights, with glittering palm trees, and nativity scenes.  The display is open from November 29 to December 31,
For more information, visit mesachristmaslights.com.
Residential Holiday Christmas Lights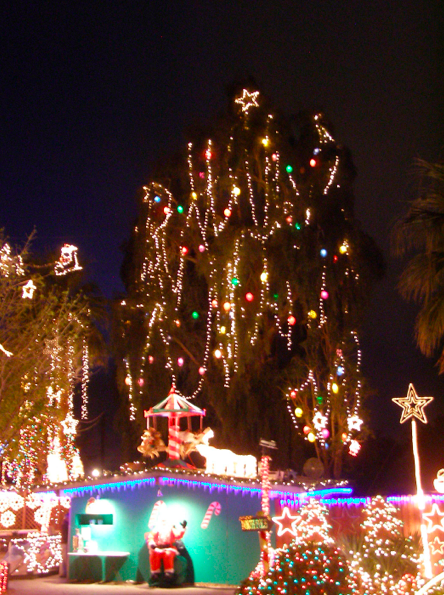 If you're a Phoenix native, odds are you've visited or have heard of this residential house off Camelback Road.  Complete with hot chocolate, a Santa Clause and dancing Christmas dolls, this Phoenix home has Christmas decorations that will take your breath away.  These Valley residents certainly take the prize for the most Christmas spirit!
The address of this Valley home: 4415 E. Calle Tuberia Phx. Az. 85018.
For more information, click HERE.
Glendale Glitters
The city of Glendale will once again put on its award-winning holiday lighting event, Glendale Glitters.  On November 29-30 at 10 p.m., 1.5 million lights will illuminate the beautiful historic Downtown Glendale.  This lighting ceremony is free to attend, and is also one of the most spectacular holiday lighting experiences Arizona has to offer.
For more information on Glendale Glitters, visit glendaleaz.com/Glitters/index.cfm.
Las Noches de las Luminarias
Each year, the Desert Botanical Garden illuminates its already beautiful scenery for the holidays.  Las Noches de las Luminarias, which will open on November 29, will celebrate its 75th anniversary this year.
For more information on Las Noches de las Luminarias, visit dbg.org/events-exhibitions/las-noches-de-las-luminarias.
McCormick-Stillman Railroad Park Holiday Lights
One of the funnest places to celebrate the holidays in the Valley is at the McCormick-Stillman Railroad Park.  This fabulous holiday celebration never fails to exceed expectations.  You even have the chance to see Santa!
For more information on the fabulous holiday lights at the Railroad Park, visit therailroadpark.com/events.
Don't miss out on these spectacular holiday lights!  These Holiday light displays will get you in the Christmas spirit in no time!