Clear your schedule for the 4th Annual Bertrand Berry Celebrity Weekend going on this Friday and Saturday at three different times and three different locations! Hosted by the Arizona Cardinals Defensive End Bertrand Berry and the Bertrand Berry Foundation philanthropists, Cardinals fans and Valley VIPs alike are invited to wine, dine and mingle with the stars at this celebrity-studded weekend. These three great events are also benefiting three important organizations: Childhelp, The Leukemia & Lymphoma Society and the Mable Dean Scholarship Fund. The glitzy weekend is presented by the Miracle Mile Shops and will feature the following dazzling activities: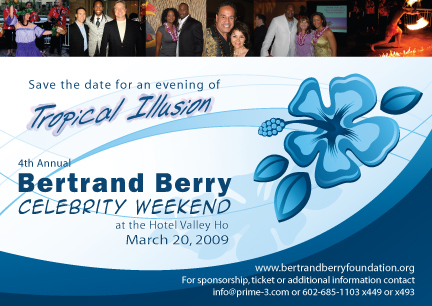 Tropical Illusion Gala, Friday, March 20:
This island-themed gala taking place at the Hotel Valley Ho will begin with a hosted cocktail reception, followed by a silent and live auction and musical entertainment. Guests can dance and dine with the stars, as they peruse auction items and bid the night away. Tropical Illusion is open to the public and tickets can be purchased for by calling 602.685.1103. ($375 per person)
Celebrity Football Camp, Saturday, March 21:
The Celebrity Football Camp will be taking place on Saturday morning at the Arizona Cardinals Training Facility in Tempe. Over 120 children from the local chapters of Big Brothers Big Sisters will be making passes and punting like the pros.
B-Train's Bash, Saturday, March 21:
Bringing an end to the weekend's festivities is a star-studded night on the town at Devil's Martini in Old Town Scottsdale. With celebrity sightings, libations and a night of dancing involved, this will be an event the Phoenix paparazzi and Valley residents will not want to miss. Tickets will be available for purchase at the door that evening and are $10 per person from 8 to 10 p.m. and $10 for guys/no cover for ladies after 10 p.m. This event is open to the public.
For more information on the 4th Annual Bertrand Berry Celebrity Weekend or to purchase tickets call 602.685.1103 or visit www.bertrandberryfoundation.org or www.btrain92.org.
About the Bertrand Berry Foundation:The Bertrand Berry Foundation is a 501(c)(3) non-profit organization, created by NFL Pro Bowler Bertrand Berry. Committed to making a difference in the lives of suffering and abused children, all funds raised by the Foundation benefit Childhelp, a leading national non-profit organization dedicated to helping victims of child abuse and neglect through prevention, intervention and treatment; The Leukemia & Lymphoma Society, the world's largest voluntary health organization dedicated to funding blood cancer research, education, and patient services; and the Mable Dean Scholarship Fund, which awards funds to further the education of post high-school and college graduates who are/were volunteers in organizations that offer children a better life experience.