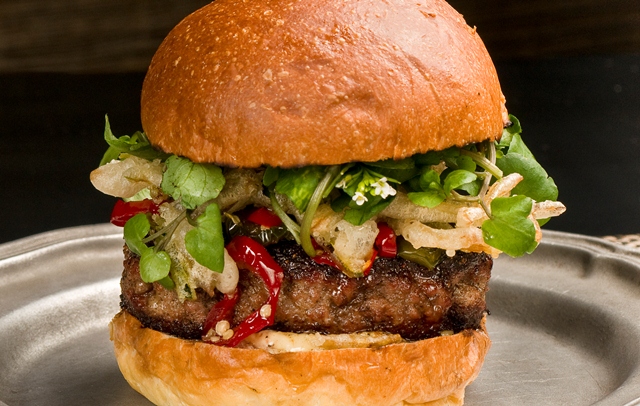 When Phoenicians want a delicious, juicy burger, it's a no-brainer: they settle into a booth at The Grind in Arcadia. Now, Scottsdale dwellers can dig into the same sensational burgers without having to travel far. The Grind in Scottsdale opened in second location earlier this month at Grayhawk.
The Grind's second outpost boasts 1,839 square feet of space and will feature the same coal-fired ovens, menu (including tasty appetizers, salads, chicken, fish, steak, burgers and weekly blackboard specials), cocktails and design elements at the Arcadia restaurant. The Grind will also have craft beers and root beer on tap, classic cocktails, milkshakes and a boutique wine list. Plus, diners at the just-opened restaurans can also enjoy a 70-person patio (perfect now that the weather is starting to cool down).
"Our customers have been waiting another location for quite some time," says Allen Thompson, owner of The Grind. "It was just a matter of when and where. The Grayhawk location has a wonderful neighborhood feeling and sense of community, much like Arcadia. We want this to be a family place, as well as a restaurant where people gather to watch games and enjoy dinner with friends. We're excited to bring award-winning burgers to North Scottsdale." http://www.thegrindaz.com/.
For more fab food news, follow us on Twitter @AZFoothillsFood, become a fan on Facebook and check us out on Pinterest.