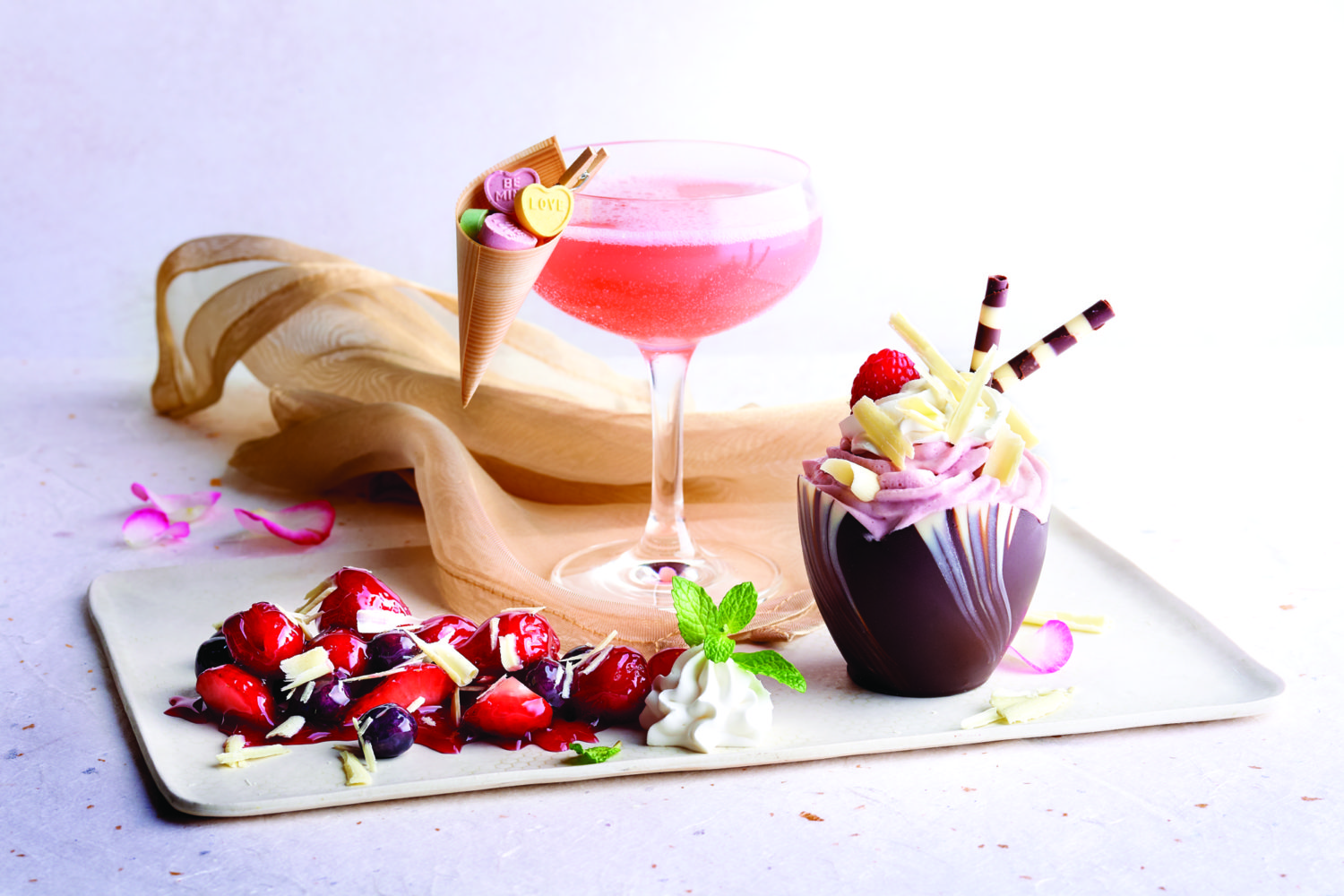 Flowers are nice, but do you really want a Cupid-approved Valentine's Day? Reserve your spot at one of these Valley restaurants for everything from super-fine dining to adorable ice cream flights. Check each Web site for updated menus and prices.
Celebrate romance with an unforgettable Valentine's Day four-course prix-fixe from Food Network Star and elements Executive Chef Beau MacMillan at Sanctuary on Camelback. Dishes include sweet corn and lobster bisque, oysters on the half shell, Chilean sea bass, black truffle Jidori chicken, silky chocolate raspberry tart and much more decadence.
The FOUND:RE's Match Restaurant & Lounge is celebrating love with a special three-course menu with choices for each course including roasted oysters, thick-cut bacon-wrapped filet mignon, coconut curry, red velvet chocolate lava cake and more from 5 p.m. to midnight on Feb. 14.
Treat your special someone on the day of love with a Valentine's Day dinner at Prado at Omni Scottsdale Resort & Spa at Montelucia. Enjoy a four-course, prix-fixe dinner and enhance the experience with expertly paired wines, including select vintage Champagne.
Arizona Biltmore is offering delicious Valentine's Day menus at both Wright's (including a vegetarian menu) and Frank & Albert's. Standout dishes at Frank & Albert's includes grilled filet and lobster and Wright's prime beef tenderloin or Chilean sea bass. Plus, each menu includes a glass of Champagne.
Talavera at Four Seasons Resort Scottsdale at Troon North invites guests to celebrate with a romantic, multi-course dinner that pays tribute to the world's most memorable lovers. That's right: each course is inspired by one of history's famous couples, like Marc Anthony and Cleopatra, Odysseus and Penelope, Gala and Dali, Frida and Diego, and Romeo and Juliet. Dinner includes a glass of Ruinart rosé Champagne.
JW Marriott Camelback Inn Resort & Spa and JW Marriott Desert Ridge Resort & Spa will both offer multiple delectable dining offerings that are swoon-worthy to share with that special someone. Our picks? Holiday specialties, in addition to the regular menu, at Camelback Inn's Lincoln Steakhouse & Bar and Desert Ridge's Meritage, an urban tavern from 5 to 9 p.m.
For a truly unique holiday, reserve a spot at the Valentine's Day Farm Dinner at Agritopia, taking place Feb. 14 and Feb. 15 at 5 p.m. at the Agritopia Orchard in Gilbert. Chef Holly Warner and Kaylie Satterfield from Oui Cater will be using the freshest farm harvest to create a stunning Valentine's Day dinner. Tickets includes your meal paired with drinks, and a souvenir portrait which will be sent to you at a later date.
Chef Jeremy Pacheco and the LON's culinary team have created a three-course menu that pairs perfectly with one of the nearly 700 wines featured on the restaurant's wine list for Valentine's Day evening. Menu highlights include Rovey Family Farms Wagyu Beef Duo: red wine-braised short ribs and grilled striploin, Hawaiian snapper or smoked Sonoma Valley duck breast.
Savor a delicious three-course dinner at ZuZu along with a special Valentine's Day-themed "Show Stopper" Shake and a half bottle of Veuve Yellow Label. Dinner reservations include access to the after-party with dancing and live DJ entertainment from 8 p.m. to midnight. Choose from seatings between 5:30 p.m. and 6:30 p.m. Just looking to satisfy your sweet tooth? The Valentine's Day "Show Stopper" Shake is available on both Feb. 14 and Feb. 15 and features a strawberry cheesecake milkshake base with graham cracker milk crumb, frosted rice treat hearts, strawberry cheesecake, dark chocolate truffles and a chocolate-covered strawberry.
Maple & Ash offers a specialty dish of lobster and crab risotto Thursday through Sunday of Valentine's week. Plus, all guests receive chocolate truffles and, on V-Day, every couple gets a rose.
The Lola hosts a special three-course meal and a bottle of wine or Champagne on Valentine's Day with live music from 7 to 10 p.m. The Glendale restaurant will also have a V-Day-themed brunch Saturday and Sunday, with red velvet pancakes on Sunday only.
For couples that love to dine, Ocean Prime offers a special menu item for Valentine's Day: roasted sea bass over Alaskan king crab gnocchi with Champagne cream and baby carrot salad.
Newly openly in Phoenix, Josephine. is dishing up a four-course Valentine's Day menu.
This Valentine's Day, Southern Rail and Beckett's Table invites guests to treat their sweetheart to special three-course Valentine's Day menus. The prix-fixe menus will be offered on Feb. 14 from 5 to 10 p.m. with options like tender duck confit and dirty rice risotto, shrimp and grits and wood-oven roasted chicken.
FLINT By Baltaire will be serving up its full menu, plus special featured dishes (like roasted oysters and braised wagyu short rib) and rolling Champagne carts.
Fat Ox will be serving up a gourmet, Italian-kissed four-course chef's choice menu with several options per course from 5 to 10:30 p.m. Dinner includes a complimentary toast.
J&G Steakhouse at the Phoenician will be serving a delightful three-course dinner on both Friday and Saturday nights with eats like seared scallops and grilled beef tenderloin.
The Mission in both Downtown Scottsdale and Kierland Commons will be serving up Valentine's Day dinner from 5 to 10 p.m. featuring Chef Matt Carter's special features, or your favorite selections from the regular dinner menu.
The Churchill in Downtown Phoenix will be hosting a dessert pop-up from 6 to 9 p.m. featuring four local vendors that will be offering decadent Valentine's Day-themed treats.
Indulge in a four-course, aphrodisiac-inspired Valentine's Day dinner sourced from local Arizona farmers at Ahnala Mesquite Room at We-Ko-Pa Resort & Conference Center from 5 to 9 p.m.
At Morton's The Steakhouse, from Feb. 10 to Feb. 16, couples can enjoy the Love Candy (pictured), a blend of Ketel One Botanical Grapefruit & Rosé, Passoa Passion Fruit Liquor, simple syrup, lemon and grapefruit juice topped with Chandon Brut. Additionally, guests can indulge in a Raspberry-White Chocolate Mousse dessert (pictured) and, from Feb. 8 to Feb. 15, the decadent Steak and Lobster Oscar entree.
The chefs of The Ritz-Carlton, Dove Mountain will present two special dining experiences this Valentine's weekend. The romantic indulgences will include a two-night Valentine's dinner menu in CORE Kitchen & Wine Bar (Feb. 14 and Feb. 15), and for those with a sweet tooth, an inviting Valentine's milkshake offered at Cayton's Burger Bistro.
The signature Palo Verde Restaurant at the Boulders Resort celebrates Valentine's Day with a specialty five-course prix-fixe menu including a bottle of sparkling house wine for two from 5 to 10 p.m.
Treat your honey to a four-course tasting menu at Mora Italian on Feb. 14 or Feb. 15. Dishes include seared big eye tuna crudo, rigatoni verde, black truffle pasta, salt-baked halibut and more.
Celebrate a "valentino romantico" at the new contemporary Italian Steakhouse, The Americano, which will be offering a five-course menu, with optional wine pairings, that kicks off with oyster and caviar.
Buy your true love a heart-shaped margherita pizza at Pomo Pizzeria, made Napoletana style. Available at all three locations in Phoenix, Gilbert and Scottsdale.
Chef Marcellino Verzino of Marcellino Ristorante will create a special menu for Valentine's Day that will feature a selection of favorite dishes as well as unique dishes. Guests can pair their meal with imported Italian wines, beers or a special cocktail. Dinner reservations start at 4 p.m., and the romantic evening will also feature Monte Procopio crooning love tunes.
Blue Hound will be offering a decadent four-course meal for the occasion. Some standouts include your choice of scallop crudo, herb-crusted lamb rack and white chocolate molten cake from 5 to 11 p.m.
T. Cook's at Royal Palms Resort and Spa is offering a luxurious prix-fixe menu by Executive Chef Lee Hillson on Feb. 14 and Feb. 15. Guests will enjoy a glass of Veuve Clicquot Rosè per person, and their choice of dishes like Glacier Bay bass, duck breast and more.
Phoenix City Grille is giving diners another reason to fall in love with this local favorite with selection of specialties available from 3 to 10 p.m. exclusively on Valentine's Day.
On Feb. 14, wine lovers are invited to the "P.S. I love You Wine + Chocolate Tasting" from noon to 10 p.m. at LDV Winery, including three P.S. (Petite Sirahs) tastings paired perfectly with three different chocolates.
Couples are invited to enjoy an exclusive passion-igniting four-course menu at Tres Kitchen and Bar in Tempe with dishes like diver scallops, Hearts of Palm salad, surf and turf, wild-caught swordfish and much more.
Roaring Fork will be offering a specialty three-course meal option, with soup/salad, surf and turf and dessert on Valentine's Day from 5 to 10 p.m.
Tomaso's will offer a Valentine's Day menu from Feb. 13 through Feb. 16 with dishes like stuffed zucchini flowers and "The Perfect Couple" entree of lemon prawns and lobster ravioli.
Dig into veal loin medallions, a pasta board and more as Tomaso's Italian Kitchen hosts a Valentine's Day menu that will be available from Feb. 13 to Feb. 16.
The Sicilian Baker will add a special Valentine's Day filling, cherry vanilla swirl, to its cannoli menu. Guests can also order Valentine's Day cookies and pastries for their sweetheart or a coffee with heart-shaped latte art at the espresso bar.
Phoenix's CRUjiente Tacos will offer a Valentine's Day wine special: $25 half bottles of sparkling rosé wine.
Sheraton Grand at Wild Horse Pass offers two ways to dine for the holiday: an exquisite eight-course tasting menu that will be offered on Feb. 14 and Feb. 15 at Kai or several dinner features at Ko'Sin on Feb. 14, including pomegranate-lacquered short rib and roast duck breast.
Enjoy a four-course tasting menu at Quiessence at the Farm at South Mountain, featuring seasonal ingredients from the on-site garden. Pair the tasting menu with award-winning wines picked exclusively from the in-house sommelier. To further captivate your date with a unique, romantic setting, reserve one of two reservations at the Signature Brick Oven experience. This reservation includes a five-course Chef's Tasting with optional wine pairings.
Starting at 5 p.m., the newly opened Copper Mule Kitchen & Bar in Scottsdale invites lovers to sink their teeth into the restaurant's exclusive four-course holiday menu with options like lemon pepper-grilled chicken, Heart Island shrimp salad and Kentucky Trail strip steak.
Enjoy a delectable French-inspired prix-fixe dinner at Salut Kitchen Bar from 11 a.m. to 11 p.m. Guests receive a glass of Champagne, Meli Melo de fraicheur (shrimp), Pasta del Sol with wild salmon and Les profiteroles de mon enfance (cream puffs).
Voila French Bistro is hosting three special prix-fixe dinners, Feb. 14 to Feb. 16. On Feb. 14 and Feb. 15, enjoy a three-course dinner while the Feb. 16 menu will include wine pairings.
Celebrate Valentine's Day with Across the Pond as it will be serving up a special 12-course cocktail and sake-paired celebration for two. There will be two seatings at 5 p.m. and 8 p.m. (For reservations, email info@cleverkoi.com.)
VooDoo Daddy's Steam Kitchen will have live music on Valentine's Day from 6 to 9 p.m. with a performance by Cheryl's Mardi Gras Jazz Band specializing in traditional New Orleans Jazz. Couples can enjoy delicious Cajun dishes such as jambalaya, gumbo and shrimp and grits.
On Friday, Feb. 14 and throughout the Valentine's Day weekend, Keeler's Neighborhood Steakhouse celebrates love with specialty cocktails and a prix-fixe menu for two (dishes include lobster bisque, Chilean sea bass and more).
Farm & Craft is serving up free dessert with a purchase of two entrees on Feb. 14. (Must mention the promotion in order to receive the free dessert).
Hand Cut Burgers & Chophouse is serving up a special prix-fixe Valentine's Day menu all weekend. Couples will enjoy an appetizer of their choice, two entrée options with any one side of their choice, and one dessert with a bottle of Drumheller Chardonnay or Cabernet. The restaurant will be serving its regular menu and prix-fixe option through Feb. 16.
Trapp Haus BBQ hosts a one-of-a-kind three-course dining experience. Beginning at 7 p.m., diners will enjoy a personal chef experience, including beer and wine and eats like peach brandy-grilled porterhouse pork chop and grilled wagyu ribeye cap.
A decadent three-course dinner at Agave del Scottsdale is in order with Crèma de Huitlacoche, a creamy corn truffle topped with house spices; a choice of an 8-oz. filet or Chilean sea bass; and, for dessert, Trufa de Chocolate.
True Food Kitchen is inviting guests Feb. 14 to Feb. 16 for a prix-fixe meal that Cupid himself would enjoy. Guests will start by choosing from a selection of featured Valentine-inspired beverages before moving onto a selection of eats from the restaurant's winter menu (like the Winter Immunity Bowl or cauliflower polenta with grilled chicken).
Poppy, a new restaurant on Roosevelt Row located at the Cambria Hotel Downtown Phoenix, will host a six-course Valentine's Day dinner featuring a tasting menu designed for sharing with a glass of sparkling wine upon arrival. Reservations are available from 5 to 11 p.m.
Join Ling & Louie's to celebrate an "East Meets West Love Story" this Valentine's Day. From Thursday, Feb. 13 to Sunday, Feb. 16, enjoy a specially priced three-course menu for two.
Little Rituals in Phoenix is celebrating Valentine's Day with a special menu from Feb. 12 to Feb. 14 to indulge in like salmon tartare, chicken penne pesto and oysters. If Champagne is your tipple, enjoy a bottle of Taittinger Brut "La Francaise" NV paired with chocolate strawberries, Hurricane Fries or a half dozen oysters.
Roll up your sleeves and indulge in the ultimate hands-on feasting experience at Angry Crab Shack. This year, the Cajun-Asian seafood boil restaurant is offering a special dinner for two mixed-bag special.
The brunch spot Morning Squeeze has two specials on Feb. 14 including the You Mocha Me Crazy strawberry mocha and Filled With Love stuffed French toast (strawberry puree between two slices of French Toast and topped with chocolate brittle and pistachios).
Sauce Pizza and Wine guests can celebrate the season of love with a date or a friend for $25. This special includes one of Sauce's many hand-tossed salads ($10 or less), a 12-in. pizza ($12 or less), and two glasses of wine ($7 or less).
Grimaldi's Pizzeria's limited-edition red velvet cheesecake is made with decadent cocoa and rich cream cheese on an Oreo cookie crust topped with whipped cream and Oreo cookie pieces. Available through February at all Arizona locations.
Uptown Alley offers a special package on Feb. 14 with one hour of bowling with shoes, choice of one menu shareable, two drink tickets, two $10 game cards and large chocolate-covered strawberries for dessert. The package is $100 per couple.
To celebrate Valentine's Day, The Screamery ice cream parlors will offer its one-of-a-kind, six-flavor "flight" of ice cream plus two, old-fashioned sodas – cream soda, root beer, cane cola or wild cherry – for $7. Regular price is $12.50.
Available Feb. 3 through Feb. 29, Creamistry's Ruby Red Velvet Creation features Ruby Cacao ice cream with chocolate chips, red velvet cake bites and cream cheese frosting with optional whip cream on top. Throughout the month, customers will receive $2 off any large order of Ruby Cacao ice cream including the Custom Ruby Red Velvet Creation and custom scoops.
On Feb. 14, kids eat free (from the kid's menu) at Miracle Mile Deli with an adult entree purchase.
Join Cha! Cha! for a Valentine's buffet and an evening filled with games, crafts and activities on Wednesday, Feb. 12, from 5 p.m. to close at Rainforest Cafe. The festivities will also include special Valentine's Day cupcakes, free goodie bags and an exclusive retail discount.
Portillo's announces the continuation of its charity partnership with the American Red Cross. Coinciding with Valentine's Day, Portillo's will offer a heart-shaped chocolate cake, a limited-time holiday spin on the brand's iconic Famous Chocolate Cake. Portillo's will be donating all proceeds from the sale of Heart-Shaped Chocolate Cakes – up to $25,000 – to the relief organization.
Serrano's is offering a Valentine's Day fajita dinner for two with two sides each and a heart-shaped chocolate cake to share. Available at any of the five Serrano's locations.
Taco Guild dishes up a specialty cocktail for Valentine's Day week called Til Death Do Us Part, with Maestro Dobel Diamanté, rhubarb liqueur, fresh lime juice, strawberry and sparkling rose.
For a truly unique holiday treat, Hot Bamboo is offering Love Baos for the month of February with Valentine's Day-themed character and messages. These come in pork, teriyaki chicken and vegan options available only at the Chandler outpost.
Guests can enjoy any glass of wine or a tasting of five wines plus a chocolate truffle of their choice or a heart-shaped cinnamon bun (available while supplies last) at Carlson Creek Vineyard in Old Town Scottsdale on Valentine's Day.
The West Valley Irish pub Padre Murphy's will be celebrating Valentine's Day from Thursday, Feb. 13, through Saturday, Feb. 15 with live music and a special surf and turf dinner.
Stock & Stable will be serving a three-course prix-fixe this Valentine's Day with entrees like soy-marinated black cod, pork chop and NY strip. Plus, dinner includes a glass of red or white wine or draught beer.