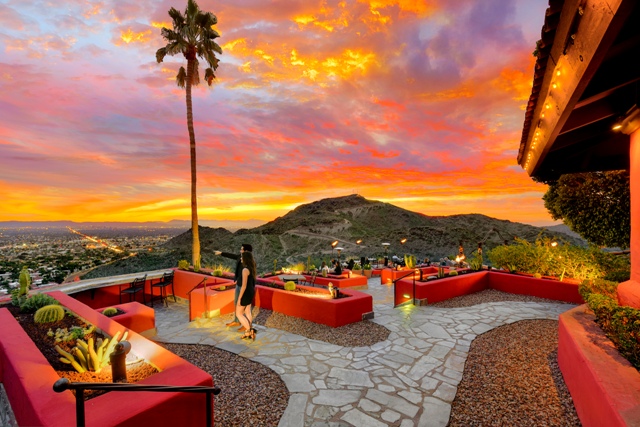 Whether you're seeking a super-decadent evening of lobster and bubbly or a more casual repast of tacos and pretzel bites, these Valley dining destinations are pulling out all the stop for Valentine's Day. (Reservations required in most instances. Valentine's Day menus and specials are served Feb. 14 unless otherwise noted.)
On Valentine's Day night from 5 to 11 p.m., Match Restaurant and Lounge at FOUND:RE Phoenix features a special menu (plus, a variation of this menu will also be available Friday, Feb. 15, and Saturday, Feb. 16). Appetizer choices include Creole oysters in saffron-tomato broth with a bed of lemon-fried okra; herb-marinated goat loin; or blistered stuffed red bell peppers. Then, couples choose an entree to share: old-fashioned spaghetti and meatball; Tomahawk chop; or brown braised rainbow trout. Diners can also select one of the following desserts to share: chocolate-covered bacon, strawberries, mini eclairs and shortbread cookies; New York-style cheesecake with a strawberry compote; or two mugs of Baileys hot chocolate with apple cobbler.
Rediscover your love at Scottsdale's swoon-worthy spectacular mountainside resort, Sanctuary on Camelback. This Valentine's Day, enjoy intimate dining at award-winning elements, served from 5:30 to 10 p.m. on Feb. 14. Savor a romantic dinner created by Food Network celebrity Chef Beau MacMillan. Standout dishes will include Chilled Seafood Quartet of scallop crudo, oyster and caviar, Alaskan king crab and ahi tuna summer roll; King Crab Buccatini with English peas, Thai basil, smoked ham and uni cream; Maple Leaf Farm's Duck with Hawaiian sweet potato, candied root vegetables and honey hoisin glaze; and Pink Champagne Panna Cotta. Can't make the V-Day dinner? Consider a leisurely and lovely Sunday brunch!
For Valentine's Day dinner (served from 5:30-10 p.m. on Feb. 14), surrounded by wall-to-wall windows that showcase the breathtaking sunset over Mummy Mountain, guests can savor elements' four-course, prix-fixe menu by Executive Chef Beau MacMillan. Priced at $135 per person, with passion fruit curd, strawberry consommé and sugared rose petals. The full menu can be viewed here. Reservations are required and can be made by calling 480-607-2300.
Dig into a decadent dining experience at Kitchen West at The Scottsdale Resort at McCormick Ranch, A Destination Hotel. Executive Chef Rick Dupere will feature an exquisite three-course prix-fixe tasting menu on Thursday, Feb. 14, from 5 to 10 p.m., offering seasonally-driven western American fare in a romantic setting. Start the memorable meal with a choice of oyster stew, potato leek soup with lime caviar or caramelized beet salad.  Move onto the main course and enjoy your choice of hand-carved prime tenderloin roast with black garlic puree and truffle sauce, or Chilean sea bass with parmesan pea risotto or tarragon pea ravioli with vegetables and basil pomodoro sauce, before digging into dessert.
Dine at Prado at Omni Scottsdale Resort & Spa at Montelucia this Valentine's Day from 5 to 9 p.m. and savor a four-course prix-fixe feast. Delicious options like wood-fired baby lamp chop, wild strawberry salad, grilled prime filet and red velvet cheesecake or chocolate mousse torte are all on the decadent menu. Complete it with vintage Champagne for an unforgettable evening of love. 
Celebrate Valentine's Day at one of the Valley's most romantic restaurants with sweeping views of sparkling city lights and the Phoenix Mountain Preserve. The award-winning Different Pointe of View(pictured) offers couples an unforgettable dining experience with views to match. On Thursday, Feb. 14, from 5 to 10 p.m., couples can enjoy a special four-course menu. Wine pairings are available. 
Arizona Biltmore, a Waldorf Astoria Resort's Wright's at the Biltmore dishes up an elegant four-course, prix-fixe dinner, while Frank & Albert's invites couples to indulge in a three-course, prix-fixe menu. Both menus are available from 5 to 10 p.m.
LON's dishes up a three-course Tasting menu with entrees include the Snake River Farms wagyu beef striploin, Atlantic halibut, La Belle Farms duck breast or braised pork shank. Available on Valentine's Day from 5 to 10 p.m.
Savor a delicious dinner at ZuZu at Hotel Valley Ho from 5:30 to 10 p.m., complete with a starter buffet; choice of entrée; and a special "Show Stopper" Shake that will make your sweetheart swoon. You can also enjoy live music in the lounge from 8 to 11 p.m. 
In addition to a special Valentine's Day menu offered at The Boulder's Palo Verde Restaurant or the Grill Kitchen and Bar, the resort will also offer the "Ultimate Dinner for Two." Couples may reserve a private dinner at venues offering beautiful views and enjoy gourmet menus paired with wines. The experience includes The Boulder's finest linens, crystal and china, candles and a personal waiter. Plus, each dinner features a private musician and staff can even arrange comfortable lounge chairs to enjoy after-dinner cordials and private stargazing.  
Chef Christopher Gross and the team at the Wrigley Mansion have put together a four-course Valentine's Day menu for couples, available at Geordie's on Thursday, Feb. 14 and Friday, Feb. 15. The dinner includes a Champagne toast and amuse bouche. 
J&G Steakhouse is dishing up a Valentine's Day dinner on Feb. 14 from 5 to 10 p.m. with choices like grilled beef tenderloin, Pacific salmon and much more.
Alto ristorante e bar at Hyatt Regency Scottsdale Resort & Spa at Gainey Ranch is offering a romantic four-course menu on both Thursday and Friday. This special evening is complete with a complimentary gondola ride along the resort's waterways.
Stock & Stable's Chef Joe Absolor will be rolling out a special three-course menu this Valentine's Day. Guests will get choice of a shared plate to start including roasted beets, Kung Pao cauliflower and more, then enjoy one entree including sea bass and filet. For dessert? Assorted chocolates.
Hula's Modern Tiki's hosts its Anti-Valentine's Day party on Feb. 14, all day long. Dig into thematic cocktails; after 6 p.m., savor $15 bottles of rosé and Prosecco and half-off additional bottles of wine. You can even bring in pictures of your ex to burn in Pele's Fire Pit of Revenge (a k a Hula's signature dining patio and outdoor fire pit) (Phoenix only).
Dorian will be serving a delicious four-course meal on Valentines Day. Guests will enjoy an appetizer course, a salad course, an entree course and a dessert offering; wine and bubbly pairings will also be available.  
On Valentine's Day through Feb. 17, Carlson Creek Vineyard will be partnering with Zak's Chocolate to feature a special Valentine's Day wine and chocolate pairing at their Scottsdale and Cottonwood tasting rooms.
Rusconi's American Kitchen hosts a romantic menu for couples with seating in the dining room (menu includes one choice of a first course, main course and dessert dishes). For singles looking to mingle, Rusconi's offer a Valentine's Day "Singles at the Bar" Menu (first come, first served seating).
On Feb. 14, from 4 to 9 p.m., Mora Italian will roll out a special four-course Valentine's Day menu, with an optional wine pairings.
Mowry & Cotton is serving up a menu of special offerings, like lobster fettuccini and beef tenderloin, for the perfect Valentine's Day (or Galentine's Day!) at The Phoenician, available from Feb. 14 to Feb. 16.
Marcellino Ristorante creates a special menu for this romantic night with unique dishes, like wild boar chop. Plus, Marcellino Ristorante and Joya Spa at Montelucia are partnering to present an exclusive "Dinner and Decadence" Valentine's Gift Package. The gift includes dinner on any evening from Feb. 13 to Feb. 17 in Chef Marcellino's private cove for two, a four-course dinner and wine pairings. Then, dessert will be presented with a Joya Spa couples gift certificate that includes a one-hour massage for two, lunch poolside or on the patio, and the use of all of the spa's amenities for the day. 
Over Easy is offering two special pancake styles for Valentine's Day; red velvet pancakes and banana bread pancakes will be available at Over Easy's locations in Biltmore and Arcadia from Feb. 14 to Feb. 17.
Voila French Bistro is hosting two Valentine's Day special dinners: On Sunday, Feb. 10, enjoy a three-course wine-paired dinner that will be offered from 5 to 7 p.m. Then, on V-Day, dig into the same three-course dinner, served from 5 to 8:45 p.m. 
Mastro's Restaurants will roll out a decadent Chocolate Butter Cake just in time for Valentine's Day. Just imagine: Mastro's famous butter cake infused with a molten chocolate center! Available through Feb. 28.
Trapp Haus offers its Champion Pitmaster Phil the Grill Experience for couples on Valentine's Day from 7 to 9 p.m. Diners can enjoy a personal chef experience and a three-course menu featuring space is limited and tickets can be purchased www.trapphausbbq.com.
Scramble – a Breakfast & Lunch Joint offers Valentine's Day specials featured at all four of its locations in Phoenix, Scottsdale and Tempe. Holiday specials include Scramble's double chocolate strawberry French toast and Cupid's Arrow café latte featuring Ghirardelli dark and white chocolate syrup.
Salty Sow Restaurant will be offering a specialty menu featuring a glass of Champagne, amuse bouche, appetizer, salad, entrée and a dessert of choice from 4 to 10 p.m.
Valleywide Vig Restaurants will be offering a specialty prix-fixe three-course menu (think BBQ salmon, surf and turf and much more) that includes a bottle of wine for two from 4 to 10 p.m.
The Gladly and Citizen Public House are both offering special three-course tasting menus for a relaxed Valentine's Day date night. Entrees at Citizen Public House include pan-seared scallops, amaro meatloaf, red rainbow trout or roasted smart chicken while The Gladly dishes include duck meatloaf, tuna poke and Press Coffee short rib.
Tempo Urban Bistro announces its Sweethearts Dinner Menu designed to incite a night of romance. Available exclusively between 5 and 9 p.m. on Valentine's Day, the menu includes three courses with multiple options for each course.
On Feb. 14, things are sure to heat up at The Market by Jennifer's Restaurant + Bar. The dining experience features three courses with multiple dishes to choose from and an option for wine pairings.
Ocean Prime introduces special menu items in honor of the romantic holiday weekend, available from Valentine's Day on Feb. 14 through Feb. 17. The 8-oz. filet with roasted asparagus, crispy pancetta, shaved pecorino cheese and Alaskan king crab gratin is a standout.
Ladera Taverna y Cocina will be serving a specialty three-course prix fixe meal that includes a bottle of wine for two on Feb. 14, featuring Modern Mexican fare.
Chase's Diner is featuring a red velvet pancakes short stack feature with three smooth and fluffy red velvet pancakes topped with homemade cream cheese drizzle and is served with a cup of coffee or small juice all day long on Valentine's Day.
Guests are invited to ignite the fire in their love lives on Valentine's Day with a plated menu available at both Liberty Station American Tavern and Smokehouse in Scottsdale. The menu includes slow-roasted pepper-crusted prime rib and pan-seared sea bass.
Taco lovers can spend Valentine's Day at CRUjiente Tacos. Dine-in specials on the romantic holiday include discounted sparkling rosé bottle and, from 3 to 6 p.m., $5 garlic roasted mushroom tacos and crunchy beef tacos.
Celebrate Valentine's Day with your special someone at Selfmade at Hotel Adeline. The four-course prix-fixe menu include spaghetti and meatballs, bone-in ribeye and shrimp scampi, among others.
Keeler's Neighborhood Steakhouse in Carefree offers a three-course menu on Feb. 14 with dishes like a hearty 12-oz. baseball-cut steak with lobster tail. 
The Phoenix Ale Brewery Central Kitchen is offering a three-course meal for Valentine's Day. The special will be good from Feb. 7 through Feb. 17 and includes casual options like pretzel bites, fish and chips, blackened salmon and more.
Nico Heirloom Kitchen in Gilbert offers two different four-course menus to dig into. The luxury Bistecca menu includes a 40-oz. tomahawk bone-in ribeye.
Diners can do something good for their hearts and their health by indulging in a vegan Valentine's Day at 24 Carrots Natural Café and Juice Bar. The vegan restaurant is featuring a four-course menu exclusively on the holiday.
Sumo Maya hosts an Anti-Valentine's Day gathering on Feb. 14 with a themed cocktail menu including My Bloody Valentine and The Gold Digger. Plus, parties of six or more will receive a complimentary bottle of bubbly.
Two Brothers Tap House & Brewery in Scottsdale crafted a mouthwatering–and wallet-friendly–prix-fixe menu, which includes a 4-oz. beer pairing with each course. Courses include jalapeno-corn fritters, duroc pork chop, chocolate-covered strawberries and more yummy options.
Fox Restaurants Concepts is offering a variety of romantic Valentine's Day options for couples. Valentine's Day alfresco over a bottle of wine? Count us in. At Olive & Ivy that evening, love birds can enjoy three-course prix-fixe dinner. Celebrate with a Valentine's date night downtown and a special three-course prix-fixe meal at The Arrogant Butcher (the main course us a New York strip steak with king crab). At Doughbird, from a variety of options, couples can choose a bottle of wine, one appetizer to share, one entrée per person and a dessert to share. Culinary Dropout dishes up a special dessert feature for the holiday: Cinnamon Pretzels with Sticky Toffee Fondue. Blanco Tacos + Tequila offers a special margarita made to celebrate love: the Sweetheart Margarita, with tequila, raspberry triple sec, and house sour. 
True Food Kitchen is inviting guests to sip their hearts out with a Valentine's-themed beverage menu, Feb. 8 through Feb. 18. The menu features four festive cocktails, like the War of the Roses with pomegranate-infused vodka, rose petal, lime and prosecco, and a non-alcoholic option, Red Moon,crafted with grapefruit, yuzu and honey.
From Feb. 9 to Feb. 16, diners at Morton's The Steakhouse can fall in love with a Steak & Lobster Oscar, a succulent 8-oz. filet topped with a whole Maine lobster and bearnaise sauce.
Come fall in love with a four-course, chef-crafted Valentine's Day feast from Chef/Owner Matt Carter and Executive Chef Rochelle Daniel at Scottsdale's Fat Ox from 5 to 9:30 p.m. The menu comprises several options to choose from, plus a complimentary toast. 
This Valentine's Day, Giordano's is bringing back its beloved heart-shaped pizzas. The 12-in. deep-dish pizzas are available for a limited time only, Tuesday, Feb. 12, through Sunday, Feb. 17, for dine-in, carry-out and delivery from both Valley locations (Paradise Valley and Peoria). 
Scottsdale's Roka Akor will be offering a prix-fixe meal for Valentine's Day, comprising five courses (like salmon tataki, yuzu miso-marinated black cod and more) from 4:30 to 10:30 p.m.
Gio Osso of Virtu Honest Craft has been invited to host a dinner at the legendary James Beard House in NYC on Valentine's Day. To celebrate, he will offer the My Chocolate Valentine dinner at Virtu from Feb. 14 to Feb. 17.
Kai will offer an exquisite, nine-course Valentine's Day tasting menu named Tachchu, which means "love" in Pima. The menu includes dishes like lobster with black truffle and ga'ivsa. Plus, there are three different tasting menus for guests dining on Feb. 15 and Feb. 16. Ko'sin will be offering several specialty dishes which can be ordered a la carte or as a three-course prix-fixe on Feb. 14.
Dig into a heart-shaped margherita pizza and specialty Bacio cocktail, with muddled raspberries, blackberry puree, lemon juice, vodka and rosé, at Pomo Pizzeria.
Enjoy a special Valentine's Day menu at Tomaso's on Camelback. Dishes include lobster bisque, linguine with little neck clams sauce, Chilean sea bass and more.
Celebrate this Valentine's Day with a special seafood platter that includes four oysters on the half shell, three marinated and grilled jumbo shrimp or grilled duck at Tempe's new Ghost Ranch.
Sneak out of the office a little early on Valentine's Day and enjoy the Couple's Combo from 3:30 to 6 p.m. at Babbo Italian Eatery. It includes two small salads (Mista, Caesar or Spring Mix), two glasses of wine (from select menu) and two small select pastas or pizza.
For a laidback celebration, Thirsty Lion's offers a special menu with filet mignon, black cherry pork tenderloin and blackened ribeye steak on Valentine's Day.
Executive Chef Alex Robinson of T. Cook's at Royal Palms Resort and Spa will be preparing a special four-course, prix-fixe menu paired with a Veuve Clicquot rosé toast from 5 to 10 p.m. Plus, a three-course version of the Valentine's Day menu will be available from Friday, Feb.15, to Sunday, Feb.17.
JW Marriott Camelback Inn Resort & Spa's Lincoln, a JW Steakhouse will dish up the likes of wagyu beef ribeye – Oscar for the holiday from 5 to 9 p.m. while Rita's Kitchen is serving poached lobster tail, lamb and branzino in honor of V-Day.
MERITAGE, an urban tavern (from 5 to 9 p.m.)and stonegrill Restaurant (from 5 to 10 p.m.), both at JW Marriott Desert Ridge Resort & Spa, will each offer special holiday menus with dishes like foie gras and filet mignon. Children's menus will be available at each, too. 
Celebrate Valentine's weekend at KOVO Modern Mediterranean, from Feb. 14 to Feb. 16, with a special three-course dinner, featuring dishes made especially for the occasion–including a starter called Sexy Shrimp!

Enjoy a vegan fine dining experience on Valentine's Day at one of the Valley's newest restaurants, Casa Terra. The restaurant will be serving a special prix-fixe, four-course dinner on the holiday. Each dinner comes with a mocktail for each guest, truffles to share and a fresh flower. 
Portillo's continues its partnership with the American Red Cross on the charitable program, Cakes for a Cause. Coinciding with Valentine's Day, Portillo's will offer a Heart-Shaped Chocolate Cake, a limited-time menu item with a fun holiday spin on the brand's iconic Famous Chocolate Cake. A portion of proceeds from the sale of Heart-Shaped Chocolate Cakes, up to $25,000, will be donated to the relief organization. The single-layer cakes will be available in restaurants from Feb. 8 to Feb. 17.
Fairmont Scottsdale Princess offers two romantic feasts: At Bourbon Steak, enjoy a three-course dinner featuring classic Michael Mina offerings alongside seasonally influenced dishes including osteria caviar, seared foie gras and decadent strawberry shortcake from 5:30 to 10 p.m. (A la carte menu not available.) The decadent dinner special at the newly renovated La Hacienda will be Baja lobster thermidor.
Creamistry locations Valleywide have holiday-themed sweet treats dedicated to lovers, available through Feb. 28. Try the Chocolate Cherry Crush Creation with black cherry ice cream, fresh brownie bites, chocolate curls, fudge and black cherry sauce and the Chocolate Cherry Crush Mini Ice Cream Cake.
On Valentine's Day, The Screamery ice cream parlor will offer its one-of-a-kind, six-flavor "flight" of ice cream plus two, old-fashioned sodas – cream soda, root beer, cane cola or wild cherry – for just $7 (regular price is $12.50).