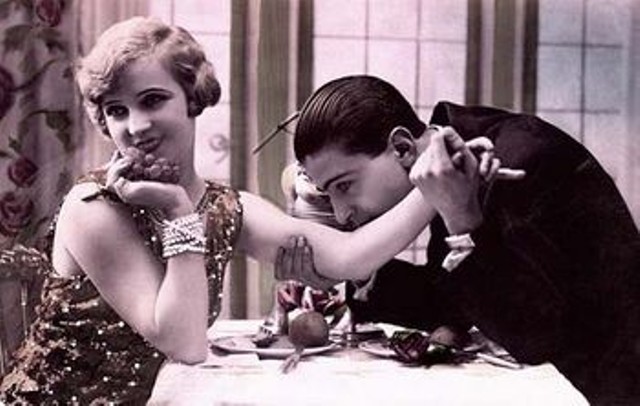 Get thee to a phone and make reservations for a romantic dinner for two this Valentine's Day (the heart-tastic holiday is coming up on Tuesday). Here's a few Valley restaurants that are dishing up something special for the big day.
At North Scottsdale's Sassi, the Valentine's Day evening will begin with a rose for all of ladies, accompanied by a four-course prix fixe aphrodisiac meal for two. Sassi also offers a selection of swoon-worthy cocktails, including a Goddess of Love martini. www.sassi.biz.
Z'Tejas is presenting a fresh and innovative Valentine's Sweetheart Dinner menu, available from Feb. 11-14. Entrees include pan-seared sea scallops and pepita-crusted chicken. www.ztejas.com.
On Feb. 14, Talavera at Four Seasons Scottsdale at Troon North will showcase a five-course tasting menu, including a glass of rose Champagne with dessert and a takeaway treat. (A teaser menu will also be available this weekend.) www.fourseasons.com/scottsdale.
Tempe's Top of the Rock Restaurant at the Buttes Resort celebrates Valentine's Day Feb. 11-17 with a specialty four-course menu–with an amuse bouche–for two. www.marriott.com.  
The Latilla restaurant at the Boulders Resort celebrates the Valentine's Day holiday with a specialty, three-course menu. For dessert, White Chocolate Obsession or strawberry-almond cake. www.theboulders.com.  
Il Terrazzo at The Phoenician will present a special four-course prix fixe dinner menu  featuring  langoustine with cauliflower cream and osetra caviar; duck with chestnut tortelloni and Brussels sprouts; a decadent chocolate dessert buffet; and much more. www.thephoenician.com.
JW Marriott Desert Ridge Resort & Spa in Phoenix is offering special dinner menus on Valentine's Day at the on-site Tuscany and Meritage Steakhouse restaurants. For dessert at Tuscany, feast on milk chocolate-lime crème brulee with rosemary-caramel in a citrus olive oil cake or strawberry-passion fruit cheesecake lollipops. At Meritage, strawberry-milk chocolate Napoleon with a warm banana Nutella wrap. www.jwdesertridgeresort.com.
Fleming's Prime Steakhouse & Wine Bar will celebrate the holiday, Feb. 12-14, with a special Valentine's Day Celebration menu (with three unique entrees to choose from). To give guests another reason to celebrate, Fleming's is offering each couple a complimentary $25 Fleming's Dining Card to use toward a future visit. www.flemingssteakhouse.com.
Lovebirds are enjoy a scrumptious three-course dinner to celebrate Valentine's Day at District American Kitchen and Wine Bar in Phoenix, Feb. 11-14. Guests will also enjoy live acoustic guitar. www.districtrestaurant.com.
Sanctuary on Camelback Mountain's elements restaurant is dishing up a special four-course menu for V-Day. Menu items include sweet potato soup, miso-glazed organic sea bass and coconut cheesecake. To add even more romance, Sanctuary is offering a special Valentine's Overnight Package. http://www.sanctuaryoncamelback.com/.
Scottsdale-based Prado at Montelucia Resort offers a four-course menu of Valentine's Day-inspired aphrodisiacs. Optional wine pairings are also available. www.montelucia.com.
Dinner at Litchfield's at The Wigway will feature four delectable courses starting with pasta e fagioli soup or organic watercress followed by braised natural pork or organic chicken ravioli. To end, a Seacat melon cream sickle or chocolate bread pudding. www.wigwamarizona.com.
Diners are invited to spend time with the one they love and enjoy a three-course prix fixe menu on Valentine's Day at Sheraton Crescent's Indigo Bistro. The main course is a delectable surf and turf dish with an petite Angus filet and jumbo shrimp. www.sheratoncrescent.com.
At Scottsdale's Hotel Valley Ho, ZuZu will be featuring drink specials and an a-la-carte, three-course menu created just for the evening, along with its regular dinner menu. www.hotelvalleyho.com.
Starting Feb. 10, The Melting Pot will offer a packaged event including a four-course gourmet fondue dinner as well as a welcome Champagne toast. Each couple will a framed photograph of their celebration and a $25 return Dip Certificate. www.themeltingpot.com.
Cask 63 in Scottsdale celebrates the Valentine's Day holiday with a specialty four-course menu paired with chocolate cocktails for each course. www.cask63.com.
There is plenty of deliciousness for lovebirds at Fairmont Scottsdale Princess's lineup of luxury restaurants; Bourbon Steak, La Hacienda, The Grill at TPC Scottsdale and LV Bistro. Standouts include the four-course Plated Passion menu at Bourbon Steak and the Latin-inspired Caliente Cupid menu at La Hacienda. www.scottsdaleprincess.com.
Roka Akor's delectable six-course meal is sure to impress your special someone, especially when rounded out with complimentary glasses of J Vineyards sparkling wine. www.rokaakor.com.
Taggia at Scottsdale's Firesky Resort will dish up a four-course menu that features wild mushroom ravioli, slow-roasted lamb shanks, truffles and chocolate-covered strawberries and more. www.taggiascottsdale.com.
Los Sombreros in Scottsdale will offer uniquely exotic menu that guests can enjoy on the handsome outdoor patio or in the rustic casita interior. Menu items include corn cake souffle, chile rellanos and much more. www.lossombreros.com.
For one night only, Arcadia Farms is opening their doors for a special Valentine's Dinner on Saturday, Feb. 11 to celebrate this romantic holiday and the restaurant's 22nd anniversary. www.arcadiafarms.com.
 To celebrate V-Day, Carefree Station will be serving dinner and dessert specials, in addition to a Valentine's-themed cocktail. Diners are invited to cosy up by the fireplace or relax in the atrium. www.carefreestation.com.
From Feb. 10-12, Roy's will showcase a Couples Menu that includes petite filet mignon and half lobster served with fingerling potatoes and Thai basil béarnaise for the entrée and Roy's Melting Hot Chocolate Soufflé for dessert. www.roysrestaurant.com.
Heirloom on Market Street in DC Ranch will dish up a delectable three-course menu on Feb. 14 that features a surf and turf Lover's Platter, with petite filet mignon and butter-poached Maine lobster. www.mculinary.com.
Arizona Biltmore will offers a special Valentine's Day Afternoon Tea with white chocolate strawberries, heart-shape shortbread cookies and Valentine honey-cherry snap cones and white ambrosia and hazelnut truffle teas. www.arizonabiltmore.com.
Scottsdale Quarter's iPic Theaters offers ultimate Valentine's Day experience, including a special menu of tender filet mignon, white shrimp, creamy risotto and more. www.ipictheaters.com.  
Betty's Nosh, a hip Glendale favorite, has a special pre-Valentine's Day dinner, offered the evening of Saturday, Feb. 11. Entrees options include maple-glazed salmon, pork tenderloin, rack of lamb, and Betty's Spaghetti and Meatballs. www.bettysnosh.com.
The Urban Tea Loft in Chandler is dishing up a special four-course V-Day menu, complemented by live music by String Theory and a free mini bottle of prosecco. www.urbantealoft.com.