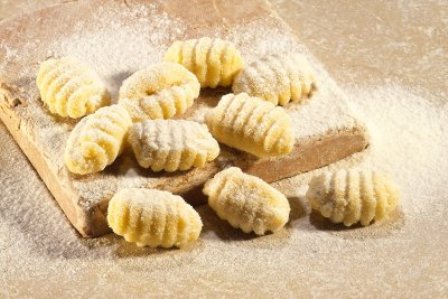 I am a huge fan of Italian food. One of my culinary heroes (and heroes in general) was my Italian grandma would could whip up one amazing tomato sauce, pizza rolls like no other and a lasagna that no one is able to replicate. So, when it comes to Italian food, I have very high expectations, and I was very pleased with the deliciousness that I encountered at Glendale's Tutti Santi. (There are three other Valley locations: Mesa, Phoenix and Scottsdale.)
The Glendale eatery exudes a wonderful warmth with its dimly lit dining room, intimate booths and tables, Old World-inspired decor and the family photos that decorate the bar area. And the food, from chefs Nina Vincenti and Marco DeOrta, just makes Tutti Santi even more comforting. Gnocchi is always one of our must-orders when dining Italian and Tutti Santi's homemade version among the best we've ever sampled (you can get it as an appetizer or an entree). The melt-in-your-mouth gnocchi was topped with cream and fresh tomato sauce which made a perfect dip for bread after the dumplings disappeared.
Though Tutti Santi had some very yummy-sounding meat and seafood dishes (like veal parmigiana and red snapper), we typically don't bother with anything other than pasta at Italian restaurants. (If you don't treat yourself to pasta at an Italian restaurant, where can you?) The Capellini del Dottore dish featured a large helping of string-thin pasta topped with white wine sauce, roasted pine nuts, spinach and sauteed shrimp. Though we could have used a few more shrimp to go along with the large serving of pasta, we were very pleased with the dish, from the additively silky pasta to the crunch of the pine nuts.  We were most excited to try the lasagna, though it wasn't what we–and probably most diners–would expect. Instead of the usual layered lasagna, Tutti Santi's version spotlights rolled noodles filled with ricotta cheese and ground sirlion, all crowned with plenty of mozzarella cheese (more like manicotti than a traditional lasagna). We were very pleasantly surprised by this dish; the sauce was excellent and there was a hearty amount of meat.
We ended the meal on the best possible note–with a big ole slice of Tutti Santi's tiramisu. Velvety. Creamy. Chocolaty. And not the slightest hint of an artificial coffee flavor (which can sometimes be a turnoff with tiramisu). Next time, we have a date with the cannoli. Tutti Santi has four Valleywide locations. www.tuttisantiristorante.com.