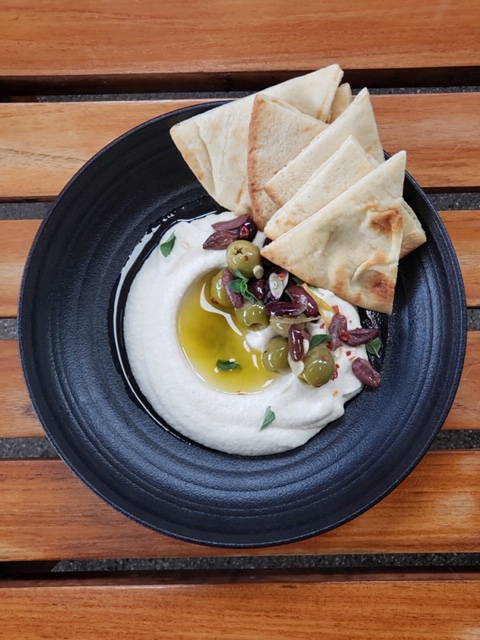 Now that it is officially fall (yippee!), many restaurants are busting out their best squash-forward plates. However, at its locations in Arcadia, McDowell Mountain, McCormick, Fillmore and Uptown, THE Vig is using the change in season to debut a brand-new menu that dishes up elevated, comforting old faves and offers a focus on delicious, out-of-the-box options for vegan and gluten-free diners. And no worries, The VIG didn't forgo their most popular dishes.
To start, new cauliflower hummus (a creamy combo of white bean and cauliflower) is served with marinated olives, toasted naan and a drizzle of garlic oil. It's gotten into our smoothies and pizza crust, so why not our hummus? The good news is the cauliflower offers all of its good-for-you-ness without overpowering the flavor of the velvety hummus. And once you pop the crispy naan, you can't stop.
Bursting with great texture, the kale chicken salad features shredded Tuscan kale, roasted chicken, pearl pasta, pepitas, asparagus, avocado, red grapes and lemon-sage vinaigrette. The grapes contribute pops of sweetness, while the pearl pasta kicks up the salad's heartiness as an entree. And the sage dressing and pepitas drive home the salad's autumnal flair.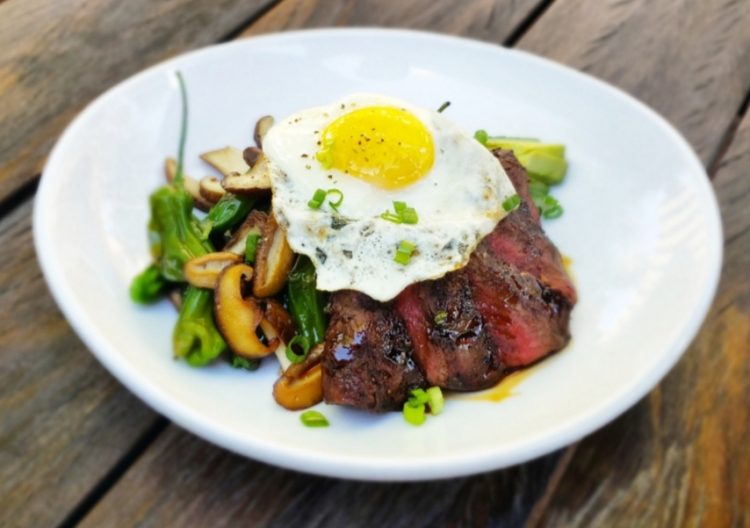 A great power lunch on a busy day, the protein bowl is served with blistered shishitos, shiitakes, fried egg, soy caramel, avocado and a choice of protein. The base of the bowl is fluffy coconut quinoa, which is the tastiest version of this protein bowl staple we've tasted.
For vegetarians tired of ordering black bean tacos, The VIG's new cauliflower tacos are a fab meat-free option. There are four tacos in a serving with corn tortillas, brussels sprout cabbage, perfectly cooked curried cauliflower, avocado, coconut-lime dressing and cilantro. Be warned, these babies are spicy.
If you're into a hint of spice, dig into the fragrant and flavorful coconut curry, which we'd wager is just the ticket on a cold day. The bowl features red chile coconut curry and rice noodles, crowned with a spicy mango salad. We suggest adding chicken or shrimp to really amp it up.
We're counting down the days until we can get to The VIG for dinner to sample the black cod and fennel again. The cod melts like butter on the palate, paired beautifully with a lemon-caper pan sauce. Alongside the fish is romanesco, haricot vert, marble potatoes and vibrant pickled fennel and onion salad.