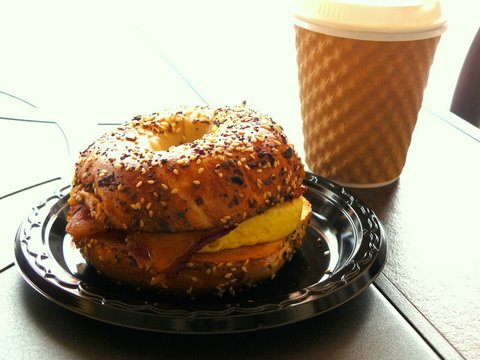 Bryan Elliott, the mastermind behind North Scottsdale's successful The Painted Horse restaurant, has just opened a new fast-casual spot next door called The Pony Express Cafe. This new dining destination offers a grab-and-go option for those who want delicious, high-quality goods quickly. Currently, the cafe offers up tempting bagels, sandwiches, salads, homemade muffins, pastries, parfait, fruit plates and brownies (which I heard are quite heavenly) for breakfast and lunch and will soon have dinner options available for, once again, the grab-and-go crowd.
The Pony Express Cafe also has a lengthy bill of hot and cold beverages, using beans from the Cave Creek Coffee Company, as well as daily brewed ice tea in featured flavors. I speculate this will be a treasured item once the temps start crawling upwards. There are even some unique flavoring options for the coffee drinks, like pumpkin pie and gingerbread.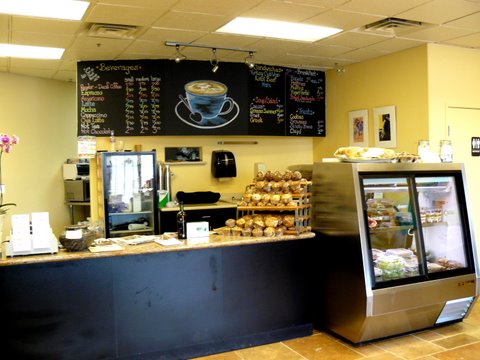 I sunk my teeth into a delicious bagel sandwich, with incredibly fluffy eggs and plenty of melt-y cheddar cheese. You could also get bacon, if you'd like. (The bagel sandwiches are made to order, while some of the other goods are displayed in a deli case for superfast service.) Donna's Summer Salad, full of yummy strawberries and walnuts and topped by a sweet, tangy dressing, made for a great springtime lunch and the turkey club wrap, with bacon and brie, was sizable and a heck of a lot of yum for $5.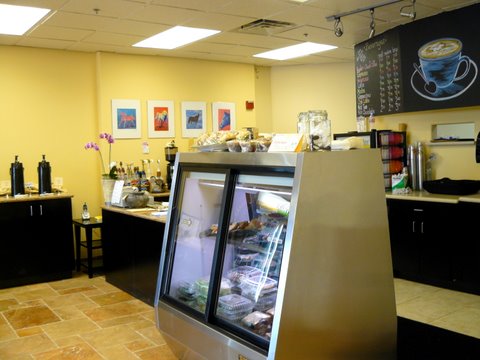 The Pony Express Cafe takes a few cues from The Painted Horse in regards to its colorful, horse-centric paintings and cozy patio area. (The cafe will soon have couches to lounge on indoors, as well.) The alfresco area struck me a nice spot to read on a weekend morning, with a cup of coffee and bagel–pretty quiet, shielded from the nearby street and shaded. 28170 N. Alma School Parkway, Scottsdale, 480.585.8499.
Meanwhile, at The Painted Horse, Elliott has introduced a new Wine, Dine and Jazz event on Wednesday evenings for restaurant customers. From 5:30 to 7:30 p.m., guests are treated to delicious appetizers–perhaps Elliott's raved-about pork-loin sliders–and wine tastings, all the while listening to the smooth sounds of Dave Robinson. The entertaining event is scheduled for the next two months (it takes place on The Painted Horse patio so the weather should be stellar). Guests are welcome to call the restaurant to learn that week's featured wine. 10989 E. Dynamite Blvd. on the southwest corner of Alma School and Dynamite, Scottsdale, 480.585.8499. www.paintedhorserestaurant.com.