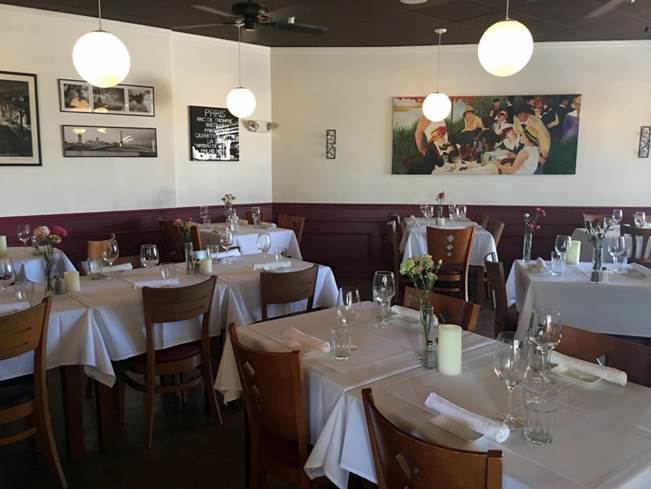 Talk about a gem. Nearly two years ago, Voila! French Bistro opened in Scottsdale, dishing up delicious French fare in a beautiful, charming date-night-ready spot (think white table clothes and a patio decked in romantic twinkle lights). After 30-plus years of culinary experience in France, Chef Jean-Christophe and his wife Ségolène decided to open up shop in the Valley–after falling in love with our fair state during a one-day visit to the Grand Canyon. And we are so glad they did.
From French onion soup gratinee to steamed mussels with garlic and white wine to traditional crème brulee, Voila! dishes up all the lovely plates one would expect from a French restaurant. For a truly wallet-friendly way to experience the best of Voila!, stop by at lunch and dig into a three-course lunchtime tasting menu. (For only $16 and change, this multi-course menu is a smokin' deal.)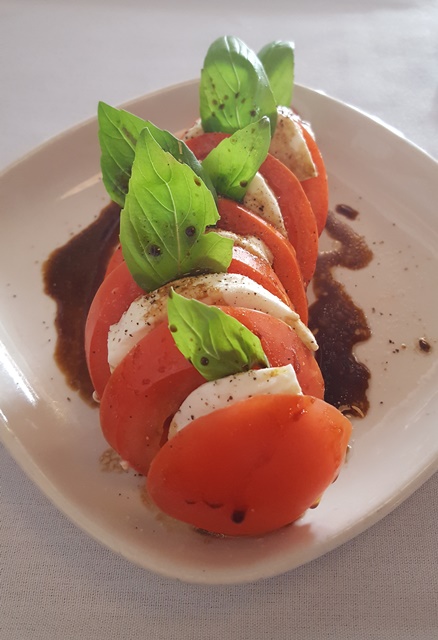 During a recent lunch-hour visit, we enjoyed the tasting menu (each course is pictured) that commenced with a no-frills but tasty tomato-mozzarella salad. The tomato slices were thick and fresh, as was each sliver of creamy mozzarella. For the main dish, the filet de cabillaud en piperade was light (just-right for lunch, especially when two other courses are involved) but packed with flavor. The flaky cod filet laid in a bowl surrounded by tart tomatoes, onion, garlic and pepper–a warming dish for fall day. The dish even doled out just a touch of heat.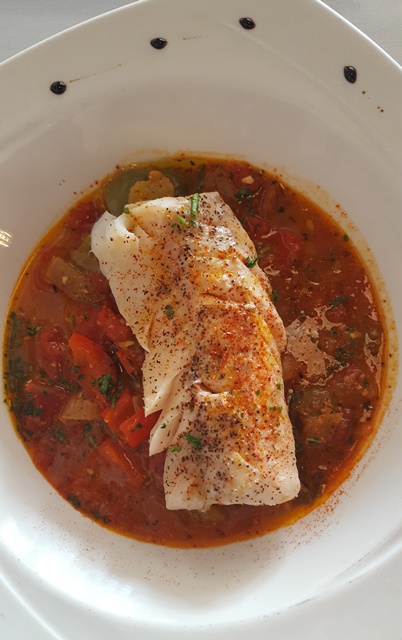 We decided we would opt for the most unique offering come dessert. The peppermint pears (which were bright green!) were on a bed of rich, decadent chocolate sauce, topped with strawberries and whipped cream. The peppermint flavor was subtle and refreshing, and we couldn't get enough of the creamy, never-waxy chocolate that beautifully coated each bite.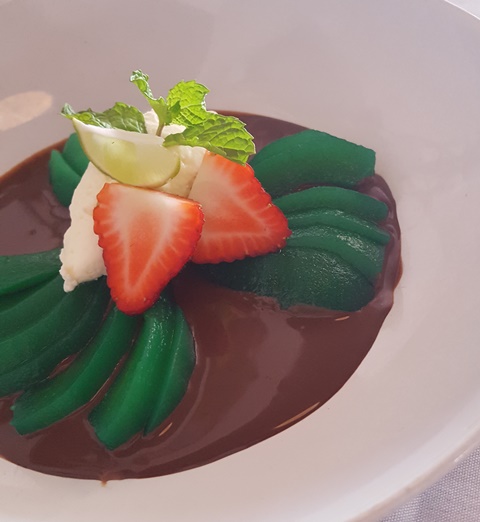 PS: Make reservations for the evening of Oct. 1 as Voila! celebrates in second anniversary with a very special dinner menu. Enjoy four courses, including wine, for $69 per person.