Located in Historic Downtown Chandler, Vintage 95 Wine Bar offers a sophistication not often seen in the family-friendly dining destinations of the area. From the dim lights to the handsome, rugged furnishings to the remarkable wine cellar, Vintage 95 makes for a stellar date night–and a great menu is the cherry on top. Fun fact: Vintage 95 is housed in Chandler's original 1926 post office.
The menu is full of classic dishes–with a twist. To start, the bacalao, which are potato cod fritters, are utterly comforting and warming (perfect for this time of year), surrounded by Spanish chorizo, mushrooms and garlic aioli. For an appetizer that is hearty yet healthy, the grain salad is a favorite and perfect for lunch. The mix of textures (crunchy to creamy) and flavors (sweet to tart to salty) is mighty appealing. The salad comprises grain from Hayden Mills, white Sonoran berries, red quinoa, bronze barley, hearts of palm, orange, fig, cranberry and goat cheese, and finished with orange vinaigrette. Thanks to ingredients like fig, cranberry and orange, the grain salad is especially fitting for the winter season.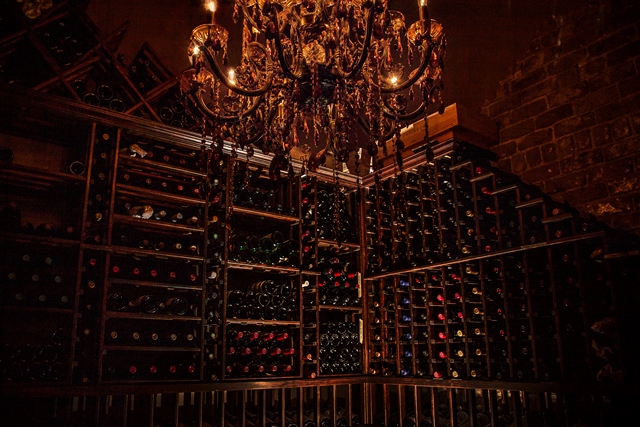 The entree lineup dishes up a little bit of everything: lamb, duck, pork chop, NY strip. Two of the seafood dishes are especially delicious. The shrimp and grits, with Mexican white shrimp, Beeler's bacon grits and housemake okra chutney, is a delectable comfort-food option, with the chutney adding some definite uniqueness to the dish, adding a sweet-tangy touch. The grilled seabass is another favorite and on the lighter side, for those not wanting a gut-busting spread. The seabass is crisped up perfectly and paired with chayote plantain hash, Fresno chili and a garlic-coconut sauce, making for a tropical spin.
To wash down all the Vintage 95 goodness, order a Ginger's a Peach cocktail. Light and refreshing, the mix of Svedka Vodka, Peach Tree schnapps, Domaine de Canton "ginger" liqueur, St.-Germain elderflower liqueur, fresh-squeezed lemon and lime and a float of prosecco, the cocktail is a nice balance to some of the heartier dishes, like the bacalao or shrimp and grits.