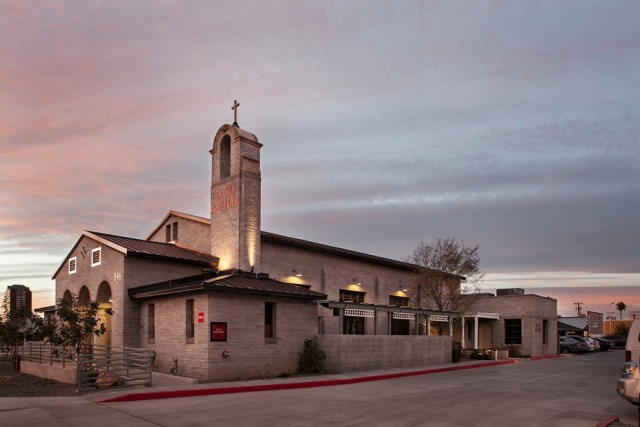 The Valley may not be short on delicious tacos, but that doesn't mean we're not beyond excited when a new taco joint hits Phoenix. Such is the case with Taco Guild, which opened in Phoenix in the fall. The former worship and education center that served the community for 127 years has been re-purposed to house the new restaurant, which features the church's original wood ceiling and support beams, stunning stained-glass windows and pews, which now serve as Taco Guild's booth seating.
Not surprisingly, tacos are a large part of the restaurant's menu. There is a selection of Old World and New School varieties, and we recommend getting the taco plate to sample three different options. For some really innovative eats, try the chipotle-cherry steak, Peking duck and Thai snapper tacos. The cherry-chipotle flavor really shined through, and the beer-battered jalapeno straws that topped the taco are irresistible. The Thai snapper offers just a touch of spice with its coconut green curry sauce, while the Peking duck is topped with plum sauce, fire-roasted poblano apricot compote and fried Brie cheese for a sweet and unique eat. And these tacos are far from puny–each is chock-full of amazing farm-to-table ingredients in a delectable house-made tortilla.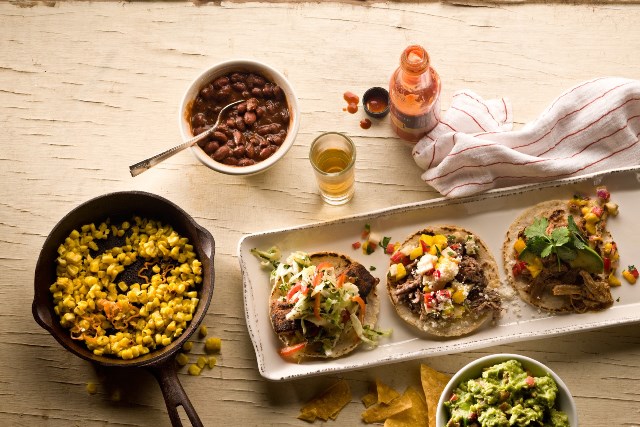 Taco Guild also dishes up a variety of salads, sides and hearty build-your-own burrito. There are also several tasty starters to kick off your meal, including the heavenly Schreiner's chorizo meatballs. These meatballs melt in your mouth and the spicy chipotle prickly pear sauce gives off a hint of spice and sweetness.
Don't leave Taco Guild without sampling its amazing tres leches cake for dessert. This is one of the tastiest versions of the traditional dessert we have tried. The coconut cream and sliced mango that tops the cake is the cherry on top of a moist, flavor-packed cake.
Stop by Taco Guild for great specially priced drinks and a $2 daily taco Monday through Friday, 4 to 7 p.m., Saturday, 11 a.m. to 6 p.m., Sunday, 2 p.m. to close, and late night, 10 p.m. to close. www.tacoguild.com.