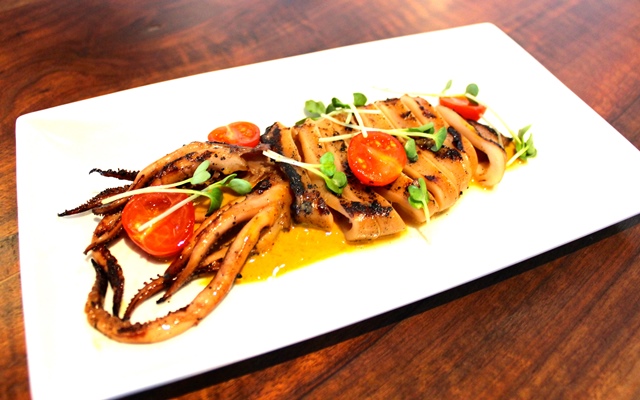 Feeling like the local sushi scene could use a refresher? Well, you're in luck: Squid Ink Sushi Bar, which debuted in 2010, opened a third location in Scottsdale this past January and it's safe to say we're already sold—hook, line, and sinker.
The restaurant was practically empty when we arrived around 11:30 a.m., an early time to indulge in any sort of mid-day meal, especially a decadent spread of seafood. We chalked the empty dining room up to the restaurant's recent grand opening – after all, the place practically oozed sophistication, with its slate-colored concrete floors, freestanding four-top booths and jellyfish-inspired chandeliers. The food had to be on par. And it was.
If you're feeling adventurous, start with the grilled squid. The tentacles lack the crispy, deep-fried-ness of conventional calamari, but the silky, charbroiled filet, which comes laid across a generous spoonful of yellow curry and sweet daikon sprouts, doesn't disappoint (although the texture may be too unconventional for some). The miso black cod, however, is a must-have. Pan-seared with fried leeks and brushed with a sweet miso glaze, this dish is delicate and light, yet deceivingly decadent.
When it comes to sushi, Squid Ink has all the usual suspects (California, Rainbow, spicy tuna…), but we highly recommend saving room for the new style sashimi and signature house rolls. For a light bite, opt for the citrus yellowtail sashimi, five hearty pieces of sliced fish, layered with tart grapefruit segments and paper-thin slivers of avocado, and drizzled with ponzu, a Japanese citrus-based soy sauce. Also worth trying is the Cougar Roll. Although sans rice, the creamy combo of king crab, steamed shrimp and sweet chili sauce, all wrapped in fresh cucumber, is refreshingly satisfying.
Some of the specialty rolls seem a little excessive upon first glance, but don't be intimidated. The Tahoe Roll, topped with soft shell crab, two different sweet sauces and a sprinkling of macadamia nuts, had us eating well beyond the point of comfortably full.
If you're not into seafood, Squid Ink has a huge selection of yakitori, noodle bowls and contemporary beef and chicken dishes. Stop by between 11 a.m. and 2 p.m. to enjoy daily lunch specials or hit up Happy Hour from 3 p.m. to 7 p.m. www.squidinksushi.com. –Emily Glynn