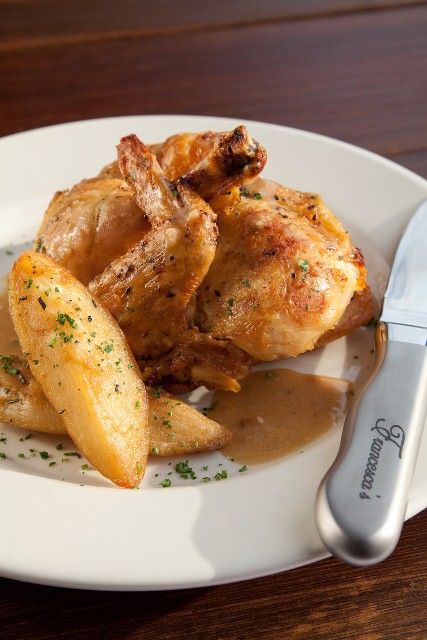 In February, a longtime Chicago favorite (20 years long, in fact), opened in North Scottsdale's DC Ranch on Market Street. Mia Francesca, which is thought to be the pioneer of the neighborhood trattoria in Chicago, serves authentic traditional Italian fare (think pizzas and pasta dishes) in a setting that is both rustic and industrial, sumptuous yet contemporary. Plus, the menu changes weekly (hence the hand-written menus), so diners know the fare is also fresh.
The carpaccio tre colore is a colorful and flavor-packed start to a meal at Mia Francesca. The dish comprises thinly sliced raw sirloin crowned with capers, tomatoes, olive oil, various green and big slivers of parmigiano. The burrata is another popular and delectable appetizer. The tomatoes burst with brightness and juices while the burrata melts in your mouth.
For the main event, a pasta dish is in order and the seafood linguine doesn't disappoint. The spicy dish–due to the zesty cherry tomoato sauce–is jam-packed with scallops, shrimp and clams. (We also hear that Mia Francesca's Bolognese is something to behold.) If you're packing a hearty appetite, the pollo arrosto alla romano (pictured) is a roasted half chicken with plenty of garlic and rosemary and tender roasted potatoes. This dish will not only satisfy a hungry belly (it is quite the helping!), it will please taste buds as well.
Even though plates of pasta and potatoes might leave little room for dessert, Mia Francesa offers a sweet bill of fare that is hard to ignore. Pistachio ice cream fill the restaurant's tempting profiteroles, and each was capped with a cascade of chocolate. Add to that Mia Francesca's warming cappuccino and you've got yourself on sweet ending. http://www.miafrancesca.com/.