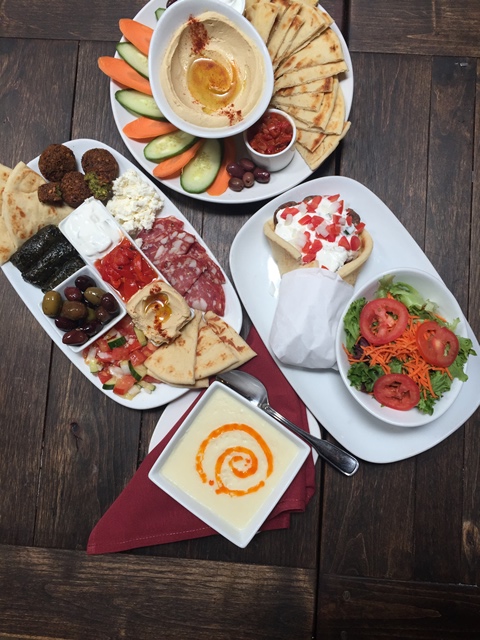 Scottsdale's CHAR Kitchen + Bar, from the lovely folks behind Perk Eatery, has unveiled its new fall menu–and now there are several delicious reasons to get to the restaurant this coming season.
For a little bit of this and a little bit of that, the Mediterranean Chef's Board is a beautiful, colorful display of soppressata, falafel, feta, olives, hummus, tzatzki and more. The real showstopper here, though, is the amazing grape leaves. While many are served with meat, these are not, leaving the earthy, buttery flavors of the leaves to shine. The chicken lemon rice soup is a decadent yet refreshing way to start your meal, whipped up by restaurant owner Peter Micakaj. The soup is creamy and rich with bright lemon notes. An unexpected addition to the Mediterranean-inspired menu is the slide trio, topped with grilled onions, melty cheddar and the finger-licking-good secret-recipe frisco sauce.
Whether you're a meat lover or a seafoodie, CHAR's fall lineup offers several can't-miss entrees. The chicken gyro is a traditional offering that is bursting with perfectly prepared chicken (and a lot of it!), tomato, onion and refreshing tzatziki sauce. Chicken is also the star in the Palma dish, surrounded by peppers, onions, sweet grilled pineapple and saffron rice. The Grecian lamb chops are brightened up with an earthy chimi sauce and feta, while the tenderloin medallions make up a hearty, stick-to-the-ribs plate sided with crispy potatoes and veggies.
A favorite among the new entrees is the shrimp Florentine alfredo, which Pauline Martinez, Micakaj's daughter, says is her mom's version of mac and cheese. Far from the traditional, super-thick, overly creamy alfredos, this parmesan cream sauce was rich and velvety–but just enough. And the shrimp is just divine when whirled up in a blanket of perfectly coated fettuccine.
For dessert, an order of baklava is in order. Nutty and flaky, this after-dinner treat is traditional–and, basically, perfection.