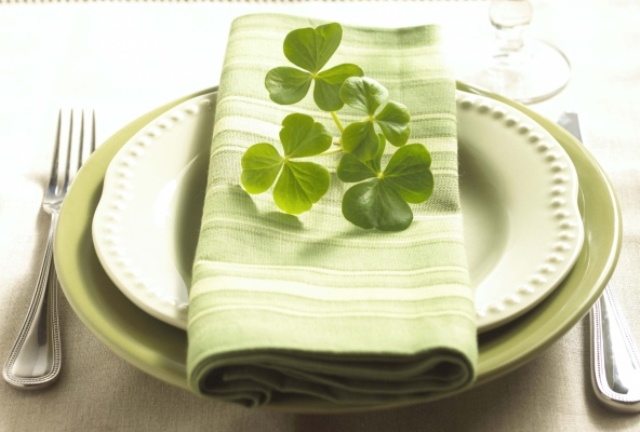 Feeling lucky? Head to these Valley restaurants on St. Patty's Day for special Irish-inspired menu items, drinking specials and more.
Foosia – Asia Fresh
As part of the Green Tea Giveaway, all guests who don green when ordering a bowl at Foosia – Asia Fresh on Tuesday, Mar. 17 will enjoy a free 20-oz. proprietary blend Foosia iced green tea, hand-crafted by local brewer Passport Coffee and Tea. The price for a bowl hovers between $8 and $10, and for that, you'll get a Buddha belly full of Americanized Asian street fare. Start with your choice of rice, noodles or mixed greens, then pick from 25 toppings to create a fresh, healthy and truly personalized feast. The promotion applies all day, from 11 a.m. to 9 p.m.
Padre Murphy's
For a traditional St. Paddy's Day celebration, complete with leprechauns, corned beef and cabbage, party the day (and night) away at Padre Murphy's, one the Valley's premier Irish pubs. Green drinks will be flowing from 10 a.m. until well past sundown, in conjunction with a full line-up of live music. After 3 p.m., a $10 cover charge will apply. Something tells us you won't need an incentive to get there early.
Titled Kilt Pub & Eatery
Kick off the festivities early at this local Celtic-themed pub, now offering it's annual Irish Hooley menu through March 17. Expect to find authentic eats like Corned Beef Hash, Shepherd's Pie, and deep-fried, sausage-wrapped Scotch Eggs. Oh, and we won't judge you for being distracted by the ever-beautiful, Scottish kilt clad staff, who will be serving up themed drinks from open to close. Go for the Paddy Bomb – this crazy concoction starts off as a normal half pint of Red Bull, but instantly turns green with the addition of Three Olives Orange Vodka and Blue Curacao.
Phoenix City Grille
Reservations are highly recommended for anyone vying for a taste of Executive Chef Rory Hewitt's St. Patrick's Day menu. From 11 a.m. to 9 p.m. on Mar. 17, Phoenix City Grille will be serving traditional Irish specials, including corned beef brisket with scalloped cabbage and potatoes O'Brian. To wash it down, try a $4 black and tan, made from Guinness and Four Peaks 8th Street Ale.
Taco Guild
Seventeen cent tacos? You betcha. Taco Guild has created a generously inexpensive, Irish-inspired taco for St. Patrick's Day: corned beef, chipotle mashed potatoes and bacon, all atop a vibrantly green tortilla. It's the perfect way to celebrate while staying true to your Southwestern roots.
Half Moon Sports Grill
From 11 a.m. to 2 a.m., guests can enjoy St. Patrick's Day specials at both the Phoenix and Moon Valley Half Moon Sports Grill locations. Indulge in corned beef and cabbage with potatoes for a reasonable $7.99 and green draft Coors Light for $3. We're not totally sure what to expect from the "thin mint" shots (Girl Scout cookie vodka?), but anyone wearing green will receive two for the price of one.
Bluewater Grill Phoenix
Bluewater Grill Phoenix, known for its exquisitely fresh seafood and nautical decor, is bringing its A-game this St. Patrick's Day. On March 16 and 17, guests will feast on heaping plates of Guinness Beer Battered Fish & Chips ($15.95 for lunch and $17.95 for dinner). Tack on a pint for $5 and sip on $3 Bluewater Irish Coffees from open to close.
Nabers
The owners of this popular Chandler spot are going all out on March 17 with $5 Guinness, $5 Irish Car Bombs and $5 Corned Beef and Cabbage. Regularly scheduled Tuesday night trivia will occur as planned, but with a special, highly-anticipated Irish twist.
Thirsty Lion Gastropub & Grill
Thirsty Lion Gastropub & Grill recently debuted at Scottsdale Fashion Square, but we highly encourage visiting the Tempe Marketplace location from March 13 to March 17. A seasonal menu will be available all week, offering handcrafted specials like Corned Beef Mac & Cheese, Irish Lamb Burgers and Bacon Cheddar Potato Cakes. Guests will also enjoy specialty beer flights, Irish cocktails and on Tuesday March 17, foot-stompin' live music from 11 a.m. to 12 a.m.
Sprinkles
Craving something mischievously sweet? Lucky for you, Sprinkles is carrying Irish chocolate cupcakes, topped with a decadent Baileys Irish cream cheese frosting and shamrock sprinkles, until March 19. Get your fix at the Scottsdale location Monday through Saturday from 9 a.m. to 9 p.m. and Sundays from 10 a.m. to 8 p.m.
Uptown Alley
If you're up for a challenge, head to Uptown Alley in Surprise on March 17. At the end of each private bowling lane, a single green pin will be hidden amongst the normal ones. Knock it down and you'll be entered for the chance to win a $100 pizza party. The venue's full-service restaurant, Red Embers Bar & Grill, will also be in the spirit, serving Irish-inspired Corned Beef Tacos, Corned Beef Pizza and Byone Valley Rolls.
Westgate Entertainment District
There will be no shortage of options on St. Paddy's Day at Westgate in Glendale. Hit up one of the following restaurants for food and drink specials, entertainment and exciting contests.
• McFadden's Restaurant and Saloon: Top o' the mornin' to ya! Get wild from 11 a.m. to 2 p.m. with the $10 Kiss Me I'm Irish Brunch Buffet, complete with $1 mimosas, $3 green beers and $5 Jameson. The party, hosted by Vern Troyer (aka Mini Me from Austin Powers), will rage well into the night, with McFadden's resident DJ taking the stage at 7 p.m.
• The Shout! House: From 7 p.m. until close, the dueling piano bar will offer $2 Green Beer, $3 Baby Guinness and $4 Jameson shots. Daytime specials include live music, contests and discounted food and drinks.
• Shane's Rib Shack and Crave Gourmet Waffle Creations: Looking for something quick, yet festive? Shane's Rib Shack will feature a $5 All Mixed Green Salad and $2.99 green-hued Homemade Pistachio Cream pudding for St. Patrick's Day. At Crave Gourmet Waffle Creations, enjoy the novel Corned Beef and Cabbage wafflewich and select beers for $2.50.
• Whiskey Rose: Yet another locale to get your Corned Beef and Cabbage fix – this one for $15.95. Pair the meal with a $4 Jameson or Guinness while foot tappin' along to live music and praying to Saint Patrick that you win the drawing for that custom painted beach cruiser.
— by Emily Glynn