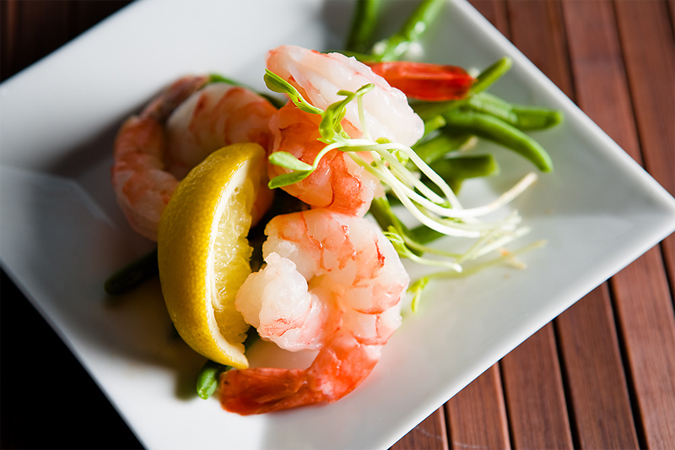 Though we're residents in a completely land-locked state, that doesn't mean that Phoenix and Scottsdale aren't home to some stellar seafood restaurants. Here are few Valley favorites for under-the-sea eats:
The Salt Cellar
This Scottsdale seafood eatery is not only one of my favorite seafood spots–it's one of my favorite restaurants, period. The Salt Cellar might not look like much from the outside, but once you get inside, a welcoming, somewhat formal world awaits. You see, the restaurant actually is a cellar–the restaurant and bar are located under ground. Start with a bowl of chowder and move onto the baked-stuffed lobster. 550 N. Hayden Rd., Scottsdale, 480 947.1963, http://www.saltcellarrestaurant.com/.
Mastro's Ocean Club Fish House
Four words: vanilla-battered lobster tails. Yum! In addition to such seafood selections, Mastro's Ocean Club at Kierland Commons in Scottsdale offers an impressive line-up of meaty dishes, side items and divine desserts. Warm butter cake, anyone? 15045 N. Kierland Blvd., Scottsdale, 480.443.8555, http://www.mastrosrestaurants.com/.
The Fish Market
For more than 20 years, The Fish Market has been a seafood staple in Phoenix. The casual restaurant even boasts a sushi bar and oyster bar, as well as tradition fish and chip dishes, yummy pastas and a selection of fresh fish. 1720 E. Camelback Rd., Phoenix, 602.277.3474, http://www.thefishmarket.com/default.aspx.
McCormick & Schmick's Seafood Restaurant
Happy hour at this Scottsdale- and Phoenix-based restaurant is a don't miss. For less than $2, diners can order shrimp ceviche or a blackened chicken sandwich. If you've got $5 burning a hole in your pocket, try the fish tacos, jambalaya, calamari, salmon cakes and more. And the crab cakes are tops. 2575 E. Camelback Rd., Phoenix, 602.468.1200; 8777 N. Scottsdale Rd., Scottsdale, 480.998.2026. http://www.mccormickandschmicks.com/.
Steamers Genuine Seafood
This longtime Biltmore Fashion Park resident dishes up a chilled seafood tower that can feed four, fried oysters on the half shell, several seafood selections, tasty surf-n-turf and a massive 18-ounce Australian lobster tail. Come hungry. 2576 E. Camelback Rd., Phoenix, 602.956.3631, http://www.steamersgenuineseafood.com/.
Eddie V's Edgewater Grille
Chilean sea bass, west Australian lobster tails and kung pao-style calamari are all on the menu at this Market Street at DC Ranch seafood restaurant. Eddie V's also serves a delish bisque and refreshing salads, if you're in the mood for lighter fare. 20715 N. Pima Rd., Suite F.1, Scottsdale, 480.538.8468, http://www.eddiev.com/.
Wildfish Seafood Grille
Eddie V's younger sibling at the Scottsdale Waterfront, Wildfish Seafood Grille, dishes up seafood (in a menu similiar to that at Eddie V's) in one seriously stylish setting. 7135 E. Camelback Rd., Suite 130, Scottsdale, 480.994.4040, http://www.eddiev.com/.