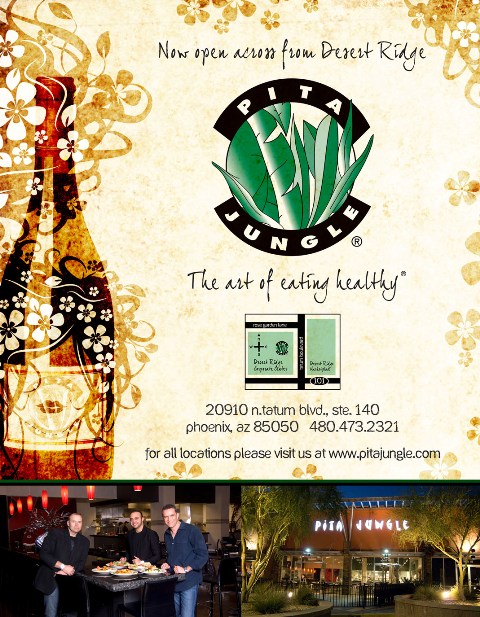 Pita Jungle is known around town for providing accessible, healthy fare that packs more than enough punch—and now (lucky for us), there's a brand new location open in North Scottsdale. Although the menu offers up the same, deliciously healthy, Greek-inspired menu as the other locations, the upscale atmosphere and chic ambiance creates a personality all its own.
Found directly across the street from Desert Ridge, this conveniently located Pita Jungle is casual with a sophisticated, contemporary vibe. The open, airy seating arrangement makes for a comfy indoor meal. Or, make your way to the large outside patio for a warm-weather repast. Wherever you choose to enjoy your meal, make it a point to stop by the bar. Desert Ridge's Pita Jungle is the only location with a full bar in tow—and you won't be disappointed. Happy hour is every day (that's right, that means seven days a week), with a 3-7 p.m time frame–Monday through Saturday, and all day on Sunday. Soon to be offered here are unique cocktails like the Pita-Rita and the Jungle Drop (their take on a margarita and a lemon drop). I'll definitely be making it a weekly jaunt for Friday after-work drinks; the prices, quality ingredients and convenient hours can't be beat.
Although the hip and modern ambiance makes for a comfortable experience, the food will keep you coming back. I highly suggest starting out with the cilantro-jalapeño hummus—seasoned just right with lemon juice and garlic, this appetizer makes the perfect partner for the warm, chewy pita bread that's provided. When you're done nibbling on this flavorful appetizer (which I even slathered on my main dish because it was just too good to give up), the black bean burger makes for a great vegetarian entrée option. A black bean patty with roasted red bell peppers, mixed greens, tomatoes, cucumbers and onions served on whole grain bread, this savory burger with a bit of a kick made me one happy healthy eater. If it's protein you're craving, try out the chicken combo platter, made with marinated chicken, mixed beans and brown rice, served with garlic dip and a pita.
Although the Friday lunch crowd was quite busy, Pita Jungle is absolutely a great place to take a romantic date or a friend for a fun dinner. Open late into the night, every night, this eatery offers up a tempting wine list and dessert selections (raspberry-mango cheesecake, anyone?) Next time you pop in, be sure to say hello—I'll be the one at the high-top bar nursing a Pita-Rita and a plate of hummus. For more information, visit www.pitajungle.com. –Amy Strand, associate editor